Salesforce Einstein Vision sinks teeth into shark recognition
Using drones and a modified version of Salesforce's Einstein Vision, marine biologists at the University of California, Santa Barbara, can track and identify great white sharks.
The Benioff Ocean Initiative has plans to make beaches a safer place.
Project SharkEye, a joint project between Salesforce Einstein and the Benioff Ocean Initiative, began in June 2019 and helps marine biologists in Santa Barbara, Calif., more accurately monitor shark migration patterns in real time and keep beachgoers safer.
"The value of the project for us is the efficiency and accuracy," said Douglas McCauley, director at Benioff Ocean Initiative and a professor at the University of California, Santa Barbara (UCSB). "It's helping community partners to understand what's going on in the ocean."
How Einstein Vision works
Project SharkEye uses drones and Einstein Vision -- Salesforce's image recognition software -- to find great white sharks in the water. Each morning, a drone flies a 10-mile stretch of Santa Barbara coastline and takes video. The video then moves to the Salesforce cloud, where a modified version of Einstein Vision analyzes it. Salesforce employees program the AI to differentiate between different species of sharks and rule out shark-size objects floating in the water.
The value of the project for us is the efficiency and accuracy.

Douglas McCauleyDirector at Benioff Ocean Initiative and a professor at UCSB
After analysis, a group of lifeguards and business owners along that beach receive this information to update them about what is going on in the water. This enables lifeguards to know whether the waters are safe for swimming and business owners to know whether they should hold surf classes that day.
Because of this technology, the Santa Barbara beach closed a couple of times this year due to sightings of 10- to 12-foot great whites, said Michael Jones, senior director of research at Salesforce.
Over the last four years, there has been an increase in the number of great white sightings in California. Previously, acoustic beacons and community observers tracked sharks. Project SharkEye adds another, more accurate dimension. It also enables the UCSB marine biologists to form a baseline for the number of shark sightings in the area -- something that was not previously possible.
"There's a lot of value in community observation," McCauley said. "They're informally observing the ocean as they always have for decades. This is something we put a lot of weight on, but there's some value in starting this baseline."
Project SharkEye is in its pilot phase this year. And, next year, Jones said he hopes to expand the program beyond Santa Barbara by testing and adapting the AI to work on identifying great whites in other areas.
"We are constantly scanning for ocean issues that could be meaningfully addressed using science and tech," McCauley said.
Other uses for image recognition AI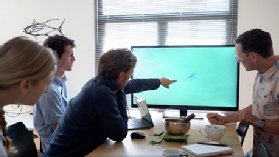 Organizing and categorizing images are currently the big areas where organizations use image recognition technology, said Nicole France, principal analyst and vice president at Constellation Research Inc. This includes managing internal image assets or identifying and classifying images on the internet or social media. Businesses can even use it to monitor social media or community activity around a brand and possibly detect infringement on brand images.
However, large-scale use of image recognition AI is still in its early stages. There are several challenges around image recognition technology, including training AI systems effectively and identifying uses that are compelling. Project SharkEye is a great way for Salesforce to test and improve the capabilities of Einstein Vision and showcase its capabilities to customers, France said.
"Showing a real-world example, especially one that hits a nerve as deep as protecting humans from sharks, can be just the trigger to spark that kind of creative thinking," she said.