Salesforce Trailhead app makes learning more convenient
Learning Salesforce skills and boosting career potential gets easier with the new mobile app, Trailhead Go. Customers explore how they can take advantage of it.
SAN FRANCISCO -- Salesforce customers see the value in the Trailhead learning platform and its new mobile app.
Trailhead Go for iOS is one of two new mobile apps that Salesforce announced here at Dreamforce 2019. Trailhead Go is a mobile extension of Trailhead, Salesforce's free customer success learning platform enabling Salesforce users and nonusers to follow different paths to learn Salesforce skills. It now also offers Amazon Partner Connect to learn how to build Amazon Alexa skills and AWS. By the end of the year, Trailhead plans to roll out live and on-demand training videos.
Salesforce provides customer success tools to users before they even become customers. For most businesses, this model is flipped, providing these tools to users after they sign contracts, said Gerry Murray, a research director at IDC.
"It's not only about how the product works, it's about teaching the line- of-business people to elevate their skills or further their careers in and out of their companies," Murray said. "Trailhead Go makes it all that more convenient."
Making education accessible
A skills gap costs companies $1.3 trillion each year, said Sarah Franklin, general manager of Trailhead, in a keynote. While many workers think they can fill that gap with education, it has become more and more inaccessible. Over the last 20 years, student tuition has increased by 200%, and student debt has increased by 163%.
Anyone who has access to the Trailhead Go app can learn, said Ray Wang, principal analyst and founder at Constellation Research.
"You don't have to go to school; you don't need a computer; you just need a phone," he said.
Customers see benefits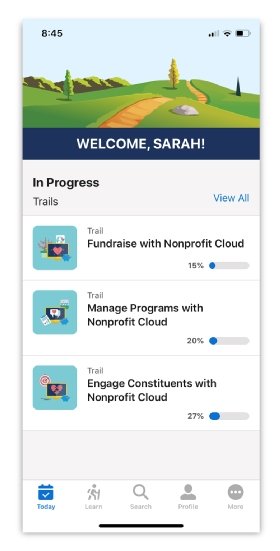 Supermums, based in London, equips moms with Salesforce skills through a combination of training, mentoring, work experience and job search support to get them into the Salesforce ecosystem. Trainees go through a customized six-month program where they earn 50 to 100 Trailhead badges. Trainees can benefit from the Trailhead app because they'll be able to learn on the go, making it easier to fit into their schedules, said Heather Black, a certified Salesforce administrator and CEO of Supermums.
"[Trailhead Go] will help me complete more trails and fit it into my life while I'm busy supporting a team and juggling kids," she said. "Trailhead Go makes this accessible to more people."
Trailhead has also branched out beyond technical skills and into functional skills, Black said.
"It helps you develop as a person, as well as help you be successful in a Salesforce career," she said.
Trailhead is great for helping learn the basics when people are entering the CRM world, said Sayantani Mitra, a data scientist at Goby Inc., a company that specializes in accounts payable automation.
"Read them, learn them, ask the community, ask people questions, do them multiple times," Mitra said.
The best way to learn anything is practice, practice and practice more.

Sayantani MitraData scientist, Goby
But just getting a Salesforce certification won't get someone a job, Mitra said. They have to know what they're doing.
"The best way to learn anything is practice, practice and practice more," Mitra said.
Mitra plans to use the Trailhead Go app particularly on long-haul flights.
"When I go home to India ... you cannot watch movies for 20 hours or sleep for 20 hours; you need something more," she said.
Trailhead Go is generally available now for free on the Apple App Store.