How Salesforce mobile Einstein Voice Assistant can improve CX
The Salesforce mobile app's Einstein Voice Assistant brings a variety of benefits to customers. The AI-enabled tool creates a more human interaction and could help improve self-service.
SAN FRANCISCO -- As people increasingly work remotely, in the field and on the go, the new Salesforce mobile app for iOS can help customers stay connected -- giving them the information they need, where and when they need it.
An important feature of Salesforce mobile is the new Einstein Voice Assistant, which enables users to quickly take notes, add tasks and make updates to the CRM, just by speaking. Salesforce unveiled the refreshed iOS app and upcoming Einstein Voice Assistant here at Dreamforce 2019.
"We expect to be able to connect with our smart devices in a natural way, and rather than trying to figure out the technology to use it, it's easier to ask it a question," said Tom Pringle, vice president of technology research at G2. "It's a very human thing to ask a question; it's not so human to write a query."
How Einstein Voice Assistant works
Einstein Voice brings conversational AI to the Salesforce CRM platform, and the voice assistant enables users to speak instructions into the system. The Einstein Voice Assistant can help customers be hands-free while interacting with Salesforce, increase productivity by eliminating manual data entry and help users get key insights to understanding their customers and build relationships.
To access the voice assistant via the mobile app, customers open the app, click on the microphone button and talk to Salesforce. As users speak, Einstein records the conversation.
How customers can benefit
One of Salesforce's pilot customers for Einstein Voice Assistant is RecruitMilitary, which connects veterans with hiring organizations.
Anything dealing with AI enhances the overall customer experience.

Josh DaymentSalesforce administrator, RecruitMilitary
Using the Salesforce mobile app, Einstein Voice Assistant has helped pipeline management for the sales team and aided in overall daily organization, said Josh Dayment, a Salesforce administrator at RecruitMilitary based in Loveland, Ohio. The voice assistant does require some training, but a Salesforce administrator should be able to set something up in 10 minutes, he said.
"What they showed today is a lot easier than what it is now," Dayment said. "It's the way of the future. Anything dealing with AI enhances the overall customer experience."
A Salesforce customer not yet using the mobile app said she sees much value to both the app and Einstein Voice Assistant.
"We would like to encourage self-service, but you have to make that process easy," said Tracy Kelly, assistant vice president of shared services contact center at John Hancock, a life insurance company based in Boston. "I think voice assistant would enable more customers than today to use self-service."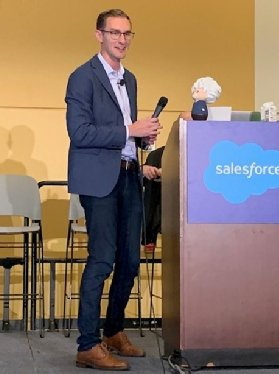 Kelly said many of the customers with which her team interacts are older -- at, near or beyond retirement. Enabling the older generation to ask a simple question would make self-service easier.
"Looking into the future, it's a human-centric design -- we're making it easier for people to get the information they need," Kelly said. "And voice is one way to do that."
The Einstein Voice Assistant is currently in a pilot phase with select customers and will move to beta during Salesforce's spring release in February 2020, said James Harrison, director of product management at Salesforce, in a session. Voice assistant capabilities are already baked into the mobile app, but only pilot customers currently have access to it. The voice assistant is expected to be generally available in 2021.