Salesforce Lightning Order Management boosts e-commerce
Salesforce extends Customer 360 capabilities with a bundle of APIs to help users manage and track e-commerce orders and provide more detail to the customer as orders are picked, packed and shipped.
Salesforce launched on Thursday a tool meant to improve the way companies communicate data about marketing promotions, inventory and delivery status to their e-commerce customers.
Salesforce Lightning Order Management, which the vendor plans to release in February, aggregates information from ERP systems, marketing automation platforms and outside data sources -- such as data feeds from package delivery companies -- into customer-facing sales pages at e-commerce sites. Post-sale, it can track shipping and return information for the customer and aggregate it on a single page.
On the back end, it will enable Salesforce customers to manage order details such as fulfillment location and shipping carrier. It also shows e-commerce history to customer service teams. This will provide more detailed information when customers contact the service side.
"The reality our customers face today is that they have to talk to as many as 38 different systems," said Luke Ball, Salesforce product management VP. "We're talking shipping carriers, warehouse management systems, third-party logistics, ERP systems, payment providers and many others."
Lightning Order Management gives Salesforce users the ability to pick and choose which of those data points to include in a dashboard for customers as their orders are picked, packed, filled and shipped. It will be part of Salesforce's Winter '20 release, Ball said, and a standalone product in the Commerce Cloud family.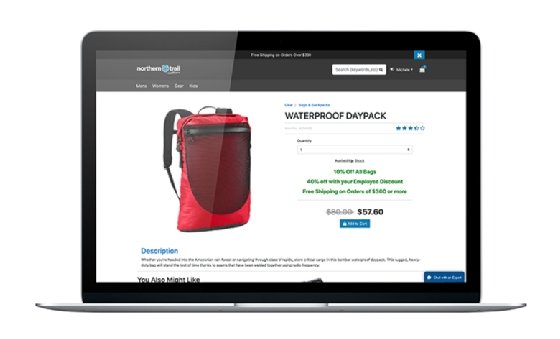 Technically, that means companies can use Lightning Order Management with numerous e-commerce platforms, not just the Salesforce Commerce Cloud. However, a majority of organizations using Salesforce Lightning Order Management will be Commerce Cloud customers, said Constellation Research analyst Nicole France.
Fruits of the MuleSoft merger
Salesforce Lightning Order Management -- a bundle of APIs tapping different data sources that can dashboard results in an easy-to-read manner -- isn't anything to the market, France said.
Widgets have existed in e-commerce platforms to track inventory and delivery status for a long time, she said. Lightning itself is the innovation because it makes the process of adding data to Commerce Cloud pages simpler for Salesforce developers.
It's the low-code Lightning platform that makes it innovative, France said. Lightning cuts down time for integration of in-house and external data sources to create the workflows.
Salesforce Lightning Order Management -- the product announcement related to November's Dreamforce conference --offers a sneak peek at how Salesforce might handle the customer data platform (CDP) it plans to release this year.
While the order-management features include a customer profile that spans Salesforce clouds, it was built with Salesforce Customer 360 tools, Ball said. The unified profile itself isn't the CDP, but "it's very much the same underlying tech."
Customer 360 arose from Salesforce's $6.5 billion MuleSoft acquisition in 2018. The order-tracking system is an extension of the features Salesforce integrated from MuleSoft.