Getty Images/iStockphoto
Salesforce adds automation features across Customer 360
Salesforce's upcoming Customer 360 features include automation tied together with CDP data for sales, marketing, service and e-commerce.
Salesforce previewed new automation features and data integrations planned for its clouds and MuleSoft -- collectively called Customer 360 -- in advance of Dreamforce next week.
Einstein Bot for Sales, coming in 2023 to Sales Cloud, will reside on Salesforce users' websites and tee customers up for conversations with live sales reps. These bots will be a step up from the "How can we help?" bots the average internet consumer typically encounters while browsing the web, said Bill Patterson, Salesforce executive vice president and general manager for CRM applications.
The bots will simplify data intake, recommend content to answer prospective customers' questions, route conversations to the right sales reps, set up meetings with hooks into the CRM calendar and otherwise quickly elevate conversations to live agents. The tasks Einstein Bot for Sales is tailored to perform are limited by design to facilitate basic sales-specific tasks and reel in leads, Patterson said.
"We're not trying to have our bots do everything -- like we're not there to answer questions about the weather," Patterson said. "We're there to give you information about what you're looking for, information more tailored to you. And then, if we can't answer, the best thing we can do is put you with a live human ... a more humanized way of engagement than a machine way."
Older salespeople -- especially successful reps who built their careers before AI sales technologies came along -- might not entrust customer relationships to automated bot communications, but younger generations often prefer it, said Jason Wong, vice president analyst at Gartner.
"A younger workforce is used to texting, engaging in a messaging app, in the messaging style of natural language," Wong said. "Bots are not only for consumers as a way to get quick answers, but increasingly -- in terms of how we work -- we're using messaging, we're increasingly mobile. [Einstein Bot for Sales] is just building on this trend."
Also coming in 2023 is Service Catalog, a tool with which Service Cloud users can quickly automate simple processes such as subscription changes, returns and refunds so that their customers can complete tasks themselves.
Features this fall
Coming this fall to Sales Cloud is Enablement, an automated data-driven tool that suggests tasks to sales reps to increase productivity.
Another new feature is MuleSoft Direct for Industry Clouds, which gives users shortcuts for specific integrations common to an industry -- for example, where applications need to exchange patient data in healthcare settings.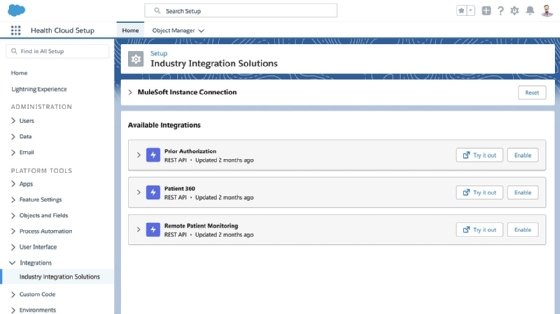 Also scheduled for fall release for Commerce Cloud is the Store Associate app, which puts customer data into workers' hands. It's a tool for retail users to bridge the digital e-commerce experience with the physical, in-person experience, Patterson said. It puts information such as product recommendations and purchase history in front of store employees so that they can personalize their interactions with customers.
"Salesforce's strategy is to extend more into front-line, customer-facing workers," Wong said. "The store associate is key to delivering the customer experience."
Previously previewed and available now are Account Engagement API Enhancements and External Actions, which enable marketers to connect third-party segmentation tools to their Salesforce CDP; Flow for Industries, which takes the general Salesforce Flow low-code automation and offers pre-built automations common to specific verticals, such as loan origination for banking and the collection of health insurance information for healthcare providers; and Composable Storefront, which is Salesforce's headless commerce architecture.
One of the three main themes seen in this basket of features is a renewed focus on vertical industries, as Salesforce's competitors such as Microsoft and ServiceNow catch up to Salesforce's lead. The others are efforts to simplify automations and new functionalities through the Salesforce CDP as it pushes customer data into new places on the platform.
While CDP might have been considered a marketing tool in recent years, users will expand its role, and Salesforce will move closer to its Customer 360 platform vision that breaks down data silos between the various clouds.
"CDP is a technology to federate data models and ensure consistency of data that is critical across their products, from marketing to commerce to sales to customer service [and] to other applications that are built on Lightning," Wong said. "Then, connecting it to other systems that share metadata on the customer. All of that is connected."
Don Fluckinger covers enterprise content management, CRM, marketing automation, e-commerce, customer service and enabling technologies for TechTarget.
Dig Deeper on Customer data management