Getty Images/iStockphoto
Salesforce adds headless commerce capabilities
Salesforce enables 'composable commerce' -- headless e-commerce, where users bring their own interface designs -- for large brick-and-mortar retailers and online-only sellers.
Salesforce released a series of headless commerce tools to give large retailer users -- and web-only sellers that differentiate their brands with a unique look and feel -- more control over digital storefronts.
The tools, available now, comprise a progressive web app (PWA) toolkit called Salesforce Composable Storefront, as well as a set of implementation accelerators for systems integrators and developer-centric Salesforce users. Salesforce also showcased a series of partnerships with independent software vendors such as Contentful, Contentstack and Coveo that enable content migration into storefronts, as well as content search and delivery from Salesforce users' product catalog.
The tools and partnerships show that Salesforce wants to enable customers to build commerce sites their way, said Predrag Jakovljevic, analyst at Technology Evaluation Centers, an enterprise industry research and analysis firm. Headless commerce is a departure from the typical Salesforce low-code approach, but it represents an attempt to make Commerce Cloud more customizable.
"Headless is not necessarily about low-code, but rather about not imposing your user interface onto the web designers," Jakovljevic said. "Web designers tend to like specific tools and want to stick with them. This way, you sell them the underlying commerce platform -- the catalog, promotions, prices, order history, etc. -- and let them develop their own UI and presentation layer."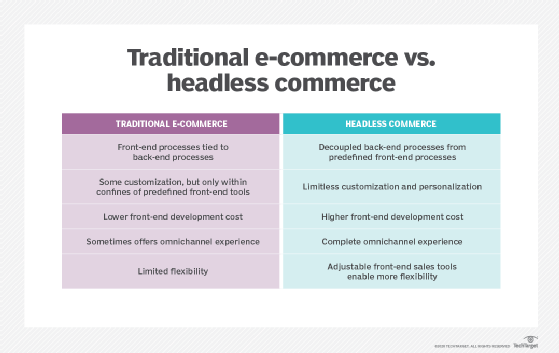 Partners also in the mix
Headless commerce isn't for every retailer. A grand majority of web stores run on common design templates or reference architectures from the likes of Salesforce, Shopify, BigCommerce, SAP and WordPress. But that results in a homogeneity of experience, which has led to the rise of headless commerce. This typically involves developing an app from scratch at some point during a retailer's digital rollout.
Headless commerce instances can quickly become developer-intensive; they require support for native mobile apps as well as web interfaces. Some companies have tackled the problem with developer tools that reduce digital storefront time to market -- one example is the headless integration between Acquia, a content management platform that runs on Drupal, and Commercetools. But there's still development and design overhead.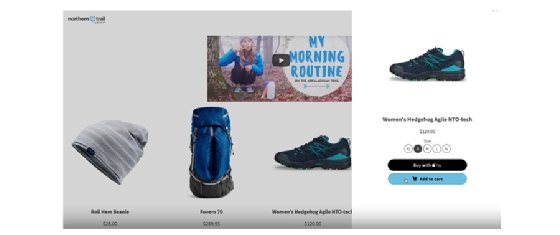 However, PWAs have become a common way to deploy custom, browser-based headless commerce sites in a more straightforward way. They don't require separate versions for different mobile operating systems -- and therefore don't require new versions every time those mobile OSes get updated. Most of the longtime e-commerce vendors mentioned above take that route to headless commerce deployment, including SAP's Spartacus and Salesforce's new offerings.
Salesforce argues that progressive web apps will open headless commerce to a new cohort of users that might not have been able to try it before. The combination of the implementation tools to make headless easier to set up for developers with partners specializing in search and content integration could reduce time and cost for Salesforce customers, said Erin Dorshorst, senior director of product marketing for Salesforce Commerce Cloud.
With composable apps, in theory, you can implement simpler processes out of the box sooner, and then add more as the time goes by.

Predrag JakovljevicAnalyst, Technology Evaluation Centers
The Salesforce Composable Storefront PWA toolkit offers users -- and their systems integrators -- the benefit of customized digital storefronts without the financial risk of a full headless approach, she said.
"From our perspective, it's really about offering flexibility to our customers and eliminating the risk of headless," Dorshorst said. "We have offerings all the way from a templated approach with our [storefront reference architecture] to a full headless approach where you bring your own storefront -- and then the composable storefront."
Jakovljevic said the Salesforce Composable Storefront follows a current trend throughout enterprise technology where many technologies feature composable, or modular, architecture.
"Vendors are trying anything to speed up the time to value and minimize the total cost of ownership, the IT staffing shortage and overhead costs," Jakovljevic said. "With composable apps, in theory, you can implement simpler processes out of the box sooner, and then add more as the time goes by."
Pricing for Salesforce's various headless commerce features is based on value of merchandise sold on the platform, in addition to subscriptions to various Salesforce cloud tools and APIs they might require.
Don Fluckinger covers enterprise content management, CRM, marketing automation, e-commerce, customer service and enabling technologies for TechTarget.