thodonal - stock.adobe.com
Acquia launches headless commerce integration
Acquia adds cloud e-commerce to its expanding digital experience platform via tight integrations with Lucidworks' AI-assisted product recommendation engine and Commercetools' headless commerce.
Acquia filled a major gap in its growing digital experience platform on Thursday when it added Acquia Digital Commerce, an integration of its web content management with Lucidworks' AI-powered product recommendations engine and Commercetools' headless commerce.
Acquia Digital Commerce, generally available now, augments the company's customer data platform and marketing automation applications, obtained through acquisitions in the last two years. Acquia had already teamed up with Elastic Path and BigCommerce for some headless commerce services and payments processing.
The partnerships give Acquia headless commerce better product recommendations and an "industrial-grade" sales platform, said Deep Analysis founder Alan Pelz-Sharpe, who added that Commercetools and Lucidworks make sense as close partners because they're hands-on, developer-centric tools for customizing digital experiences. Like Acquia, Lucidworks is based on open source.
Partnering was Acquia's best move because building similar functionality "would have taken two years to get to 80% of what the others already have," and the acquisition of a company such as Lucidworks would probably be financially out of reach for Acquia, he said.
Some technology buyers might look at headless commerce as more work and cost because of the developer overhead required. That's true for small merchants who open ready-made stores on platforms such as Shopify, and maybe even for midsize companies that hire an agency to develop an e-commerce app.
If you are Ford, Coca-Cola or Home Depot, it's a harsh market reality that there's only three of four [vendors] who are going to be on your short list.

Alan Pelz-SharpeFounder, Deep Analysis
But for larger customers, e-commerce is always going to be expensive, Pelz-Sharpe said -- whether they buy into Salesforce or Oracle, or they choose to go headless without a traditional front-end application and manage the content through a tech stack based on Acquia or its content-management competitors.
"It's always going to involve a team of developers and systems integrators, because it's on a scale of complexity that nobody else can handle," Pelz-Sharpe said. "If you are Ford, Coca-Cola or Home Depot, it's a harsh market reality that there's only three of four [vendors] who are going to be on your short list."
AI, CDP key e-commerce advancement
Lucidworks' AI and machine learning tools are far more powerful than many vendors', because the algorithms learn over time and can sharpen themselves, Pelz-Sharpe said. That's in contrast to most e-commerce packages, which base product recommendations engines on rules or very rudimentary AI. Once a user feeds in data, the machine learning ends for the most part.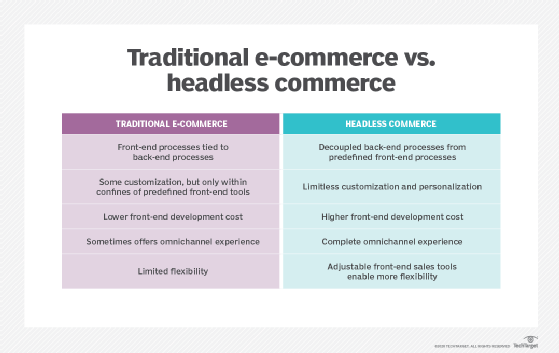 The emergence of customer data platforms has provided a big leap for product recommendations technology, said Peter Curran, Lucidworks general manager of digital commerce. Having customer activity data updated in real time makes tools like Lucidworks better able to personalize product choices for its users.
"The combination of being able to merchandise content and advertised content at a segment level and tweak it for a more individual flavor is compelling and powerful," Curran said.
In other news, Acquia also rebooted its partner network and renamed it the Acquia DX Alliance. This quarter's focus will be on commerce microservices, said Kevin Cochrane, senior vice president of product marketing at Acquia. Next quarter, the company will focus on employee experience technologies. Both e-commerce and employee experience changed during the pandemic, which guided Acquia's priorities, he said.
"With everyone working at home, the same transformation that happened on the customer side happened on the employee side," Cochrane said. "We want to build a set of ecosystem partners tied to the next-generation digital workplace that specifically supports the customer experience, such as contact center agents working at home on laptops."