Getty Images
Acquia releases open source headless CMS accelerator
Acquia, known for its developer-centric web content management, releases more tools to ease the developer's burden in deploying content headlessly to new channels.
Acquia's Drupal team released an open source developer tool to simplify headless CMS deployment, available to both users of the free, open source Drupal CMS as well as Acquia, the commercialized instance of Drupal.
The Acquia CMS Headless Starter Kit includes a wizard to walk developers through setting up a headless CMS and deploying content through APIs to front-end interfaces the developers create. Typical channels headless CMSes support with their content repositories include mobile apps, social media sites, SMS text, chat and websites.
Other tools with the headless accelerator include a feature bundle specifically for front-end developers to manage CMS content and access; a marketer-friendly preview tool to show how content will look pushed from the CMS into front-end interfaces; an API integration dashboard; different modes where developers can work in pure headless or "hybrid modes," where Drupal still controls some aspects of the front end; and data modeling tools.
Acquia also released its Next.js Starter Kit, which enables faster -- compared with coding from scratch -- construction of front-end presentation layers that control the display, markup and layout of content for the end user. The company also released an update to Acquia Code Studio, a Drupal development tool to enable developers to more efficiently, build, review, test, deploy and measure Drupal sites.
Headless represents a massive change in thinking for Acquia as well as the Drupal community, said Mike Madison, a certified Drupal expert and Acquia's director of product management. Ten years ago, developers and users were talking about modules that needed to be built so Drupal could do more things and show more content through its front end.
Today, the main objective is making it possible for Drupal to power digital experiences and deliver content to a presentation layer that Drupal doesn't control. That represents almost a complete 180-degree turn in philosophy, Madison said.
"We don't care if it's a refrigerator, or virtual reality, or the metaverse or whatever," Madison said. "That's one of the things I love about this. I don't necessarily have to think of every single application if we're providing the data in a world-class customer experience with the CMS. People can do whatever they want with it."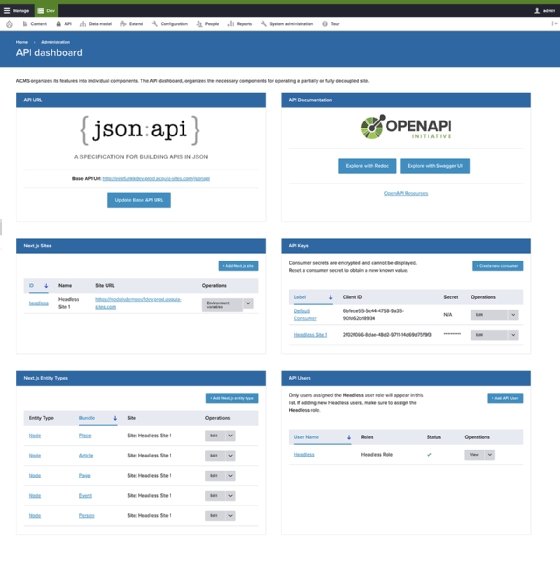 Headless CMS finds new channels
Acquia has released numerous tools to support headless CMS and headless commerce in recent years. Users so far have found many novel applications for headless CMS deployment, serving content headlessly to interfaces such as digital signage, wearable devices, chatbots and kiosks in addition to the typical headless channels of mobile apps, social messaging and chat.
But headless also can be used on regular websites, said Marci Maddox, IDC research vice president for digital experience strategies. One example that she has seen is a large retail company using headless CMS on retail webpages to serve personalized, special offers -- based on geography or other marketing segments -- overlaid on content underneath.
Traditional CMSes deliver webpages in one dimension. Headless CMSes, in contrast, deliver pages more like three-dimensional objects that enable such personalized content, Maddox said. Headless also enables design teams and brand managers to make sure content adheres to current branding styles and verbiage while, at the same time, giving developers the flexibility to deploy content on new channels as needs arise.
"One of the enterprises I'm talking to says, 'I want you to take the handcuffs off and let me design the site the way I want -- and ensure that the content adheres to that,'" Maddox said.
Wherever it's deployed, headless CMS isn't going anywhere soon, as companies such as Magnolia, Sitecore, Optimizely, Contentful and Contentstack offer headless CMSes. Headless figures heavily into Acquia's future as users take advantage of new cloud architectures, Drupal's original author and Acquia CTO Dries Buytaert said in a blog post he called a "digital experience manifesto" earlier this month.
The new features were released in conjunction with Acquia Engage Miami user conference.
Don Fluckinger covers enterprise content management, CRM, marketing automation, e-commerce, customer service and enabling technologies for TechTarget Editorial.
Dig Deeper on Content management software and services