Melpomene - Fotolia
Cloud e-commerce IT battle pits content management vs. CRM
ERP-based and stand-alone e-commerce systems dominate the market. As more companies go to the cloud, CRM and CMS vie to be the next foundation of e-commerce.
AUSTIN, Texas -- Where does the cloud e-commerce platform fit in the IT ecosystem? Does it stand alone? Coming...
Continue Reading This Article
Enjoy this article as well as all of our content, including E-Guides, news, tips and more.
off the ERP system a la SAP and Hybris? The CRM system? Or -- here's a new contender -- launch it from the content management stack.
Choose carefully, digital agencies and large enterprise customers told attendees -- many of them representing established brands with legacy IT topologies -- at the Acquia Engage user conference. That, or risk getting pounded in the marketplace by born-digital upstarts who aren't tethered to old tech and whose cutting-edge agile tech can personalize offers and intuitively suggest next purchases.
Today, many companies are using either the ERP or stand-alone model. But CRM and marketing automation companies are forcing change: Salesforce bought the cloud e-commerce platform Demandware in 2016 and augmented its cloud e-commerce reach this year by acquiring CloudCraze. Adobe shook the market further when it bought Magento earlier this year.
SAP was the first, acquiring Hybris five years ago to augment its warhorse ERP and CRM systems. Such acquisitions tempt customers to move into the CRM-based cloud e-commerce model, with its tighter integrations and -- allegedly -- lower costs of customization.
None of this means much to consumers, said Dries Buytaert, founder and CTO of Boston-based Acquia, unveiling in a keynote an independent survey of 5,000 consumers internationally, commissioned by his company. It's not enough to be able to buy something online; it has to be faster and simpler, no matter the back-end systems that must create that experience.
Cloud e-commerce from the content side
Acquia, which announced partnerships with e-commerce software vendors Elastic Path and BigCommerce in recent weeks, makes an argument that "headless" systems can more nimbly render content to different devices and create better online experiences.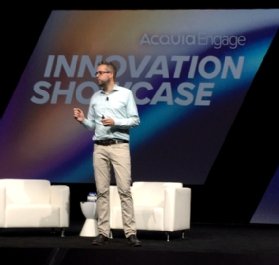 It's forcing a decision for companies fighting online-only brands by trying to develop new experiences -- and refresh their relevance to younger generations: Either build the cloud e-commerce engine on the content side and tap the CRM for customer data, or build it on CRM and tap the content management system (CMS) for content.
Content-centric cloud e-commerce is already happening for successful upstart online-only brands selling on new channels, such as in-video links or directly from Instagram posts, e-commerce experts said in a panel discussion. Old brands born in physical retail struggle to keep up with them, because it means changing foundational selling and marketing strategy that's worked for a very long time. But they're fighting back with richer data sets than their online-only competition.
"It's helpful to stop thinking about it as 'e-commerce' and think of it as 'all commerce,'" said Brent Bellm, CEO of BigCommerce, based in Austin, Texas, from the Acquia conference stage. "Consumers don't care if your online sales [have] a different reporting channel than your offline sales. Keep the experience first, and then you can figure out the architecture to follow that."
Agencies stuck in the middle
It's helpful to stop thinking about it as 'e-commerce' and think of it as 'all commerce.'

Brent BellmCEO of BigCommerce
The cloud e-commerce buying decision comes down to individual companies weighing the pros and cons of the prospective vendors and IT models, said Eric Gutowski, partner and managing director for Born Group, a New York-based digital agency specializing in e-commerce.
Gutowski's agency has watched disruption in the market force some clients to change or at least reconsider their e-commerce IT -- first upon the emergence of cloud e-commerce vendors, such as Shopify and BigCommerce, and then when Salesforce, SAP and Adobe each acquired their own cloud e-commerce vendors.
Once, e-commerce was on premises, built on the back of ERP. As monolithic, legacy IT architecture starts to show its age, Gutowski said, and new brands launch, everyone's considering starting afresh with cloud e-commerce. The goal is to create uniquely digital customer experiences, as opposed to simply digitizing physical-world transactions.
Some clients opt to build their e-commerce from the content management side, and others go with the CRM foundation. Still, others choose stand-alone cloud e-commerce independent of either.
"On the enterprise level, three years ago -- hell, two years ago -- I didn't see Shopify Plus," the small-business cloud e-commerce vendor's scalable enterprise platform, Gutowski said. "Now, it's a challenger."
Others stick with the integrated stack -- be it SAP, Salesforce or Adobe-based marketing, sales and e-commerce packages. They're easier to manage from a development and integration perspective, but can make a company vulnerable to vendor pricing increases and, sometimes, long waits between upgrades, Gutowski concluded.
Clients of another New York digital agency, Blue Fountain, are staying with the status quo, for now, said Brian Byer, vice president of content and commerce practice lead. That won't last forever.
"As things continue to evolve, and as new [businesses] form that grow larger than legacy businesses on SAP and IBM and Oracle and all these others, the new paradigm can come to bear," Byer said. "Because it's much more flexible and much more friendly to the enterprise, because they're not married to something they selected sometimes 30 or 40 years ago as their ERP provider."
Adobe's Magento play
Lower costs, Acquia hopes, will attract customers to its e-commerce partners and enable brands to launch web stores from the CMS instead of the CRM.
One source close to the Elastic Path deal said Adobe's acquisition of Magento may help Adobe ink some large deals by filling a hole in its cloud marketing suite, but it already has priced some potential customers out of the market, sending them to Elastic Path.
Elastic Path, based on open source code, doesn't carry the licensing fees of Adobe products, yielding customers more developer budget to customize e-commerce systems. No matter the vendor a company selects, considerable customization is needed to make that customer data connect to product data, pricing and promotions, shopping carts and payment processes.
Magento maintains its own open source offering, along with commercial enterprise products, but how long the open source offering remains relevant is unclear.
"I can see open source Magento very rapidly being deprecated and [Magento] moving upmarket with their product set as Adobe takes it over, becoming less of an opportunity for our open source [client] base," Byer said.
Michael Mancuso, head of digital analytics for fast-food chain Wendy's, leads a team that accounts for 1.5 million online orders every day; one in 10 U.S. residents has used its app and website. The company remade its online offerings with Acquia earlier this year, and it currently uses a homegrown e-commerce system that can accommodate the varying burger and condiment choices that different Wendy's franchisees offer local customers.
Wendy's built that ordering system some years ago, because, at the time, no cloud e-commerce vendor could accommodate the variation between franchisees. The partnership with Elastic Path, Mancuso said, offers some extra mustard that may require further evaluation of the IT stack.
"Our team is very forward-thinking and willing to take calculated risks," Mancuso said. "If there's something -- even if we have a defined strategy in place -- that says 'turn left,' we'll turn left on a dime."