Photobank - Fotolia
Adobe Magento Commerce Cloud brings e-commerce muscle
After acquiring Magento for $1.7 billion earlier this year, Adobe has integrated its commerce product into Adobe Experience Cloud for both enterprises and SMBs.
Earlier this year, Adobe acquired e-commerce vendor Magento to fill a gap in its customer experience product line....
Already a favorite among advertisers and content creators, Magento's e-commerce technology augmented the Adobe platform to fuel Adobe's push into enterprises.
Adding Adobe Magento Commerce Cloud also makes the San Jose, Calif., vendor's software more attractive to B2B organizations, because Magento has a strong record of B2B commerce.
Integrating Magento technology into Adobe commerce products fills product gaps for both companies, Forrester Research said in its September 2018 B2B and B2C Wave reports. Adobe gained a strong commerce platform, and Magento added industry-leading customer experience management to its portfolio, Forrester said.
Magento user looks to work with Adobe
Adobe unveiled its e-commerce offering on Oct. 9, nearly six months after acquiring Magento. For an existing Magento customer, the Adobe acquisition was seen as a positive move, because it is expected to bring Adobe's experience management technology to Magento.
"I see a lot of good synergy with the Adobe platform and its analytics and content with Magento," said Jonathan Bradbury, vice president of e-commerce at Nature's Bakery, a snack bar company based in Reno, Nev.
Bradbury said Nature's Bakery licensed Magento earlier this year before Adobe bought Magento for a reported $1.7 billion. Having previously helped build out e-commerce platforms for companies like Mattel and Munchkin, Bradbury had experience with Magento and preferred it over other e-commerce vendors due to what he said are its flexibility and lack of restrictions within the platform.
"I don't have an IT department at Nature's Bakery, so being able to go to Magento and sign up to their cloud product and it comes fully integrated is a big help," Bradbury said.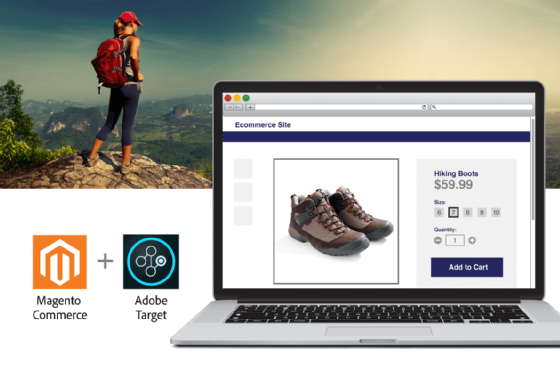 Modernizing e-commerce for SMBs
Since acquiring Magento in June, Adobe has begun integrating its Commerce Cloud offering into its core Experience Cloud product, which includes Marketing Cloud, Analytics Cloud and Advertising Cloud.
Errol Denger, Adobe's director of strategy and product marketing, said more than 100 customers installed joint deployments of Magento and Experience Cloud before the Magento acquisition.
"We've now taken responsibility of that integration," Denger said in an interview.
The combination of Adobe Magento Commerce Cloud and Adobe's existing Experience Cloud exemplifies a movement in the industry in which commerce is becoming a core function of B2B and B2C customer experience.
"Commerce is playing a bigger part in how a business operates," said John Stockton, senior director for the Adobe commerce product. "Every touchpoint of the customer's digital lifecycle has the chance to be commerce-driven, and we're seeing a real convergence of B2B and B2C. Brands want to create the ability to manage commerce across both B2B and B2C, and Magento is fit to do that."
Nature's Bakery is in the process of blurring the lines between B2B and B2C commerce. The small company founded by a family of bakers currently sells to wholesale providers like Costco, Walmart and Target, but it's hoping to grow a direct-to-consumer presence online.
I don't have an IT department at Nature's Bakery, so being able to go to Magento and sign up to their cloud product and it comes fully integrated is a big help.

Jonathan Bradburyvice president of e-commerce, Nature's Bakery
"We have a website, but it doesn't sell anything -- it's a brochure site," Bradbury said. "It's fine, but that's 10 years in the past for a company like us."
It's organizations like Nature's Bakery that are still operating with previous generations of e-commerce technology that Adobe Magento Commerce Cloud hopes to target.
Beyond trying to expand into more enterprises with its commerce product, Adobe also created an e-commerce tool for SMBs.
The enterprise software integrates with Adobe Experience Manager, Adobe Target and Adobe Analytics. The SMB product is an updated version of Magento's SMB commerce platform, and it's intended to help users reach new audiences and enable sellers to connect product catalogs into the Amazon marketplace.
Nature's Bakery's Bradbury said the company is already plugged into the AWS Marketplace and hopes to have a direct-to-consumer site built early next year.
E-commerce infiltrates customer experience
While Magento helps bring e-commerce to Adobe, Forrester warned in its report that Magento is still in its early years focusing on B2B commerce, having only added B2B commerce functionality in its late 2017 release. Magento customers told the research firm that Magento still needs to grow in areas like workflow and templated role-based access.
Meanwhile, it's been a big year in the e-commerce space for customer experience software vendors.
In addition to Adobe acquiring Magento, Salesforce invested heavily in e-commerce by acquiring B2B e-commerce vendor CloudCraze, about two years after spending $2.8 billion on Demandware.
Salesforce and Adobe both bring their own strengths, but both "have their work cut out for them in terms of integrations," said John Bruno, a Forrester analyst who co-authored the B2B and B2C commerce reports.
Salesforce has the advantage of its CRM pedigree, with applications across marketing, sales and service, as well as configure price quote and billing, according to Bruno, while Adobe is more focused on digital experience, with the Magento acquisition filling that pivotal e-commerce gap.
"The focus [for Adobe] is to address more advanced commerce and digital experience capabilities, like improving content management and experience design with Adobe Experience Manager," Bruno said. "That will help it play upmarket with serious experience-driven enterprises."
As for Bradbury, he said he is anticipating that the Magento-Adobe union can develop not only a deeper online brand, but also provide the most up-to-date e-commerce software components that businesses need today.
"People don't know our brand as well as they know our product, and we want to drive that awareness and find our own narrative," Bradbury said. "That a company that creates these great content services now owns Magento makes it more attractive."