pixel - Fotolia
Adobe updates Magento Commerce, adds Amazon and Azure hooks
Adobe continues to support Magento Open Source but adds Azure support and AI tools only to the commercial version of the vendor's e-commerce platform.
Adobe has upgraded the commercial and open source versions of the company's Magento e-commerce platform, adding Amazon Marketplace support to both, but Microsoft Azure integration and AI-powered web store product recommendations only to the commercial product.
Both versions are numbered 2.3.3 and represent Adobe's first major update to the software since acquiring it in 2018 through the $1.68 billion purchase of the company Magento. Adobe expects the new features -- as well as previously announced order management tools -- to attract large enterprises while converting midmarket customers from Magento Open Source to Magento Commerce.
While Magento built its reputation as a backend for consumer web stores, Adobe is going after the business-to-business (B2B) market, said Peter Sheldon, Magento senior director of strategy. More than half of Magento Commerce's new and prospective customers are B2B companies.
"We [also] see a lot of hybrid models where they're supporting both a direct-to-consumer B2C channel and a B2B channel," Sheldon said.
Azure support a key addition
By early 2020, Adobe plans to have Azure cloud support in Magento Commerce 2.3.3. Currently, Magento instances run exclusively on AWS. Azure support reflects a long-running integration partnership between Microsoft and Adobe that benefits both companies' customer experience platforms.
Multinational companies need a choice between Azure and AWS, Sheldon said. That's because leading developers in a region often work more in one cloud environment than the other. Also, enterprise contracts or e-commerce installations typically require the use of one of the two cloud providers.
To benefit users on the AWS side, Adobe announced Magento Commerce and Open Source support for Amazon Marketplace, starting in the U.K. with planned extensions to other European territories. The integration connects Magento to Amazon's web store infrastructure, which simplifies processes such as porting a company's whole catalog to an Amazon storefront.
Adobe also included its first Sensei AI integrations in Magento Commerce. Available only in public preview, Sensei AI recommends products while people are shopping online, a tactic used by Amazon. The Adobe software can also be customized with inventory and supply-chain data to pitch only items in stock.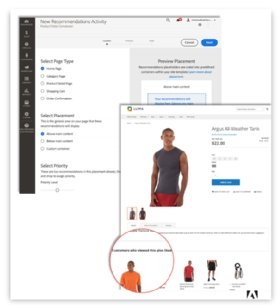 The recommendation engine will be available to customers whether they are connecting Magento to the Adobe Experience Cloud or using it with competing CX platforms, such as Salesforce.
The future of Magento Open Source
Magento was built on open source code, with a lean team managing the project and an active, vibrant coding community that created excellent documentation, IDC analyst Jordan Jewell said. When Adobe acquired Magento, some industry observers assumed the company would eventually discontinue the open source version.
Magento users worried about how long the open source version will be around should carefully watch how Adobe caters to the Magento open source community. The latest Magento version shows that Adobe plans to keep it going for a while, Jewell said. Continuing Magento Live user events, including the European conference where Adobe made Tuesday's announcements, is also a positive sign.
In general, commercial software companies that acquire open source tools are less enthusiastic about investing in open source versions and maintaining those communities.
"Supporting an open source community doesn't generate direct value; it's kind of indirect," Jewell said. "It brings people to your product, but it's hard to show that value. There haven't been that many public companies that have done a great job supporting open source."
However, converting Magento Open Source users to Magento Commerce customers is a revenue-generation strategy for Adobe, Jewell said. Roughly seven out of 10 Magento customers are using the free version.
Adobe's handling of open source loyalists will determine whether they convert to Magento Commerce or move to other open-source e-commerce platforms, such as Elastic Path and OpenCart, Jewell said.