Fotolia
Adobe-Microsoft partnership adds key integrations
Adobe brings its Document Cloud to Microsoft Office 365 and Dynamics 365, making it easier for licensees of both to quickly convert files into PDFs and into Acrobat.
The Adobe-Microsoft partnership is becoming immediately visible to customers, as the tech giants start to more...
Continue Reading This Article
Enjoy this article as well as all of our content, including E-Guides, news, tips and more.
deeply integrate their products for cloud users.
The companies said they will soon start coselling applications and comarketing products.
Also, Adobe has unveiled new integrations with Document Cloud and Microsoft products, embedding the ability to create a PDF directly in applications like Office 365, Dynamics 365, SharePoint and OneDrive. The San Jose, Calif., company also released upgrades to its Adobe Scan and Adobe Sign products.
The integrations strengthen the partnership revealed almost two years ago at Microsoft Ignite, when Microsoft CEO Satya Nadella championed the promise of a significant alliance with Adobe.
By committing to deep integrations and signaling they will cosell and comarket products, the companies are making more Adobe-Microsoft integrations immediately visible to and usable for customers -- particularly now that the Adobe logo is an integral feature on the Microsoft 365 UI ribbon.
Analysts said the tighter Adobe-Microsoft connection indicates the tech partners have succeeded in bridging their technologies and making product integrations tangible to users.
"Adobe and Microsoft is the tightest, most profound alliance I've seen with two companies," said Paul Greenberg, founder and managing principal of The 56 Group and author of CRM at the Speed of Light. "I call it the 'get-a-room' partnership, because it's that intimate -- down to the bits and bytes of architecture."
Document Cloud integration for Microsoft products has been available for on-premises versions of Office and SharePoint, but the latest integration opens the option to export PDFs into Acrobat directly from Microsoft's cloud-based products.
Office 365 and Dynamics 365 users will also be able to use the Document Cloud integration on mobile devices. To take advantage of the integration, users must have licenses for both Document Cloud and any of the Microsoft cloud products included in the integration.
The depth of integration is going to drive sales in a significant way, regardless of if they are comarketing.

Terry Frazierresearch director at IDC
"Enterprises can roll this out for all of their users; it's consistent across 365 tools, including Outlook," said Lisa Croft, group marketing manager at Adobe Document Cloud. "We made the decision to do this partnership not only from a technology perspective, but also marketing and coselling together."
Whether the Adobe-Microsoft partnership means the companies will actually go to market together does not directly reflect how close the companies have become, according to Terry Frazier, research director at IDC.
"The depth of integration is going to drive sales in a significant way, regardless of if they are comarketing," Frazier said. "They're expanding the ease of use and integration, and all of that is critically important."
Neither IDC nor Adobe had statistics available on how many Adobe Document Cloud customers also license Microsoft 365 products. However, anecdotally, both said there is a significant overlap.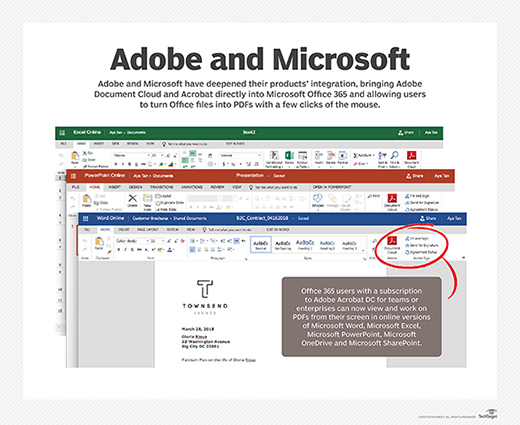 Adobe upgrades Scan, integrates Sign
Beyond tightening integrations between core Microsoft and Adobe products, Adobe also upgraded Adobe Scan and Adobe Sign with consumer- and enterprise-friendly features.
Adobe Scan consumers can now use a free application to scan a business card and have the information on the card turn into a contact on their mobile device. Adobe also added its AI platform, Sensei, into Scan to help the app deal with common problems, such as shadows and dimly lit pictures.
"Paper business cards are something with information that can be reused and repurposed in a better way," Croft said, adding that since releasing Scan last year, Adobe has seen more than 10.5 million downloads.
Last year, Adobe integrated Sign into Office 365 and Dynamics 365 and furthered that integration this year to include multistep workflows within Dynamics 365 and improved automation features to be compliant with the General Data Protection Regulation.
"The whole e-signature space is somewhere we see a lot of activity, and it needs to continue to get easier and fast and smarter," Frazier said.
All these integrations and product upgrades are being done with a specific goal in mind, Greenberg said. That is recognizing the importance for customers of having an intelligent, easy-to-use platform and ecosystem of products.
"Looking at it all, these companies recognize that they need to meet the end-to-end demand of customers," Greenberg said. "Between acquisitions and partnerships, there's a lot of completion happening."