Nabugu - stock.adobe.com
Mural intros Mural AI, integrates with Microsoft 365 Copilot
The integration of Copilot into the visual collaboration platform shows how vendors are working together to bring customers generative AI tools that interoperate between systems.
Mural on Wednesday released an integration with Microsoft 365 Copilot as well as Mural AI, its native generative AI tool.
The capabilities became generally available to enterprise customers on Wednesday, the same day that Copilot became fully operational for Microsoft 365 customers that pay extra to use the generative AI assistant.
By integrating Copilot with Mural, dual customers can use Copilot to search across Mural for specific templates or murals. A template is a preset layout with specific capabilities for a collaboration activity, and a mural is the collection of grouped templates, like a folder for documents.
Dual customers can also prompt Copilot to suggest a preset template for a certain type of collaboration session.
Copilot functions in Mural include search capabilities for various applications.
A sales representative can use Copilot as a search tool to locate a customer discovery template that lets businesses interact with customers to better understand their needs. A designer can use Copilot to summarize sticky notes from a brainstorming mural, and a product manager can use Copilot to locate project kickoff templates designed to lead teams through the ideation process.
As Copilot makes Mural's preset templates searchable, it also makes Mural's tools more accessible to first-time visual collaboration users, according to Rosanna Jiminez, an analyst at S&P Global Market Intelligence.
"Mural's AI capabilities will enable users to get value out of the tool at a faster rate. This will be even more true for new users who are not familiar with the freeform canvas environment, which may make Mural a more appealing option for buyers who have had concerns about user adoption and ROI," Jiminez said.
Making generative AI interoperable
The integration between Mural and Microsoft Copilot shows how generative AI capabilities can be interwoven between applications to make users' workflows and information searches between systems simpler and more comprehensive, according to Metrigy analyst Irwin Lazar.
In this way, the integration decreases the clickthrough time and screen clutter that is usually required to search in or collect information from separate applications, Lazar said.
By integrating Mural into Copilot, users do not have to switch between Mural and Copilot to find relevant information.

Irwin LazarPrincipal Analyst, Metrigy
"One of the challenges with generative AI going forward is the potential for genAI 'islands,' which require users to move between different genAI interfaces to work. By integrating Mural into Copilot, users do not have to switch between Mural and Copilot to find relevant information," he said.
Microsoft in May unveiled various Microsoft 365 Copilot plug-in integrations with vendors, including ServiceNow, Adobe, Atlassian and Mural. In addition, content management vendor Box unveiled a similar integration with Microsoft Copilot 365 in July.
"I expect that you'll see additional Copilot partnerships emerge very quickly," Lazar said.
Mural AI capabilities
In contrast with Copilot's general search features in Mural, the Mural AI capabilities are embedded within template exercises to help users brainstorm and work together, according to Matt Heying, senior vice president of product at Mural.
"We're not just trying to do personal productivity gains.. We're very much focused on these collaborative exercises and teamwork," Heying said.
One of Mural AI's tools helps team members come up with ideas by suggesting prompts. For example, one prompt tells Mural AI to generate a lead statement on how to improve the team's next sprint, which is an amount of time allotted to complete a specific task.
Users can also prompt Mural AI to generate ideas onto sticky notes and then sort those ideas into different groups in a process called clustering, according to Heying. Mural AI can also summarize these ideas.
Visual collaboration vendors Miro and Stormboard offer similar generative AI abilities, but Mural's partnership with Microsoft 365 gives it an advantage, according to Lazar.
"The big benefit to Mural is that they are the first to integrate into Copilot," he said.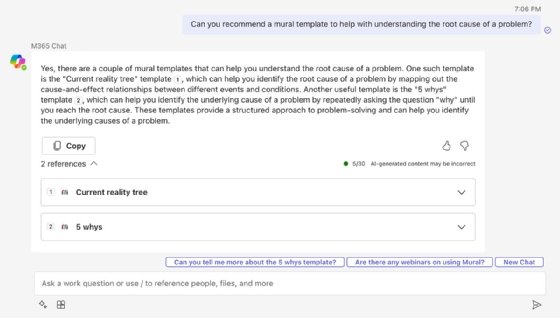 Copilot and Mural: Looking ahead
Copilot's search feature in Mural is just the beginning of the Microsoft-Mural integration partnership, according to Heying. Mural and Microsoft also are developing capabilities to let Copilot convert files like Microsoft Word documents into Mural templates or murals, and vice versa, he said.
In addition, Mural is following Microsoft's large language model training policy, which specifies that customer data can't train future models. However, Mural has received interest from customers that would like their data to be used to train Mural's models to make the generative AI output more brand-specific, according to Heying.
"There's an opportunity there. We have a lot of customers that are interested in – 'How can we use existing murals and existing content as a way to feed in the model, so that we can get better results from it?' And that is something that we're also working on," Heying said.
Mary Reines is a news writer covering customer experience and unified communications for TechTarget Editorial. Before TechTarget, Reines was arts editor at the Marblehead Reporter.