Definition
team collaboration tools
What are team collaboration tools?
Team collaboration tools -- also known as team collaboration software -- is a term used to define the different types of software and online services available to companies and individuals that enable them to feasibly work together on common projects, regardless of their physical location. The tools can be as simple as email or as complex as a sophisticated project management software. The primary goal of a team collaboration tool is to align workers by providing support to a group of two or more individuals and assisting them in the accomplishment of a common objective.
Team collaboration tools are a group of technologies that offer real-time messaging, group chat, file sharing, shared calendaring, project coordination, voice and video for one-on-one and group communication. Within enterprise settings, these tools can be centrally managed, which streamlines administrative tasks.
As the modern workplace moves further away from being a physical location, the necessity of team collaboration tools increases, making them a vital element to an enterprise's workflow. The right tool can strengthen the team through efficient communication among remote team members and increased productivity. Furthermore, collaboration history for each user can be archived and reviewed through team collaboration tools, enabling users to look back at past communication experiences from a historical perspective.
Features of team collaboration tools
Team collaboration tools are also beginning to merge with modern collaboration platforms. Existing project management software, for example, offers various features to enhance collaboration, including task updates, progress visualization charts and file sharing capabilities. Combining project management capabilities with collaboration tools enables a business to incorporate even more specific features, such as video conferencing, client-facing portals and live sharing on collaborative documents. However, the primary features that project management-focused collaboration tools possess are task management, group chat, document sharing and management.
Task management
Effective team collaboration software possesses task management capabilities that enable users to check the progress of tasks and milestones across multiple projects using one screen. This feature provides a quick look at due dates, conversations, files, checklists and time logs for each task, enabling users to save time and take control of the workflow. Users are also able to reassign work, reprioritize tasks and add resources when necessary. The task management feature provides updates on project tasks that the user is responsible for, as well as notifications of tasks that the user needs to accept or reject. A complete report of the task should be available in any file format.
Document management
The document management feature enables users to store, organize, collaborate on and share any document or media file. This feature includes an option to automatically notify team members whenever someone approves, rejects, views, uploads, downloads or adds comments to a shared document. The document management solutions feature also includes the ability to quickly and securely drag and drop files into a folder within a user's personal hard drive, the network drive or a team folder.
Group chat
Group chat takes collaboration to the next level as it relates to working on team projects where workforces are geographically dispersed. This provides team members with messaging, file sharing, virtual voice/video conferencing, virtual whiteboarding and workflow tools. This delivers an all-in-one location for project collaboration work that supports a free flow of information for all stakeholders.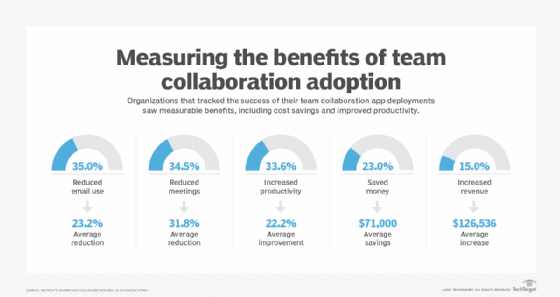 Types of team collaboration tools
The primary types of team collaboration tools are file sharing, instant messaging (IM), cloud storage, online whiteboards, document synchronization, voice/video conferencing and calendar sharing:
File sharing tools enable teams to quickly distribute and transfer files, as well as provide access to other members. These tools remove the slow and constrained process of email attachments, relieving inboxes from the distracting flood of heavy files and notifications. Shared files can be anything from documents to videos or even software.
IM tools enable teams to exchange instant messages and online files in real time to one or more recipients. Video files, voice communication and video conferences are supported by most IM apps.
Cloud storage tools enable data to be stored remotely within a telecommunications network -- typically the collaboration tool service provider. This creates a centralized location for information that all team members can easily access.
Online whiteboard tools replace traditional, physical whiteboards or the need to collaborate physically. They provide teams with a place to communicate visual information through graphics, drawings and text, all of which can then be quickly saved or deleted as needed.
Document synchronization tools match two documents, making all edits in one version effective in the second version as well. This ensures that both documents are identical and that employees always have the most recent version of the information.
Voice and video conferencing tools provide a way for various people across the internet to communicate in a live, visual conversation using voice and/or video. These tools enable teams to benefit from virtual meetings without having to be at the same physical location.
Calendar sharing tools enable users to schedule appointments without consulting and coordinating with each person involved. All participants' schedules and conflicts are visible on a central calendar, enabling the person organizing the meeting to quickly find a time that works for everyone and send an invitation, saving time and fostering teamwork.
Benefits of using team collaboration tools
Team collaboration tools have quickly become an invaluable addition to most business environments, improving work processes, organizing projects and working them through their final outcomes. The need for such tools has exploded over the past few years due in large part to the growth of remote workforces. The combination of multiple collaboration tools and features supports a more natural and synchronized flow of information compared to using separate tools, such as email, phone and teleconferencing, which require far more coordination to use properly.
Specific benefits that come from using team collaboration tools include the following:
Improved and faster communication for local and remote teams and businesses.
A clearer exchange of information since all communications, files and progress updates are centralized.
Faster file sharing without file size limitations, resulting in a more efficient feedback process.
A decrease in miscommunication since all communication is recorded and searchable.
Improved visibility into each team member's and the total project's progress.
Improved team unity due to the ability of team members to connect with each other both on a personal level and team level.
Increased productivity resulting from improved teamwork and cohesion, as well as access to centralized information that's viewable by all.
Challenges of working with team collaboration tools
Unfortunately, there are still challenges associated with team collaboration tools. For example, the ease of providing immediate and unrefined feedback could become a bad thing if too many people get involved with different opinions, causing the original worker to lose sight of their initial objective.
Larger problems exist when it comes to businesses and teams that use differing collaboration platforms. While progress is being made to make different vendor collaboration tools interoperable, there's still a distance to go in order to ensure that all users have access to the same tools or features when operating in a mixed-platform environment.
When integrating team collaboration tools into a business, operational challenges may also arise. These can include the following:
A lack of team management oversight or the ability to define key performance indicators and clear objectives can cause roadblocks.
Competition among employees prevents knowledge sharing and collaboration.
A lack of transparency among team members can negatively impact members whose work depends on others.
Pessimistic members can have a negative effect on the rest of the team, impairing the morale of the team, decreasing productivity, and creating conflicts and frustration.
A lack of engagement among team members can decrease their ability to identify problems or obstacles and work together to find solutions.
Indecisiveness among leaders can create unclear expectations and delay deadlines. This is frequently found in projects with multiple stakeholders who are not in agreement.
Furthermore, it's possible that each department uses a different process when working with team collaboration tools. Therefore, when trying to collaborate across departments, it can be challenging to define a consistent process that matches each team's style.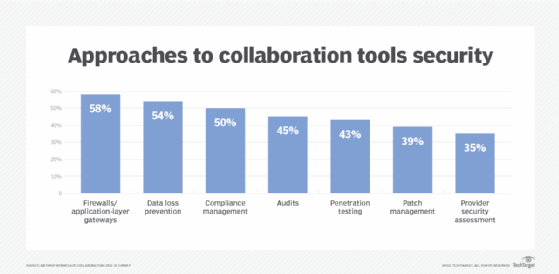 Common collaboration tools
There are dozens of collaboration vendors and respective platforms on the market today that are geared toward enterprises both small and large. Let's look at several of the most popular options available and explore their features and characteristics that set them apart from the others.
Microsoft 365/Teams
Microsoft's cloud-based 365 portfolio includes a wealth of team collaboration tools depending on the license you have. Perhaps the most important is Teams, which provides users with services like one-on-one and group IM, voice and video meetings.
What sets Microsoft's platform apart from the others, however, is the seamless integration with other 365 apps, many of which are used extensively within enterprise environments. Examples include Word, Excel, PowerPoint and OneNote. Additionally, Outlook's email and calendaring are fully integrated with the OneDrive cloud storage service. Combined, this creates a single platform for all communications and team file sharing needs.
Finally, Microsoft includes its Project and Roadmap applications within 365, which enables project managers to easily manage and track various business projects, while providing visibility into project timelines for all team members.
Asana
Asana is a popular team collaboration tool focused largely on project management. It combines team communication and project management to improve collaboration in small or large projects and in projects with recurring tasks. Key features of Asana include pre-made templates to add workflows, live team progress tracking, the ability to customize views to check on the progress of prioritized projects and the ability to attach documents to any conversation.
Atlassian
Atlassian has developed a popular suite of team collaboration tools that deliver a host of communication and project management features. Atlassian collaboration tools are incredibly popular with tech and software development organizations.
The Jira app helps teams assign and set work priorities for various projects. It fosters effective collaboration and enables a team to manage the application development process by guaranteeing that every task and feature is taken care of. Key features of Jira include the following:
A project estimation feature that enables teams to understand their timeline and capacity.
Reports that show the progress of both Scrum and Kanban teams.
Flexible Kanban boards that provide visibility into continuous delivery.
The Confluence app is a team workspace tool that enables team members to communicate with each other, share project updates and announcements, and create a single source of truth that all team members can access and interact with.
Finally, Trello is a project management tool that makes using project management frameworks, such as Lean or Scrum, more feasible. It enables users to easily monitor the progress of projects and assign tasks to different team members.
Zoom
While most people think of Zoom as a video conferencing tool, the company has incorporated a number of team collaboration services into the platform. Not only does Zoom provide an excellent voice and video service for virtual communication, but it also includes team chat, whiteboarding, email and calendar integrations. Users can also create team workspaces to share messages and files and to track the progress of various business projects.
Slack
Much like Zoom, Slack is often pigeonholed as an application that mostly provides chat and team collaboration features. However, the service has grown significantly and can now be considered a complete collaboration environment. Its key features include the following:
File sharing and information searching.
The ability to customize Slack based on business requirements.
Group channels to help users sort messages and discussions by topic, department or purpose.
Additionally, Slack has voice and video conferencing capabilities to give teams a virtual meeting space from which they can connect and collaborate on one or more projects.
Google Meet/Drive
For organizations that heavily use Google Workspace apps, such as Google Docs, Sheets and Slides, integrating Google Meet and Drive delivers a solid suite of team collaboration services that can be managed within a single online platform. The Meet voice, video and chat services were previously two separate apps -- Hangouts and Chat -- that have since been combined into one. This, in combination with the Drive cloud-based file storage service, gives users everything they need to discuss and work on projects in a virtual setting.
Cisco Webex
Large organizations that are heavy users of Cisco hardware and software likely use Webex for their voice and video communications needs. Beyond that, Webex also offers IM, file sharing and whiteboarding. Users with access to Cisco video conferencing hardware will likely gravitate toward this platform as it seamlessly integrates video conferencing and webinar capabilities with most of the other team collaboration services that modern organizations now require.
How to choose the best collaboration tool for your team
The important first step of choosing a team collaboration platform is having a sound understanding of the types of collaboration tools and features. In some organizations, the need for voice and video communication is prioritized over all other functionalities. In others, organizations that request a more comprehensive and configurable project management focus will choose team collaboration tools that cater to those aspects.
It's also important to review what apps and services employees already use today and find tools that can easily be integrated into existing applications and workflows. Examples include the use of Microsoft's Office suite, Google Workspace and Cisco Webex hardware and software. If, however, the business is not a heavy user of these apps, it's advisable to evaluate other tools that may be a better fit.
Finally, the best team collaboration platform is one that can be used not only within the organization, but with outside contractors, vendors and clients. Thus, tools must be reviewed based on interoperability options with other platforms. In some cases, this type of interoperability is built into the platform itself. In other cases, third-party services, like Mio, deliver interoperability between collaboration platforms.
Explore the four leading team collaboration tools and some of their competitors.
This was last updated in
April 2023
Continue Reading About team collaboration tools