Integrated collaboration environments offer new ways to work
By integrating with several other business operations, team collaboration platforms can provide a central workspace for virtual teams to organize their productivity.
One key word that has emerged from the coronavirus pandemic is pivot. Businesses, for example, had to pivot quickly to new ways of working. Employees were sent home and remote collaboration became commonplace. Some organizations were better prepared than others to make that pivot.
For their part, team collaboration platforms became pivotal work hubs that can integrate with other communication workflows inside and outside organizations. In this integrated collaboration environment, the team collaboration platform could serve as a central core with spokes of communications integrations shooting off into other workflows.
This vision of a pivotal platform was presented recently by Tim Banting, senior principal analyst at Omdia, during Interop Digital, a virtual conference. In his session, "Team Collaboration: The Pivotal Platform for Productivity," Banting said the integration capabilities of team collaboration platforms are becoming increasingly important. Companies, for instance, need to communicate externally with customers, suppliers and partners, while also interlinking internal communications for employees.
As a team collaboration platform can pivot out to other workflows and integrations, the platform becomes a central work hub for virtual teams to get work done. The focus, Banting said, is to organize group productivity in a central workspace.
Organizations seek collaboration flexibility
Without a doubt, the pandemic lockdowns have altered business operations for countless organizations across the globe. Some organizations found their underlying infrastructure didn't meet their business needs, and only 17% of organizations were fully prepared to work remotely, according to Omdia research. Organizations realized they needed an IT infrastructure that enables them to act quickly to changing situations, Banting said.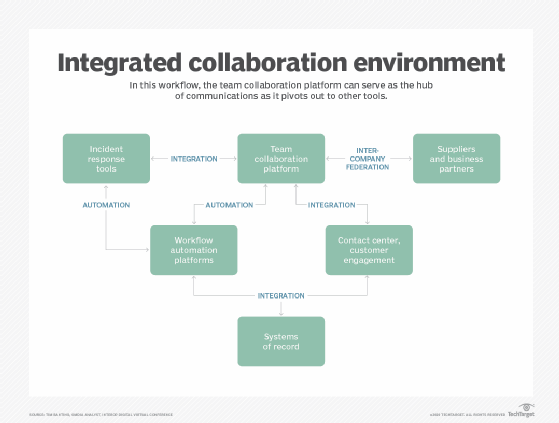 Stay-at-home orders have compelled organizations to consider a more integrated collaboration environment as workers, customers and business partners are now more dispersed than ever before. As businesses reimagine their operations and workflows, they acknowledge they need a flexible collaboration platform that supports where, when and how people work.
An effective integrated collaboration environment starts with a team collaboration platform at its core, which then branches out to other elements of the business. As examples, team collaboration platforms would be Google Workspace or Microsoft 365.
Collaborating outside the company domain
Team collaboration platforms can pivot out to communicate with suppliers and business partners as part of external collaboration via intercompany federation. Organizations are no longer constrained by the location of their offices, departments and staff, and yet business partners and suppliers are collaborating more with this distributed workforce. As a result, communications and collaboration are vital considerations.
"As supply chains get reconfigured around the globe, there's an increasing importance on supplying partners and supporting other customers within the digital supply chain as part of a broader collaboration and communications initiative," Banting said.
In this area of external communications, services such as Mio and NextPlane can enable interoperability between different team collaboration platforms. Large organizations, too, might have disparate platforms in which federation is vital to prevent islands of information, Banting said.
Automating routine tasks
The use of workflow automation platforms is another pivot point. While automation is not common now, Banting said workflow automation will affect business operations significantly over the next couple of years, and team collaboration provides a platform where these elements could comingle.
With some new technology investments, organizations could automate several business processes. Namely, repetitive tasks, such as sales orders, IT ticketing, expense approvals and employee onboarding, could be streamlined with help from workflow automation platforms. Some tools in this area may include Tray.io, Smartsheet, ServiceNow, Workato and Microsoft's Power Automate.
Integrating incident response
Another pivotal integration point would be incident response. Team collaboration platforms can automate IT support for trouble ticketing and incident response issues. Since team collaboration platforms integrate easily with other apps, organizations can build upon existing technology investments and incorporate new apps when needed.
"By integrating front-end applications, team collaboration can provide this environment where you can escalate issues automatically, collaborate on solutions and update users quickly," Banting said.
Bots can also be incorporated into the platforms to address common employee issues, such as password resets. Tools in the incident response category could include PagerDuty and Zendesk.
Resolving customer issues
A fourth integration point would be the contact center. As team collaboration platforms become a work hub for business operations, Banting said, their capabilities can extend to frontline staff to improve customer engagement. Team collaboration platforms can also help improve and automate communications between front-end and back-office staff.
The integration of all these platforms -- notably contact center, workflow automation, team collaboration and incident response -- can also help resolve customer issues. For example, if customers post negative tweets about a company's software update, the marketing team, developers and contact center staff can all be alerted so that corrective action can be taken.
Furthermore, both workflow automation platforms and contact center platforms could integrate with systems of record, such as Salesforce, SugarCRM, SAP and Oracle. CRM accounts could also relay sales activities to workflow automation tools, which could send these periodic updates to certain personnel.
Consider the corporate culture
In sum, different segments of workers require different sets of tools. But connecting these tools in an integrated collaboration environment could help remote workforces operate more effectively together.
Team collaboration platforms can integrate with several other platforms by using pre-built connectors to third-party apps, Banting said. Team collaboration platforms provide organizations with a solid layer of communications features, which offer great productivity potential and new ways of working. Several platforms are available. In addition to Google Workspace and Microsoft 365, other options include Cisco Webex, Slack, RingCentral and Facebook.
Banting encouraged IT directors and unified communications managers to survey their employees to find out what they need to do their best work. Also, consider the different capabilities to provide in conjunction with the places best suited for employees to work.
Organizations can adopt most platforms for little cost, with the opportunity to "try before you buy," Banting said. Finally, organizations should explore how they can improve productivity through automation and how suppliers and partners could benefit from the technology investments. Also, organizations should consider any changes they need to make to their organizational culture and management practices to accommodate this new way of working.
Dig Deeper on Communications platforms and integrations