Seeking use cases for digital collaborative whiteboards
As a fairly new business technology, touchscreen whiteboards are trying to find their way into the enterprise market. Some companies, however, are struggling to find use cases.
Digital collaborative whiteboards seem promising. These flashy hunks of hardware loaded with visual collaboration software mesh video conferencing, screen sharing, digital annotation and other unified communications features.
But, as with any technology, users are having a hard time finding immediate use cases. In fact, according to industry analysts, many companies are trying to determine how these newfangled collaborative whiteboards might fit in their everyday workflows and overall unified communications (UC) strategy.
At the same time, use cases for collaborative whiteboards are pretty broad, said Irwin Lazar, an analyst at Nemertes Research in Mokena, Ill. Largely, these collaborative systems allow remote users to view content and mark it up via touch-enabled laptops and mobile devices for two-way, real-time collaboration.
Currently, these devices and their software are for large organizations with distributed teams that need to work on and share visual elements, Lazar said. Touchscreen collaboration systems can aid brainstorming and ideation sessions, especially for designing products and marketing collateral. These digital collaborative whiteboards could potentially replace dry-erase boards and other aging conference-room equipment.
"End-user organizations, though, are still not convinced," Lazar said. "They're still kicking the tires on these devices."
Questioning the user experience
Indeed, not everyone is convinced, including Tim Banting, an analyst at London-based GlobalData Plc.
"It seems like a product looking for a use case," Banting said. "Just because you can digitally represent something in the physical world doesn't necessarily mean it's going to be adopted."
I think Interactive whiteboards are a fad and not a trend. Without a specific use case they will become inactive white elephants! #ucoms

— tbanting (@tbanting) July 5, 2017
Banting said the displays prove beneficial for introducing existing content, such as digital X-rays and network diagrams. But he questioned the effectiveness of using a stylus pen to circle parts of content and draw people's attention to it. The digital annotation is also lagging, he said. As users draw on the boards with their fingers or stylus pens, they may notice a delay for the digital ink to appear.
"[These devices] more likely are going to frustrate users than add value to their meeting experience," Banting said. "The current technology seems cumbersome and doesn't really deliver a similar experience to a physical whiteboard."
But the ink and touch responsiveness of collaborative whiteboards has improved over the past year, according to Alan Greenberg, an analyst with Wainhouse Research in Duxbury, Mass.
Major vendors spotlight whiteboard market
Perhaps the most dominant use case for early adopters of this technology is when a customer already has a certain vendor's software and services deployed. For example, Microsoft has been aggressively pushing its Surface Hub. By extension, organizations have deployed the device and integrated it with their existing Microsoft services and Skype for Business, Lazar said in a webinar on immersive group collaboration.
For Microsoft, Cisco and Google, their respective digital whiteboards serve as elaborate extensions and endpoints for their collaboration software. The devices help get users ingrained into the vendors' UC architecture, especially in group collaboration settings and conference rooms.
The touchscreen collaboration market is teeming with products, including the Cisco Spark Board, InFocus Mondopad and Google Jamboard. While many of these products approach collaboration somewhat differently, they all aim to enhance visual, remote, group-based communications with an emphasis on brainstorming sessions.
Before deploying, Lazar said, IT managers should evaluate employee collaboration habits and conduct pilot programs to see if collaborative whiteboards integrate with their existing technology. Businesses might also roll out these devices if they're looking to modernize offices and create open workspaces. But justifying the cost could be a problem.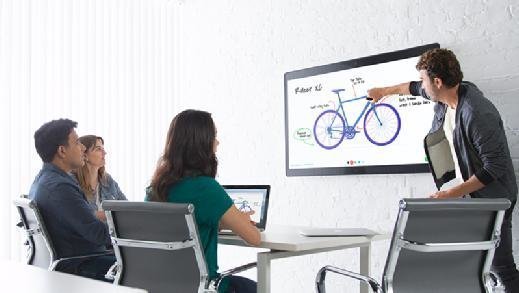 Tangible business case is elusive
While some companies might struggle to find a specific use case for collaborative whiteboards, they may also struggle to pinpoint an adequate business case. The value of improved collaboration, after all, has always been hard to quantify, Lazar said.
In general, he added, companies see the value of digital whiteboards and are proactively trying to find a place for them in the enterprise. But the products are not necessarily high on IT's priority list, especially if the tangible business benefit is elusive. Companies, for example, might have trouble illustrating how a deployment saved money or boosted revenue.
In that case, expect vendors to stress analytics going forward as their collaboration software starts to track how employees use the platforms. If product designers, for example, can shorten the design process with the help of a collaborative whiteboard, then a company has a strong business case.
Currently, IT executives don't have expansive plans to deploy immersive collaborative whiteboards across their companies, according to a Nemertes Research study. Instead, because of cost or lack of use case, companies are limiting planned deployments to one or two meeting rooms.
Historically, interactive whiteboards have been criticized for being too niche. The use cases, for instance, only applied to certain verticals that include education, engineering and architecture. But the products are gradually expanding into other markets, Greenberg said, especially as more companies focus on team-oriented projects.
Companies size up immersive collaboration
About 70% of companies are using, to use or evaluating immersive group collaboration systems, according to a report last year from Nemertes Research, a tech advisory firm in Mokena, Ill. Nemertes interviewed 45 senior-level IT executives across a range of industries and company sizes.
About 18% of companies were currently using the collaboration products, while 47% were evaluating the systems. Some companies considering these products said they are looking to modernize offices and build a "workplace of the future" vision. Nearly 30% of companies had no plans to use the systems largely because of cost issues or lack of use case.
The products deployed in the report included DisplayNote, Microsoft Surface Hub, Newline, Oblong and Prysm. The research was conducted last year, before the Cisco Spark Board and Google Jamboard entered the market.
Get hands-on experience with products
One vendor in this space, Bluescape, offers visual collaboration software while partnering with hardware display manufacturers. The software works on the Surface Hub and on displays from Dell, Avocor, Planar and other vendors.
The primary use cases for Bluescape are in media entertainment and film, according to Nick Brown, vice president of product and marketing at the company, based in San Carlos, Calif. Many Bluescape customers build storyboards, create movie trailers, and devise marketing and merchandising efforts.
In this video, Bluescape employees simulate a collaboration session and demonstrate the vendor's visual workspace.
The federal government is also a significant Bluescape user, Brown said. Agencies use the software for situational awareness and visual intelligence. In this realm, Bluescape has partnered with Esri, a supplier of geospatial mapping software.
Many visual collaboration vendors, including Bluescape, have regional offices, so potential customers can visit and test-drive products. Often, Brown said, customers will visit a Bluescape office, play with the product and dream up their own use cases.
Next Steps
Online whiteboards enhance virtual meetings.
Immersive group collaboration revamps meeting rooms.
Conference room systems have seen a resurgence.