Disadvantages of interactive whiteboards: Cost, lack of interoperability
Large-screen collaboration devices offer some powerful communications tools. But buyers also need to heed some of the disadvantages of interactive whiteboards.
Content-sharing devices, touchscreen displays, interactive whiteboards or immersive visual collaboration workspaces -- whatever you want to call these things -- are making their mark on unified communications. These multifunctional systems are packed with collaboration software that enables dispersed teams to digitally annotate images, share screens and video conference.
The devices fill important collaboration and conferencing gaps. For instance, in the past, meeting participants might scribble a sketch on a traditional whiteboard and point a camera at the drawing so remote viewers can see the image. But interactive whiteboards now let remote users see the content and mark it up for two-way, real-time collaboration.
These interactive whiteboards could also replace analog whiteboards and other aging conference-room equipment.
Despite their potential, however, these devices are not for everyone. Industry analysts have cited several disadvantages of interactive whiteboards, including high costs and a lack of interoperability among some systems.
High costs could subside
When considering interactive whiteboards and other similar products, organizations are budgeting about $10,000 per meeting room, according to Nemertes Research, a tech advisory firm based in Mokena, Ill. Because of the high cost, organizations are not exactly looking to deploy these products in every meeting room, said Irwin Lazar, a Nemertes analyst.
"There's probably a lot of companies that are not going to spend the money," he said. Organizations are struggling to justify the investment. Companies have long wrestled with quantifying the value of improved collaboration.
Lazar said he expected vendors to tackle the high price point of interactive whiteboards, however. Prices could tumble, as equipment becomes more affordable and more vendors compete in the market.
Some examples of interactive whiteboards include Cisco Spark Board, Google Jamboard and Microsoft Surface Hub. Cisco and Google released their collaborative boards just this year. Microsoft started shipping the Surface Hub in 2016, and it has reportedly closed its manufacturing facility in Oregon and is moving production to China.
Overcoming cost disadvantages of interactive whiteboards
Both Cisco and Google offer 55-inch versions of their boards, each priced at nearly $5,000. A 70-inch version of Spark Board is priced at nearly $10,000. Customers also need to pay a $200 monthly subscription to Cisco's cloud, which handles the interactions between Cisco Spark software and the interactive display.
Cisco also offers an Access Plan that features no upfront hardware costs, but a payment of $380 per month for the 55-inch version and $575 per month for the 70-inch screen. Google's Jamboard has a $600 annual management and support fee. The fee is $300 if you order a Jamboard before October. The Microsoft Surface Hub 55-inch and 84-inch models are priced at $9,000 and $22,000, respectively.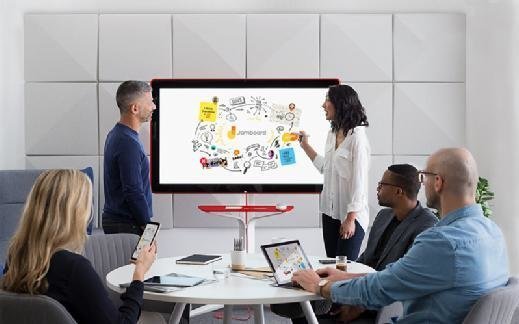 Other vendors and products in the market include InFocus' Mondopad, Oblong's Mezzanine, Prysm, Nureva and Bluescape, just to name a few. In addition to paying for boards, software and other equipment, organizations might need to outfit remote workers with touch-enabled devices so they can collaborate with in-office colleagues.
To mitigate pricey outlays, organizations can consider more cost-effective options, said Tim Banting, an analyst at GlobalData Plc. As an example, he cited Kaptivo, a $400 device that digitizes dry-erase boards. Teams could couple Kaptivo with a camera and microphone from Logitech, for example. This kind of setup would not require much room remediation.
To complicate budget issues, organizations are unsure who should pay for touchscreen displays, Lazar said. For example, should IT buy the products, or do these systems fall under the facilities budget or a line of business?
Interoperability a key hurdle
In addition to cost, organizations are lamenting the lack of interoperability among some of these collaboration systems, Lazar said. To use the Spark Board, for instance, organizations need to commit to Cisco Spark software. To use the Surface Hub, unified communications customers need to commit to Skype for Business. A Google G Suite plan is required to use Jamboard.
Organizations with multivendor environments -- with a mix of Cisco and Microsoft services -- have to pick one provider. If you use Cisco for video conferencing and Microsoft for collaboration apps, which interactive whiteboard do you pick? Currently, the vendors' boards are not interoperable and probably won't be anytime soon, Lazar said.
Additionally, third-party applications might not run on some interactive whiteboards.
Despite the disadvantages of interactive whiteboards, many organizations are looking to deploy them into huddle rooms, or small meeting spaces, Banting said. Between 30 million and 50 million huddle rooms span the globe today, according to Wainhouse Research. Those numbers could increase, as organizations revamp office layouts to include smaller meeting spaces and more open work environments.
Clearly, as these numbers indicate, vendors are looking to seize this market opportunity. But not every one of those meeting rooms necessarily needs an interactive whiteboard.
Next Steps
Conference room systems have seen a resurgence.
Use online whiteboards to enhance collaboration.
Visual workspace systems revamp conference rooms.