4 common problems with hybrid meetings and how to fix them
Hybrid meetings can be hamstrung by technical and nontechnical challenges. Learn how to address common hybrid meeting problems to support attendees, no matter how they participate.
Karin Reed has seen the best and worst of hybrid meetings. As a corporate communications trainer, she found a misconception that, since virtual meetings have become the norm in the last few years, users don't need to adjust anything for a hybrid approach.
In one hybrid training she conducted in person, Reed was told the room was equipped with audio and video. The room had one front-of-room camera that captured the attendees in the room but not her.
While the audio setup was good, the only thing remote attendees could see was the back of Reed's head. She quickly adjusted by joining the meeting from her laptop, muted, so remote attendees could see her -- but not exactly an ideal setup.
"I was supposed to be teaching them some skills," she said. "I wanted them to be able to read my facial expressions."
As CEO of communication coaching firm Speaker Dynamics, Reed has written the book -- literally -- on how to run effective hybrid meetings. Successful hybrid meetings, she said, are a combination of three essential elements: hardware, software and skills.
"If a hybrid meeting is not working, there is a problem with one of these three elements," she said.
Ineffective hybrid meetings result in a lack of meeting equity, where remote and in-person participants struggle to communicate and collaborate like they would in an all-virtual or in-person meeting. Below are four common problems with hybrid meetings and tips on how to solve them.
1. Poor camera placement and room layout
A major hybrid meeting room challenge occurs when remote participants can't see all the people in the room, Metrigy analyst Irwin Lazar said. In a hybrid video meeting, remote participants are in their own squares and can be seen well by everyone. But the meeting room for in-person attendees is usually just one square in the meeting grid, giving a bowling alley view of the conference table.
"You see the long table, you see people, and when they're having side conversations, you can't really hear them," Lazar said.
Organizations have a few options to make it easier for attendees to see each other, such as the following:
Multicamera setup. Multiple cameras from vendors such as Poly, Cisco and Crestron are placed around the room. Often, one camera is placed at the front of the meeting room, and the rest capture other angles of the room.
Center-of-table camera. Video hardware providers Owl Labs and Logitech offer center-of-table cameras that can eliminate the bowling alley view of a meeting room.
AI capture. AI software in the camera or meeting platform identifies in-room attendees and places them in their own square. However, this option only works well if everyone is visible to the camera, Lazar said.
Reed highlighted a hybrid training that she facilitated remotely that took a multicamera approach. The training classroom was outfitted with multiple cameras to capture the in-room attendees from different angles, as well as three monitors to display her video, content and the remote attendees. An in-person attendee also acted as a meeting moderator.
"That allowed for everyone to be on the same page," she said.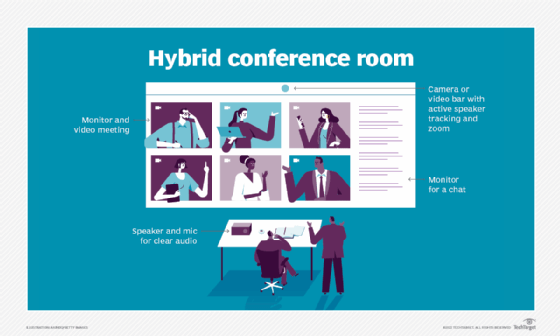 2. Content creation and sharing challenges
Content sharing is another area of frustration for remote and in-room attendees. If people in the room are using a physical whiteboard to brainstorm, remote attendees may not be able to see it if there isn't a camera focused on the whiteboard.
Alternatively, remote attendees could brainstorm using a virtual whiteboard app or use the meeting service's chat to share content and side conversations. But in-room attendees would need to bring their laptops to the meeting in order to view the content, which means more time spent looking down at a screen, as opposed to looking at the camera.
"What's the point of being in the room if I'm living in my own personal space within that meeting room?" Lazar said.
To address this, more organizations are deploying touchscreen devices, like digital whiteboards. About 30% of organizations are using touchscreen devices now, while another 25% plan to adopt them in the next year, Lazar said. Organizations are outfitting about 60% of their meeting rooms with touchscreen devices.
This way, in-room and remote attendees can view and brainstorm on the same digital space at the same time. Meeting providers are also adding features to improve content sharing in hybrid meetings, like Microsoft Teams front row, which puts chat, content and video on the same screen.
3. Poor audio
"Audio is so tough," said David Maldow, founder of Let's Do Video. "It feels really rude to say, 'Your audio is bad.'" When users experience an issue like echo on a video call, for example, it's usually the person causing the echo who can't hear it, so it takes time away from the meeting to find the culprit and troubleshoot the issue, he said.
Fixing audio issues can be as simple as moving closer to a microphone or buying a better-quality microphone than what's built into a laptop or mobile device. But other audio problems can be difficult to troubleshoot.
"We need better speakers and better microphones," he said.
Meeting hardware vendors are also introducing features that can improve audio quality for hybrid meetings. Poly, for example, offers an acoustic fence capability that creates a virtual boundary to block background noise. Meeting service providers are also improving their background noise reduction capabilities to eliminate sounds like keyboard typing or dogs barking.
We can't think of it as the meeting is happening in the room. The meeting is happening in Zoom; the meeting room is just the biggest participant.

David MaldowLet's Do Video
4. People problems
Not all hybrid meeting problems are technical issues. The people running the meeting are just as important to the success of a hybrid meeting.
"We can't think of it as the meeting is happening in the room," Maldow said. "The meeting is happening in Zoom; the meeting room is just the biggest participant."
The first step is remembering that remote attendees are just as important as those attending in person. If a meeting is going to involve a lot of content creation or sharing, employees must make sure they have a medium for people to chat, ask questions, raise their hand and engage with remote attendees, Lazar said. Structuring meetings with a detailed pre-meeting agenda and an opportunity to answer questions at the start of the meeting can also facilitate smoother and shorter meetings, Lazar said.
"Oftentimes, you are fighting proximity bias," Reed said. People in the meeting room are more inclined to engage with the people sharing the same space, while remote attendees are more likely to engage with each other.
Establishing best practices to raise awareness of everyone participating in a meeting can go a long way. For example, during a Q&A session, ask the remote attendees for their opinion first.
"That immediately sends a signal that there are people with valid input who are part of this meeting and we want to make sure we don't forget about them," she said.
Companies should take time to experiment with hybrid meetings to establish best practices, she said. By trying different technology setups, using varied approaches to running meetings and soliciting feedback from employees, companies can create clear guidelines, where employees know the expectations for hybrid meetings.
But companies should leave room for growth as meeting hardware and software providers release new hybrid meeting technology and services that can be incorporated into best practices.
"There needs to be some flexibility and a willingness to tweak it as you go along," Reed said.
Dig Deeper on Video conferencing and visual collaboration