Meeting room hardware supports hybrid employee experience
Meeting room hardware must evolve to support the hybrid employee experience. Meeting Owl 3 and Owl Bar are two devices aiming to create a more equitable meeting experience.
With the growth of the hybrid workforce, organizations need to evaluate their meeting room configurations to ensure an equitable hybrid meeting experience, where remote and in-room participants can see and hear each other clearly and feel they can fully contribute to a meeting.
Using video conferencing hardware that isn't optimized for a hybrid employee experience can create frustration for users on both ends of the calls. Meeting problems can include cameras not fully showing the speaker or meeting space, microphones not picking up a participant's audio and speakers not working at a volume that is comfortable for everyone.
To address these issues, video hardware vendors are introducing new products to support the hybrid employee experience and, ultimately, increase work productivity.
Organizations are adopting different technology to improve the hybrid meeting experience, according to Metrigy's global "Workplace Collaboration: 2023-24" research study. Nearly half of organizations are using speaker framing capabilities from their video software provider to automatically identify and frame in-room participants to make them easier for remote attendees to see.
The purchasing decision that we're seeing companies wrestle with right now is multicamera versus center-of-table cameras.

Irwin LazarAnalyst, Metrigy
However, speaker framing does not work well if in-room attendees aren't clearly visible to the camera, Metrigy analyst Irwin Lazar said.
"The purchasing decision that we're seeing companies wrestle with right now is multicamera versus center-of-table cameras," he said.
For organizations evaluating these two options, 37% are planning to use center-of-table cameras from providers like Owl Labs and Logitech. One-third of companies are planning to use multicamera setups, where multiple cameras from vendors such as Crestron, Poly and Cisco are placed around the meeting room.
Center-of-table cameras tend to be a more popular option because they are a more cost-effective approach that requires less hardware investment and setup for IT teams, Lazar said.
Owl Labs hardware evolves for hybrid meeting experience
Owl Labs enhanced its center-of-table camera, Meeting Owl 3, to address the new needs of a hybrid workforce. The product provides users with a smooth video experience that makes it feel as though everyone is in the same room together by using a 360-degree camera, microphone and speakerphone in one device. This enables remote users to see different angles of the in-person meeting room that they normally wouldn't be able to see through a typical built-in camera on a laptop.
The COVID-19 pandemic drove the need to adapt room video hardware for new communication needs. For example, the company needed to update its active speaker technology to recognize in-room meeting participants wearing face masks, said Max Makeev, chief development officer at Owl Labs.
Owl Labs also launched Owl Connect, which uses a built-in Wi-Fi radio to enable users to pair multiple devices to support hybrid meetings in larger rooms by better capturing people in the room and extending microphone and speaker coverage, Makeev said. This improves the hybrid employee experience as remote employees can better see and hear in-room participants, he said.
Investing in video conferencing hardware is important, especially in a more hybrid world, said Gabe Knuth, analyst at TechTarget's Enterprise Strategy Group. Video meeting hardware can help organizations support inclusivity and company culture, making sure everyone has a good hybrid experience.
Externally, high-quality audio and video enable employees, partners and customers to communicate with one another seamlessly to support customer service and retention, Knuth explained.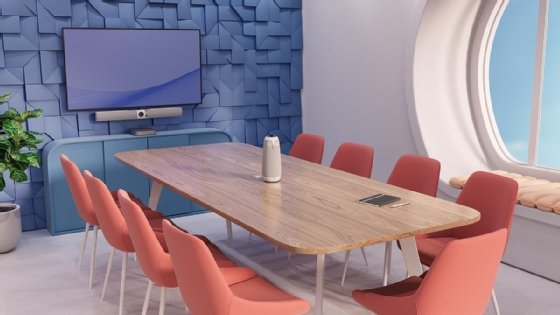 Owl Bar addresses multicamera market
Meeting Owl 3 also played a role in developing Owl Labs' newest product, Owl Bar, a front-of-room video bar. Organizations can pair the two products together in a meeting room to get both a front-of room and center-of-table experience during virtual meetings.
One challenge with center-of-table cameras is participants sometimes aren't sure if they should look at the camera on the table or at the screen at the front of the room when addressing those who are remote, Makeev said. Putting an Owl Bar device at the front of the room eliminates this confusion by automatically switching between cameras to show the best view of the speaker, he said.
"The best camera experience is really to put a laptop in front of everyone, so by getting more cameras in the room, you're essentially doing that," he said.
Owl Bar also pairs with other Owl Labs products, including Whiteboard Owl and expansion microphones.
But IT leaders shouldn't ignore UX when evaluating front-of-room video bars or center-of-table cameras to support hybrid meeting setups, Knuth said. Making sure employees are properly trained on how to use the different services and features provided creates an efficient and productive meeting, he explained.
Dig Deeper on Video conferencing and visual collaboration