Getty Images/iStockphoto
Hybrid workplaces need accessible, integrable UC platforms
Users want videoconferencing to interoperate with on-site hardware, virtual whiteboards that integrate into workflows and design platforms that are accessible to all contributors.
Since the pandemic restricted office access, unified communications vendors have been churning out tools that simulate the experience of working side by side so teams can work from anywhere and still be together.
Even as pandemic fears subside, many employees still prefer to work remotely. This lack of uniformity, in which team members are free to work in or out of the office workplace, fractures chances of simply relying on tools of the past. This new way of working is forcing UC vendors to create products that address this geographical and technological disparity that plagues the corps of remote and office workers.
In this hybrid world that combines on-screen and onsite, UC technology users have many concerns about vendors' offerings as well as ideas on how they can work together and be more efficient.
Their concerns include the interoperability of videoconferencing technology, compatibility of whiteboarding software with existing workflows, and the need for cooperation between designers and developers within a software design platform.
Increasing facetime in hybrid work videoconferencing
The hybrid work environment has been a central challenge, forcing vendors to consider technology that before might have seemed excessive. A primary example is the screentime disparity between in-office and out-of-office videocall participants.
One UC technology user, University of Pennsylvania technical director JoDe Beitler, aired her concerns during the the Enterprise Connect conference in March.
"I hated working remotely before because you felt like you weren't really part of the meeting," Beitler said. "Now it's much more inclusive -- everybody feels like they are part of it -- but that tech has to work."
Bigtime vendors are attempting to ameliorate the hybrid work screen disparity with software that pairs with cameras that detect, track and magnify in-room participants for better face views.
Cisco unveiled updated video detection on Webex and RoomsOS in March. Zoom shared its new Zoom Rooms' Intelligent Director in June. Both products enhance views of in-room users so they have equal screen space as the out-of-office users.
Hardware to foster the hybrid experience
Biotechnology company Amicus Therapeutics recently opened a new office in Princeton, N.J., to provide a tech-infused collaboration space for employees.
The conference rooms are equipped with modern hardware, including Poly cameras and Neat touchscreen boards with sound bars.
Such technology makes it possible for Amicus Therapeutics employees to have equitable facetime during hybrid video calls.
But Gary LaSasso, Amicus Therapeutics senior director of global IT, has another tool on his list: interoperability between different platforms on the same hardware.
Amicus Therapeutics has a contract with Microsoft, so all its videoconferencing hardware is configured for Microsoft Teams. In the office conference rooms, employees can also attend meetings on Zoom, Google Meet and Cisco Webex. But the experience is inferior because their equipment is configured for Teams.
The Holy Grail is a native experience with one click in every room, no matter what the technology is.

Gary LaSassoSenior director of global IT, Amicus Therapeutics
For example, when Amicus teams join a Zoom meeting from the office's dual monitors, only one monitor works, according to LaSasso.
"It's the software that drives it," LaSasso said, "because you have to pick one of the software [companies] when you configure a room. You're kind of stuck in that world."
Instead, LaSasso said he would prefer a native software experience, which would include the platform's full functionality and the ability to join with one click no matter what hardware is installed.
In addition, the other platforms' software may not be fully accessible to members calling from a competitor-configured room. Premium features like transcription and AI-based translation might not have adequate support due to the restrictions of the configuration.
"It doesn't matter how I've set up the room. I want it to work," LaSasso said. "The Holy Grail is a native experience with one click in every room no matter what the technology is."
Relying more on whiteboards
LaSasso is researching another tool that appears to be effective for hybrid work collaboration: virtual whiteboards.
"That could bridge that gap to allow the in-room and the remote experience to work better," he said.
His team currently uses Microsoft Whiteboard, which is the company's default option. There are significant advantages to using Microsoft's offering. It's free, and it automatically stores files in SharePoint and OneDrive, the cloud vendor's main file storing systems.
Microsoft Whiteboard's compatibility with the company's workflows makes it an obvious choice, but LaSasso said his teams are looking for a platform with more capabilities. In addition, Microsoft Whiteboard's full functionality is not compatible with Zoom, meaning multiple Zoom meeting participants can't edit in the shared Microsoft Whiteboard screen, only the presenter.
As an alternative, his team has been discussing purchasing Miro or Mural, which are both fully compatible with Microsoft, Zoom and other platforms.
Miro and Mural are two independent frontrunners in the virtual whiteboard market, according to Metrigy Research analyst Irwin Lazar.
"I consider them fairly equal with some minor differences in API capabilities and third-party integrations," Lazar said.
These vendors also have more template and tool options for workspace collaboration, compared to Microsoft Whiteboard.
However, LaSasso said he and his team are just getting started in the whiteboarding world. Perhaps in time, Microsoft will follow its competitors and release updates to improve its whiteboard tools.
"We're just dipping our toe in it," LaSasso said. "Microsoft has upgraded whiteboarding over the last months to be a pretty decent package, and maybe decent is good enough in this case."
Collaboration tools that maximize teamwork
Máirín Duffy, senior principal interaction designer at Red Hat, chose open-source project management platform vendor Kaleidos' new Penpot platform to collaborate with her team of designers and developers for the Fedora project.
Penpot is an open source design and prototyping platform. The vendor aims to unify the workflows of product teams' designers and developers on one platform.
"It is primarily targeting designers – UX/UI designers -- but then it's welcoming developers into the design process," Penpot CEO and co-founder Pablo Ruiz-Múzquiz said.
Ruiz-Múzquiz said he sees Penpot's primary competitor as Figma, which was acquired by Adobe last year.
Duffy and her team use Penpot to create everything from wireframes of user interface designs to the final visuals. They also use Penpot to build and document component systems and design graphics for branding campaigns for social media apps like Instagram.
They even use it as a collaborative whiteboard, Duffy said, even though it was not built specifically for that purpose.
"Multiple designers and developers can login at the same time and see the same view, kind of like Miro, " Duffy said.
Returning designs to the designers
One reason Duffy prefers Penpot is its open source approach. This approach frees design ownership from the design tool, which could be dropped at any time, and returns it to the designer.
In Duffy's 20 years as a designer, she said she has seen many instances in which a design has disappeared or become inaccessible because the creator of the design no longer had access to the platform on which it was created.
This is also a frustration with subscription-based models that trap designs exclusively in the platforms.
Collaborating with all kinds
Another reason Duffy likes Penpot is that it equalizes the roles of designers and developers by giving them a convenient place to work together.
For example, oftentimes in the corporate environment, developers and designers might be granted different software per-seat licenses, so the developers don't have access to the designer's tools and products until the designer manually uploads them for viewing. Penpot eliminates that barrier.
"The developers are participating inside the Penpot workspace," Duffy said. "It makes it a lot easier to collaborate designer to designer and also developer to designer."
In addition, Duffy often hires interns and volunteers for months-long stretches, and Penpot's dashboard layout brings a higher level of visibility and self-service to these newcomers.
"It makes it a lot easier for somebody who's brand new to come up to speed," Duffy said.
When a new team member logs on, they can easily see the active projects and active contributors prominently displayed on the dashboard, eliminating the mistake of working on something old.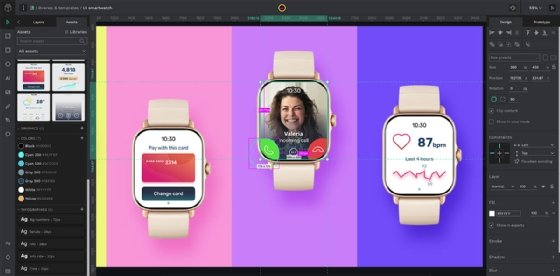 Best of all, Duffy can preload the asset libraries, which house a company's icons, project fonts, color palettes, brand book and more.
"That's been like the number one awesome thing," Duffy said.
One feature Duffy said she'd like to see in Penpot is the ability upload annotated mockup changes to a Git repository, because Git is a main platform for developers. Git also allows users to rollback changes easily, in case of mistakes.
"So every time I make a change, they can just follow it using Git, because that's their normal workflow," Duffy said. "That's where I would love to see it go."
Penpot's latest tools
Penpot unveiled its new CSS Grid Layout integration at Penpot Fest in Madrid two weeks ago.
This integration gives designers a tool to automatically translate their creations into CSS (cascading style sheet) code for developers to deploy. This tool aims to clarify a designer's vision by putting it in a language that developers can understand and use.
"That's a first: a developer knowing that whatever the designer is actually outputting is exactly what they would have loved to generate themselves, so they can take it as it is," Ruiz-Múzquiz said.
Open source and open to new ideas
Penpot also launched five generative AI hackathon design challenges to the open source community on Github at the conference. The challenges include designing an AI copilot to do routine tasks and another generative AI copilot to simplify the process of generating Scalable Vector Graphics text files for components.
"It's important that the community uses the same tools and understands what's the state of AI instead of going into secret mode," Ruiz-Múzquiz said. "We're a community-oriented company, so we need everyone to enjoy the same level of technology or research."
Mary Reines is a news writer covering customer experience and unified communications for TechTarget Editorial. Before TechTarget, Reines was arts editor at the Marblehead Reporter.
Dig Deeper on Video conferencing and visual collaboration