Getty Images
Zoom Rooms' Intelligent Director follows in-room users
The vendor's AI-backed tool uses multiple cameras to capture in-office users' best angles and present them onscreen to boost facetime between participants.
Zoom wants to get every in-room user's best angle.
The videoconferencing vendor on Tuesday launched in beta Zoom Rooms' new AI-supported Intelligent Director, which closely follows in-room users' faces, to equalize screen time during hybrid meetings.
The Intelligent Director relies on multiple cameras to detect conference room participants' best angles, even when they move, to maximize facetime between out-of-office and in-office workers.
Onsite, but not on camera
This facial view discrepancy between in-office and out-of-office videocall attendees is a major focus for both enterprises using the specialized technology, and vendors creating it, according to Technalysis Research analyst Bob O'Donnell.
Since the pandemic onset in 2020, people have been trickling back to the office, but the transition is not absolute. Many employees, especially tech workers, still attend videocalls from off site, O'Donnell said.
Therein lies the problem. This setup unduly gives more personal screen space to each out-of-office worker and diminishes the personal screen space of each in-office worker, who is likely seen as somewhat of an indistinct person sitting at a table.
"As more and more people have gone into the office, we have more and more situations where it's no longer the nice 'Hollywood Squares' layout -- everybody in their own window," O'Donnell said. "There's the big room, and that room experience is not good."
Cisco showed off similar technology for its videoconferencing platform and operating system, Webex and RoomOS, at the Enterprise Connect conference in March. Cisco's cinematic meetings tool uses facial recognition, audio and voice to better stream users' faces from a large conference room. It also requires multiple cameras.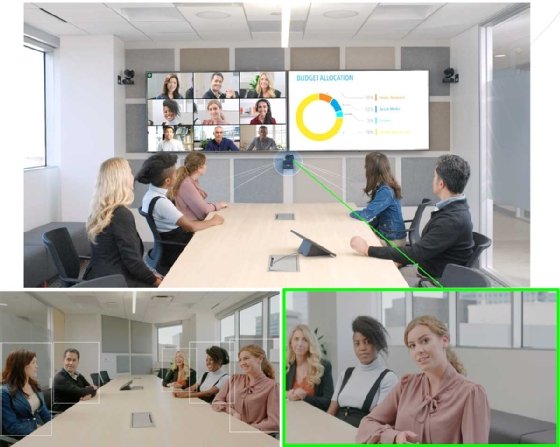 While vendors like Zoom and Cisco are trying to address this problem with better camera angles, this approach requires more hardware. O'Donnell said he sees that as a barrier.
"The problem is, you've got to set up a lot of cameras," O'Donnell said. "I'm a little hesitant on how realistic that's going to be."
Using multiple cameras, Zoom Rooms' Intelligent Director can provide personal onscreen frames in gallery view for up to 16 onsite attendees, according to Zoom. The tool does not use facial recognition but rather detects each user's head and shoulders. It is designed for medium- to large-sized conference rooms and works best with at least three cameras.
Also new from Zoom
The problem is, you've got to set up a lot of cameras. I'm a little hesitant on how realistic that's going to be.

Bob O'DonnellAnalyst, Technalysis Research
Zoom first unveiled Intelligent Director in March, along with tools for its generative AI chatbot, Zoom IQ, including Zoom Scheduler.
Last week the vendor made generally available Zoom Scheduler, its generative AI-backed meeting setup tool. It automatically creates Zoom Meetings links and adds them to the calendar when the host plans a meeting.
The host can use Zoom Scheduler with Zoom apps including Zoom Meetings, Zoom Mail and Calendar as well as Google Calendar and Microsoft 365.
Mary Reines is a news writer covering customer experience and unified communications for TechTarget Editorial. Before TechTarget, Reines was arts editor at the Marblehead Reporter.