Successful hybrid working mixes tech, policy and culture
IT leaders at Enterprise Connect discuss their strategies for successful hybrid working, from transparent team agreements to parity between home and office setups.
Biotechnology company Amicus Therapeutics is opening an office in Princeton, N.J., with the goal that it becomes a hub for collaboration. In the age of remote work, the challenge is how to create value for employees to go into the office for work. The answer lies in a mix of technology and culture.
Amicus is taking a video-first approach to its workspace and equipping as many spaces as possible with video, from conference rooms to desktops, said Gary LaSasso, senior director of global IT.
"If you're from New Jersey, you've seen New Jersey diners that have a jukebox in every booth," LaSasso said. "In every booth at work, you need video."
The office will not have assigned desks. Rather, Amicus will provide employees with the tools they need to find a workstation. Some desks will be bookable, while others will not be. But LaSasso's IT team is flexible to shift with employee needs.
Create a new in-office culture
In addition to technology, Amicus leadership is focused on the experiences that create purpose for employees going to the office, such as town hall meetings or team lunches, LaSasso said. On days where employees are simply working on their computers, there's no need to go into the office.
LaSasso and other business leaders spoke at Enterprise Connect about the hybrid work lessons they have learned and how they're striving for successful hybrid working for their organizations.
When discussing hybrid work and the return to the office, a recurring phrase at Enterprise Connect was "magnets, not mandates." This is the idea that mandates to force people back to the office is the wrong approach. Instead, organizations need to focus on making the office a place that adds value for employees and not a place where they're doing the same work they could do from home.
"There is a lot of emotion behind trying to create magnets," said Stacy Foster, vice president of the Technology Hub at Mastercard.
Getting employees back to the office means asking them to sacrifice time commuting in traffic and removing some of the flexibility that comes from working remotely.
Instead, organizations must foster a new culture and develop incentives that show they care about the employees going into the office, Foster said. Incentives can range from small treats, like doughnuts in the communal kitchen, to larger activities that support professional development, like hackathons.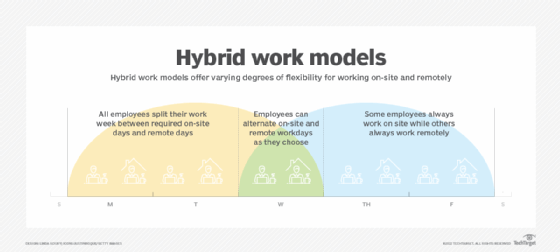 Support a seamless experience between work and home
But supporting a hybrid workplace isn't just about making the office attractive again. It's still important to support employees as they work from home.
At insurance broker NFP, employees who work from home three or more days a week have equipment shipped to their house, including monitors and laptop docking stations, said Mark Grosvenor, executive vice president and CTO. Office spaces are also configured so employees can go into the office, plug in their laptops and have the same setup they do at home.
Employees were also provided with mobile unified communications clients so they could take their business number anywhere. At the beginning of the COVID-19 pandemic, employees used their mobile phones for work, which meant customers called personal numbers, Grosvenor said.
By giving employees a mobile offering, they could switch between the softphone on their laptop at the office and mobile phone when on the go.
If organizations expect staff to work from home certain days of the week, they are obligated to have discussions about what tools and equipment employees need to do their job from home, Foster said.
Mastercard does not take a one-size-fits-all approach to provisioning home users, she said. Instead, it's a process facilitated by an employee's manager if the employee requires a special headset or additional monitor.
Develop hybrid policies and schedules
Before the pandemic, 90% of NFP's employees worked full time in an office. Now, 95% of employees are following a hybrid schedule, Grosvenor said.
To determine the right mix of who should be in the office and when, NFP established personas for employees based on their job requirements, he said. Help desk employees who mostly take calls, for example, don't need to be in the office as often. But customer account and sales teams that strategize on certain clients require more in-person collaboration within their group and across other departments, he said.
Mastercard created team agreements that are a dialogue between leadership and team members, Foster said. These agreements discuss the role requirements of a position, the needs of employees and how often they should go to the office.
Under the agreements, some teams work from an office once or twice a week, while others are fully remote. The agreements can also include etiquette rules, like not forcing team members to turn cameras on during meetings, she said.
"The team agreements are fully transparent," Foster said. "Everyone has the opportunity to see what other teams are doing."