backgroundstore - Fotolia
Businesses move toward UC and contact center integration
Integrating unified communications and contact center software is trending and it can provide a number of benefits to both business employees and customers.
For years within many businesses, the contact center has operated as an island. It has used a specialized set of technology applications and services, often unintegrated -- or sometimes loosely integrated -- into the company's communications and collaboration tools.
But many CX and IT leaders are rethinking that strategy.
About 42% of companies now have integrated contact center and unified communications (UC) and applications, according to Nemertes Research. By integrating employee and customer-facing communications and collaboration apps, organizations are finding compelling results.
Some organizations use the same provider for both contact center and UC, which makes integrating the associated applications easier. This is particularly true when both are cloud services and the provider manages the integration.
Other businesses have different providers -- and potentially different architectures -- and stitch together integration so an agent, for example, can do something as simple as transfer a call to a non-agent. This is more difficult because internal IT staff must write middleware to connect the two platforms. It's also more difficult to keep up with, as vendors continue to improve and change their products and services.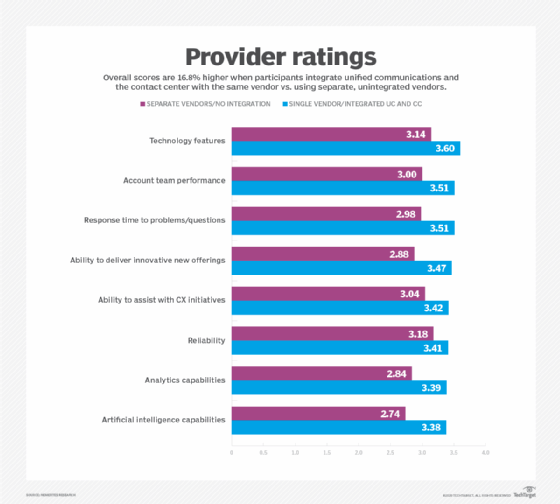 Why businesses should integrate UC and the contact center
Simply integrating UC and the contact center because it's the latest trend isn't going to deliver any sound results, though. It's important for organizations to think through what such integrations might mean.
By extending UC capabilities to the contact center, businesses may find benefits in the following areas:
develop team collaboration workspaces for each customer to share perpetual chats or collaborate on a challenging issue;
give customers access to presence status of account teams and collaboration apps to communicate with them; and
use video conferencing or screen sharing with a customer, giving the agent a seamless way to loop in a non-agent expert to help solve a customer problem or close a sale.
Business may also find benefits by extending contact center tools to employees at large. For example, organizations may consider the following:
Share customer analytics and post-call ratings with marketing and sales teams to align overall marketing initiatives or sales strategies with customer input.
Coordinate customer engagement management with sales and marketing teams. For example, when doing customer loyalty outreach, businesses may coordinate it with a broader branding campaign or sales outreach to select clients.
Provide access to customer trouble tickets to product development teams, so they can prioritize product improvements.
Assign lightweight mobile agent extension licenses to non-agent employees who have expertise in a short-term issue, such as a product specialist regarding a recent warranty claim that is increasing.
Integration is successful
The aforementioned applications of UC and contact center integration are inherently good, but executives typically want data to back up these moves in IT. Nemertes measured success in a variety of ways.
Businesses should integrate their UC and contact center, and those that are already doing it should consider more ways to take advantage of the technology integration.
First, Nemertes looked at the per-agent spending in the contact center. When organizations use separate vendors for an integrated UC and contact center, they spend $354 per agent per month. When they use a single vendor, they spend an average of $271 per agent per month -- a 23% savings.
Second, Nemertes looked at customer ratings, asking research participants if they completed a customer experience project that used advanced technology, such as AI and analytics. If so, Nemertes asked if they measured the before-and-after success of that project, then correlated whether they integrated UC and the contact center. Those that did saw a 56.7% increase in their customer ratings, compared to a 38.3% increase for those who did not.
Third, Nemertes examined contact center provider ratings. When companies used a single, integrated UC and contact center application, they rated their providers 16.8% higher than those who use separate providers with no integration.
The bottom line is businesses should integrate their UC and contact center, and those that are already doing it should consider more ways to take advantage of the technology integration.
Dig Deeper on Customer service and contact center