Getty Images/iStockphoto
Salesforce automation tools for 2022: RPA, document ingestion
Salesforce Einstein Automate tools to come next year include RPA, document intake and drag-and-drop process automation.
Salesforce automation tools planned for next year include robotic process automation, document scanning and ingestion into the Salesforce platform, and low-code business process automation.
Previews of the tools came in advance of next week's Dreamforce virtual user conference. The upcoming features address customer requests for Salesforce automation that spans complex workflows across multiple employees, such as the approval and documentation processes for a mortgage, said John Kucera, Salesforce senior vice president of product management.
"One of the things we've been hearing from our customers is they need to not just [automate] little bits of tasks within Salesforce and integrate it to another system -- they want to have entire multiuser workflows that span a lot of people in one system in one process," Kucera said. "They need it to be automated, they need it to be integrated, and they need to have this in one place to monitor and extend. That's been a big focus for us."
Salesforce has maintained a series of low-code automation tools over the years under the name Flow, with Flow Builder and Process Builder being the most recent to evolve from its Lightning platform. Flow Orchestrator, now in beta and due next year, offers more sophisticated multistep, multiuser workflow automation with the familiar Flow drag-and-drop interface.
Servicetrace RPA coming to MuleSoft
Also coming in 2022 are MuleSoft robotic process automation (RPA) tools, which stem from last month's acquisition of Servicetrace. RPA technology complements Salesforce's API-based automation tools, said Forrester analyst Craig Le Clair, who added that there's a hot debate among developers about whether APIs -- upon which MuleSoft is based -- should completely replace RPA or if RPA bots remain useful. RPA bots are fragile and often break when applications get updated or software workflows are disturbed. APIs are arguably more stable.
The acquisition of Servicetrace "is kind of an admission that there's a legitimate role for RPA bots in the world, adjacent to APIs," Le Clair said. MuleSoft RPA low-code tools will, at first, target document automation to process and extract data, Salesforce said.
Also coming next year and in beta now is Einstein Document Reader, which uses optical character recognition to ingest static forms and documents into a Salesforce user's data repository. Used with Flow Builder, it's an intelligent automation tool that catches Salesforce up to competitors, including Microsoft, Google and Adobe, which already offer document extraction tools, Le Clair said.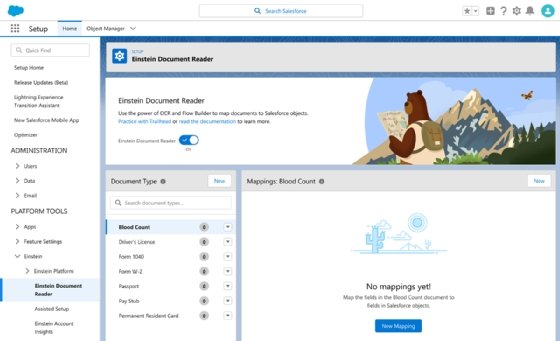 Overall, the Salesforce automation tools represent an effort for Salesforce to enable these processes within its platform so users don't leave their environment to build process automation apps, Le Clair said. But, he added, Salesforce will have to winnow the choices it offers for workflow creation and editing.
"One of the criticisms of Salesforce is they have three or four different workflow tools already -- some are at end of life and some are new ones," Le Clair said. "[It] raises questions about how committed they are to having a unified process layer. But I think that's what they're trying to do. They see where ServiceNow is going; they see the competition. They want to have the same product capabilities."
Don Fluckinger covers enterprise content management, CRM, marketing automation, e-commerce, customer service and enabling technologies for TechTarget.