Rymden - stock.adobe.com
Benioff: Salesforce-Slack merger supports hybrid workforce
Just 1,000 of the typical 180,000 Salesforce users attended Dreamforce 2021, but it was enough to get CEO Marc Benioff fired up about the future of hybrid work opportunities.
Only about 1,000 fully vaccinated Salesforce users were invited to attend Dreamforce 2021 in person, with thousands of other users attending virtually -- a microcosm of the hybrid reality Salesforce aims to support with its latest technologies.
The Dreamforce keynotes from Salesforce CEO and co-founder Marc Benioff -- along with president and COO Bret Taylor and CMO Sarah Franklin -- were long on vision and short on technology reveals, focusing on changes that COVID-19 forced upon the workforce and how the company's platforms accommodate this new era of hybrid virtual/in-person offices.
Benioff, Taylor and Franklin talked about how the pandemic made work a remote affair for Salesforce users. They said Salesforce-Slack integrations will create a "digital headquarters," enabling those users to meet and collaborate online as remote work -- or hybrid home-office splits -- likely remain the norm even after the pandemic finally subsides.
More time, however, was dedicated to speaking about social and climate issues. That, and how a workforce buffeted by the pandemic and a socially turbulent 2020 created a labor crisis, part of which involves millions of employees quitting their jobs, dubbed the "Great Resignation."
"Some [employees] have quit; there's a Great Resignation going on," Benioff said. "What else happened? Well, some of them moved. There's a Great Relocation going on. Wow, it's amazing. It's kind of astonishing. Actually, we have never had a workforce crisis quite like this."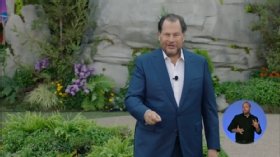 Business, as Benioff has suggested many times over the years, can be a platform for change to address these issues. He exhorted Salesforce users to lead the change.
The small but enthusiastic crowd was enough to give Benioff and his lieutenants enough spark to deliver their usual lively presentations and keynotes, compared with last year's Dreamforce. There, Benioff was mostly alone in Salesforce Park, a rooftop recreational area atop a San Francisco transit center. He said then, with more than a hint of disappointment, "This isn't the Dreamforce we wanted, but it's the Dreamforce we've got."
This year, the thousand Salesforce users -- whom they call Trailblazers -- was a far cry from the almost 180,000 who attended prior to the COVID-19 pandemic. But the group was enough to re-energize Benioff.
"The whole company feeds off the joy of that community, I think it's part of their culture," said Liz Miller, an analyst at Constellation Research. "They feed off the excitement of the people who use Salesforce and love them the most, and there's nothing wrong with that. Feeding off the joy of the community is why you invest in the community to begin with."
CDP takes center stage
Salesforce-Slack integrations composed the main product news of the day, with Salesforce releasing or previewing 16 of them for both general usage in their four main clouds (sales, service, marketing and commerce) as well as in vertical industries and on its platform, where users' custom apps and automations live.
The Salesforce customer data platform also was highlighted during the Dreamforce 2021 keynote sessions, by Franklin, in a short film clip explaining how Mercedes-Benz uses the Salesforce CDP to personalize car purchases.
CDPs are difficult technologies to explain in general, let alone in short videos. Yet Salesforce gave it a premium slot in a three-hour keynote session focused mostly on workforce and social issues. Miller said it shows that Salesforce now realizes its CDP -- which for two years it didn't even acknowledge actually was a CDP -- is bedrock cloud software to personalize customer relations. Showing a blue-chip customer such as Mercedes-Benz using the CDP to engage customers makes it easier to understand the technology, she said.
"I think they did it in a really good way, because when people try to explain CDPs, you start to get into these stories about data unification, normalization layers -- unexciting things," Miller said. "But the output of what it does is kind of fundamental for all of us in customer experience. If you're in sales, service or marketing, that is what you need."
Don Fluckinger covers enterprise content management, CRM, marketing automation, e-commerce, customer service and enabling technologies for TechTarget.