tiero - Fotolia
Salesforce Trailblazer community must keep pace to fuel growth
Salesforce Trailhead's mission is to provide current and prospective customers with admins and developers. Growing that talent pool is crucial to Salesforce's health.
Salesforce customers need help to use Salesforce. It takes self-trained, motivated admins, developers and consultants to plug the Salesforce platform into a company's operations. If it's a successful implementation, it takes even more talent to scale up as the Salesforce customer's business grows.
On its present growth trajectory in the wake of acquiring Tableau and MuleSoft, Salesforce will need to persuade triple the current number of these independent experts to join its tribe in the next decade. The number could end up being even higher, considering Salesforce customers like Heidi Melin, CMO of cloud office collaboration and project management provider Workfront, say they already see Salesforce admins and developers in short supply.
"Salesforce is at a place from a scale and a breadth perspective that they should -- and probably are -- turning up their Trailblazer efforts," said Melin, who added that many cloud software companies, including Workfront, need more skilled ambassadors to integrate their applications into their customers' workflow to enable success. "The more people that are trained and are ready to use Salesforce, the higher propensity to influence their customers' technology choices."
To help develop the talent pool, Salesforce launched Trailhead, a free training site with an outdoorsy theme that includes a gamification element to mark learners' progress. A Salesforce Trailblazer, or trainee, will then earn credentials called "badges" and gain skills following guided training paths. Trailblazers earn "superbadges" to show advanced competencies in areas such as app development, data management and Salesforce administration, as well as AI and analytics capabilities.
"This is part of the brilliance of Salesforce, building and continuing to curate this massive community of people -- most of whom are not, and have never been -- employed by Salesforce but are activists and fanatical fans out there," said Constellation Research analyst Nicole France. "They're involved on a daily basis using and shaping Salesforce systems."
The genesis of Salesforce Trailblazers
Considering Salesforce just passed its 20th anniversary, Trailhead is relatively new, given that it debuted in 2014. New training videos and a mobile app were among the upgrades highlighted at its Dreamforce conference last month.
Sarah Franklin, executive vice president and general manager of platform, Trailhead and developers at Salesforce, helped create Trailhead from scratch. The idea, she said, was to make the training accessible and consumable by anyone, anywhere. That requires plain language, free of jargon, as well as making content renderable for people with disabilities. She said she wants everyone who wants to be a Salesforce Trailblazer -- Salesforce's word for customers and Trailhead learners -- to join the community.
"There's a bunch of generic words names in the industry -- citizen developers, champions," Franklin said, adding that Salesforce wanted to create a Trailhead culture where the people earning the badges were being celebrated, not Salesforce itself. She had to convince Benioff to use that particular word, Trailblazer, which is now emblazoned in white script lettering on black hoodies ubiquitous at Salesforce user gatherings.
We wanted to give our community an identity that they can relate to, and that they own.

Sarah Franklin Executive vice president and general manager of platform, Trailhead and developers at Salesforce
"The hoodie is symbolic. What is written is not 'Trailhead.' It's not 'Salesforce.' We did not take a Salesforce logo and plaster it on their chest," Franklin said. "We wanted to give our community an identity that they can relate to, and that they own."
More than 1.7 million Salesforce Trailblazers have earned more than 17.5 million badges, according to the company, with 25% of Trailhead users indicating in a recent IDC report that a badge earned them a new job. Career site Indeed.com said job postings for Salesforce developers increased 129% from 2018 to 2019.
Salesforce Trailblazer roadmap: No-cost bachelor's degrees
Over the next decade, Franklin's setting her sights on making Trailhead a venue where users can earn a free bachelor's degree. It must be fully accredited, she said, because accreditation is "the one thing employers have from our government to filter out applicants from skilled labor positions."
If her team's successful in doing that, it will give Trailhead a flashy tool to recruit more admins and developers to keep up with market demand and help lay a foundation for the future of Salesforce.
Another part of Franklin's Trailhead strategy is to focus on diversity and inclusivity, and to find people ripe for job retraining such as recently discharged military veterans re-entering the civilian world.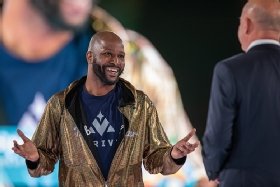 That was the case for Sheldon Simmons, a Navy boatswain's mate who fueled aircraft for eight years and bounced around the Austin, Texas, region after discharge. Working at a semiconductor plant and living part-time in his car, he took a Java course at a community college, which didn't pan out to a job as he'd hoped. After that, a representative from the Merivis Foundation, a group that connects military veterans with Salesforce employment, introduced Simmons to Trailhead.
Five Trailhead badges later, Simmons is a Salesforce consultant with three years' experience under his belt. Last month, Salesforce featured Simmons in a Dreamforce keynote with Salesforce co-CEO Keith Block.
"My [Navy] job wasn't technical, so when I got out of the service, no one was going to hire me as a gas man," said Simmons, who now recruits fellow veterans for Salesforce Trailblazer training as a Merivis Foundation board member. He said he believes vets bring attitude and perspective that is conducive to success working on Salesforce teams.
"Sometimes I hear people complain about stuff, and I'm like, 'Man, at least we get to go home, at least we're not sleeping on a helicopter in 120-degree weather,'" Simmons said. "I remember those times and what I would give to be sitting in an office right now. There's nothing that's going to rattle me, and the work isn't going to be too much."
This is the second of two parts on how Salesforce can serve its customers while chasing ambitious growth. Read the first part here.