James Thew - Fotolia
AppExchange, acquisitions key to the future of Salesforce
In the first 20 years of Salesforce's history, acquisitions and products drove rapid growth. In the next 20, AppExchange partners will play a crucial role in the company's growth.
If numbers such as $13.28 billion fiscal 2019 revenue or 171,000 Dreamforce attendees last month are any indication, Salesforce nailed the tech side of building a wildly loyal customer following for its sales, marketing, customer service and e-commerce clouds during its first 20 years.
For the next two decades, it will take continuous technology innovation, especially in the areas of cloud integration, AI and voice to prevent those customers from defecting to Adobe, Microsoft, SAP and Oracle platforms. Far more important to the future of Salesforce, employees, customers and analysts said, is growing a Salesforce talent pool beyond the company's control: partners, developers, admins and consultants.
To woo partners, Salesforce opened its platform. It hosts the AppExchange, a third-party marketplace similar to the Apple App Store or Google Play. Lightning Platform, a low-code appdev environment launched in 2009 as Force.com, enables individual users to create low-code apps and integrations themselves. Finally, Trailhead, a free, self-paced Salesforce training site, debuted in 2014; it has attracted 1.7 million people to learn developer, admin and consultant skills.
Yet it's not enough. Salesforce developer and admin talent are in short supply. They will get even shorter if the company realizes CEO and founder Marc Benioff's oft-stated revenue targets of $20 billion by 2022 and $60 billion by 2034 as more customers come to Salesforce.
"Salesforce's biggest innovation is building this open community, whether it's admins and recognizing how crucial they are, or creating Force.com and encouraging other developers to come in and develop on their platform," said Nicole France, an analyst at Constellation Research. "Going forward, the challenge will be keeping up with the pace of innovation -- it's a lot harder when you're a behemoth company."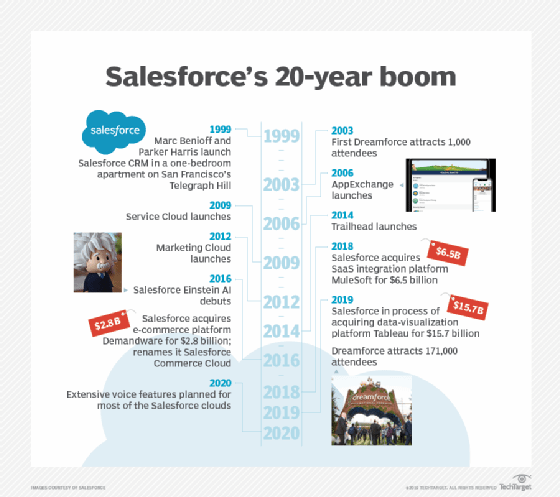 AppExchange, Dreamforce built over many years
When Salesforce first started, what we call cloud companies today were referred to as application service providers. Salesforce's big innovation was building an entire platform in the cloud instead of just one app, said Michael Fauscette, an analyst at G2.
When Salesforce first got into the enterprise, they didn't go in the traditional way. IT bought tech -- except for Salesforce automation. It came in through the sales guy.

Michael FauscetteAnalyst, G2
"Salesforce, and NetSuite, too, really had this idea of scaling infrastructure up and down really quickly with Multi-tenancy, according to need," Fauscette said, which found a different buying audience. "When Salesforce first got into the enterprise, they didn't go in the traditional way. IT bought tech -- except for Salesforce automation. It came in through the sales guy. They could just start using Salesforce immediately."
Quickly, though, Salesforce knew it couldn't keep up with every individual customer's tech needs, especially integrations with outside business applications. So, in 2006, it threw open its platform to third-party developers by introducing the AppExchange, which provided sales teams with tools to integrate Salesforce with applications such as calendars, email, accounting, HR and ERP. Today, AppExchange hosts 3,400 apps.
Force.com, now called Lightning Platform, came along two years later, and enabled individual developers or even nondevelopers to build their own apps and connectors among Salesforce and other apps.
The AppExchange evolved into a Salesforce revenue generator in several ways, said Woodson Martin, executive vice president and general manager of Salesforce AppExchange. First, Salesforce earns revenue when an app is sold. Second, AppExchange enables customers to use Salesforce to grow their companies and, in turn, increase their Salesforce subscription. Third, it generates new leads for Salesforce when a developer creates a connector to a vertical-specific app.
"We think of AppExchange as the hub of the Salesforce ecosystem," Martin said. "In some cases, apps are the tip of the spear for new industry verticals."
G2's Fauscette said that shuttling data between clouds, and between clouds and on-premises systems, will require more and more integrations between Salesforce and outside applications for at least the next decade. That makes AppExchange a crucial part of the future of Salesforce.
Acquisitions give partners new opportunities
Moving forward, AppExchange will expand into new domains, Martin said, as Salesforce integrates features and capabilities from companies it acquired, including Tableau and MuleSoft, into its platform. That will create opportunities for developers to create new customizations for data visualizations and data integrations.
Martin also said that Salesforce closely watches technology trends in the consumer retailing and e-commerce space -- personalization and AI are two recent examples -- to bring to its B2B platform. That's what customers want, he said: a B2B buying experience that works as well as Amazon does at home.
But it takes outside developers to buy into the AppExchange concept, and so far, they seem rosy on the future of Salesforce. AppExchange partners such as configure-price-quote (CPQ) provider Apttus generally believe there's room for developers of all stripes to grow their own franchises, even when Salesforce adds native overlapping features that directly compete.
That happened when Salesforce acquired Apttus competitor SteelBrick and added Salesforce-native CPQ three years ago, said Eric Carrasquilla, senior vice president of product at Apttus. That's because Salesforce has hundreds of thousands of CRM customers now -- and the number keeps increasing.
"Salesforce is a force of nature," Carrasquilla said, adding that Apttus and Salesforce CPQ have roughly 3,500 customers combined. "That's still a fraction of a fraction of a fraction of the opportunity within the CRM market. It's a very deep pool, businesswise, and there's more than enough for everyone in the ecosystem."

Read how Trailblazers also figure heavily into the future of Salesforce in the second part of this story.