Sergey Nivens - Fotolia
Salesforce Lightning Platform update targets mobile apps
Salesforce targets line-of-business experts and citizen developers with the Lightning Platform Mobile development system to build enterprise mobile apps.
Salesforce has steered its established low-code development platform for mobile apps into the fast lane.
Salesforce Lightning Platform Mobile is aimed at line--business experts, citizen developers and administrative staff. It has three components to build applications with the low-code development environment, connect the apps to back-end services and publish them.
Mobile Builders features prebuilt JavaScript components for users to assemble into mobile apps. The broader Salesforce AppExchange marketplace offers more than 180 other components for application development. Although Lightning Platform Mobile comes with its own "builders," Salesforce supplements those with the company's AppExchange components. The Mobile Services feature ties in enterprise back-end services to the application and also taps into other services, such as the Salesforce Einstein AI service, and integrates with third-party data. Mobile Publisher automates the packaging and submission process and publishes the app directly to the App Store and Google Play.
Growing demand for enterprise and mobile apps has created a significant shortage of skilled app developers. And mobile apps for employees are often an underserved area in many enterprises, said Jeffrey Hammond, an analyst at Forrester. In its most recent global mobile executive survey, Forrester found that more than two-thirds of companies have fewer than 15 mobile developers on staff -- barely enough for a handful of mobile projects, Hammond said.
"Enterprises will put teams on a customer-facing 'hero' app, but then there is not a lot of budget left for traditional mobile development to enable employees or partners," Hammond said. "These tools make it possible for folks that are already familiar with Salesforce Lightning, or that are working through Trailhead modules on their own, to extend what they've learned to mobile apps as well."
Enterprises will put teams on a customer-facing 'hero' app, but then there is not a lot of budget left for traditional mobile development.

Jeffrey Hammondanalyst, Forrester
Salesforce's mobile app dev tool set also represents the steady advancements in low-code platforms that target citizen developers to extend their existing investments in Salesforce, as opposed to professional mobile developers that build native apps, he said.
At its Dreamforce 2018 conference last September, Salesforce entered a partnership with Apple to deliver a Salesforce Mobile SDK for iOS for developers to build native iOS apps. Earlier this month, Salesforce updated the SDK that is optimized for the Swift programming language popular with Apple developers.
Mobile apps are cumbersome to build, and most enterprises require experts who can help tailor them to their unique requirements, plus stitch them together with other enterprise applications and services. That's where Salesforce can use the MuleSoft integration capabilities, acquired in March 2018, to connect internal and external services, said Larry Carvalho, an analyst at IDC, who said the offering will help bring mobile apps to the masses.
"For example, a solution could be easily created to let a user order a Lyft ride from a mobile app while having the ability to allocate costs to the right department," he said.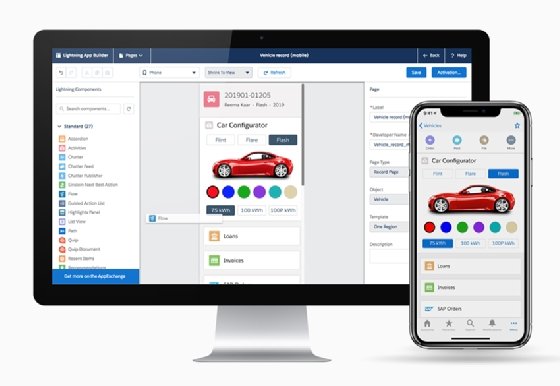 The Salesforce Lightning Platform Mobile comes a few weeks after the company released its Lightning Web Components, a JavaScript programming model for developers to build applications on the Salesforce Lightning Platform of tools and services.
Enterprise mobile app developers will likely use that product to create assets that are consumed by an app built with Lighting Platform Mobile, Forrester's Hammond said.
Dig Deeper on Cloud deployment and architecture