Sergey Nivens - Fotolia
Salesforce Classic nearing end of life, but not dead yet
Salesforce's Lightning UI debuted three years ago, and the vendor stopped adding features to its predecessor, Classic. Customers cling to Classic, despite a big push for Lightning.
BOSTON -- At some point in the future -- whether it's three months from the October switch to Lightning, three years from now or some time beyond that -- access to the Salesforce Classic user interface will stop.
Salesforce launched the modular and feature-laden Lightning Experience UI in its Winter '16 release, with a new look and feel. It brought new app development capabilities and, in recent years, stronger mobile deployment support. To encourage customers to switch to Lightning, the interface included exclusive features, such as Einstein AI analytics reporting.
But, now, encouragement will give way to pushed updates: Starting Oct. 12, in weekly waves, Salesforce will automatically switch users who remain in Salesforce Classic to Lightning, coinciding with its Winter '20 release.
Nothing, apparently, will prevent those users from switching back to Salesforce Classic, the popular two-column Salesforce interface upon which organizations built complex customizations of their Salesforce instances and sales agents built whole careers, along with their admins, developers and integrators.
For now, that is.
"I used to work at Oracle, and Oracle had a lot of unhappy customers because of stuff just like this -- cutting people off, increasing maintenance fees and forcing you to move forward," said Paul Sleet, a Salesforce account executive. "I don't feel the same thing when visiting [Salesforce] customers. They're not forcing it on customers."
Salesforce quiet about when Classic fades away
Salesforce won't yet go on record and name the date when Salesforce Classic will no longer be an option, although a spokeswoman pointed to the Spring '19 release notes, which only said Salesforce stopped adding features to Classic.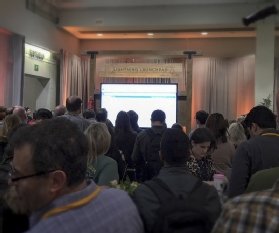 Elsewhere, the company's official feature retirement policy stated that admins will get 12 months written notice before features like Salesforce Classic close, which hasn't happened, according to an informal poll of several administrators at Salesforce World Tour Boston this week.
Moreover, a Salesforce Trailblazer Community discussion thread among developers and admins speculated it could take years before Classic is closed for good, with one commenter pointing out that even the interface previous to Classic was available as recently as December 2017.
Considering all that, Salesforce administrators and partners, however, are getting the message that Salesforce Classic is approaching end of life, judging from the reaction at the World Tour event. Vendors and Salesforce itself offered educational materials about migrating to Lightning, such as readiness checks and transition planning guides.
Reaction was mixed. Although the Lightning interface allows more customization and accommodates better apps, and the mobile deployment has improved significantly in the last year after a shaky start, several users noted slower screen load times.
"We haven't switched completely, but I've been using it for a few months now," said Mahgan Town, business analyst for Hixny, a New York state health information exchange. "We noticed some things actually take more clicks to do. Other things look better -- the visualization is definitely a lot better."
Switching to Lightning requires time, IT investment
Many large organizations either transitioned to Lightning or are in the process, despite the investment in moving. Classic loyalists will find it a different Salesforce.
Ankit Jain, global CRM delivery lead at Stanley Black & Decker, based in New Britain, Conn., said his company plans to move to Lightning in time for the October push and attended the Salesforce event here to learn about how to ease his company's transition. He said he's looking forward to learning about features not available in Salesforce Classic.
A development load comes with switching. Reporting is better, more detailed and AI-assisted in Lightning compared to Classic -- and faster. Documents, attachments, contracts and other content supposedly can be migrated from one to the other, but administrators report that content often needs to be re-created, sometimes from scratch.
Beyond all that, getting buy-in from front-line workers isn't always easy, but is a necessary part of the process, said Jessica Melaas, senior business analyst and change management lead for Datto, a data security and backup vendor in Norwalk, Conn., that uses Salesforce.
Datto is fortunate in that it's launching a new instance of Salesforce and will be on Lightning from the start. But having been involved in several other change management initiatives, Melaas said she understands how it works.
"People don't like change. They might say they like change, but most people don't like change," she said. "They're not innovating on Classic anymore; they're innovating on Lightning. As a tech company, we always want to be on the precipice of what's new, what's different and what's better. In order for us to do that, we have got to be on Lightning."
Salesforce-savvy employees see the Lightning transition as an opportunity to volunteer as superusers or even upgrade their own jobs.
Stephanie Stoddard, business applications manager at the Council on International Educational Exchange (CIEE), a nonprofit in Portland, Maine, said, because of her previous experience in Lightning at other jobs, she could help her colleagues move from Salesforce Classic and show her competency.
People don't like change. They might say they like change, but most people don't like change.

Jessica MelaasSenior business analyst and change management lead, Datto
CIEE had problems porting course catalogs and other content into Lightning. And among Stoddard, the project manager and the contracted Salesforce development team, they were able to correct the issues after a couple of months. But it took putting their various, overlapping skills together to solve the problem.
"They're contractors; they're not really engaged in the user end at all," Stoddard said. "There's a lot of disconnect between the user experience and the developers."
But, Stoddard added, once it's done, the migration pains are solved and the roughly 75% of employees who are used to Salesforce Classic finally adjust, Lightning will probably be a more productive environment.
But her experience led her to offer one piece of advice to other Salesforce customers readying for the transition: Engage your front-line users well in advance, and let them experiment with Lightning offline and get feedback on what is and isn't working.
Jennifer Lee, lead solution designer for insurer John Hancock, based in Boston, and her colleague, business analyst Cory Wong, concurred. Sandboxing Lightning uncovered "data problems" for the migration.
"I think that's, in general, a Salesforce adoption issue," Wong said.
It's not only essential to let the business leaders know that Lightning is coming well in advance, but also to get workers to articulate which business processes they needed to do their jobs in Classic and then demo them in Lightning during hands-on practice sessions.
Also, Wong said, organizations should give those front-line employees some pretty visualizations to enjoy. In John Hancock's case, that would be Lightning's AI-assisted tools that create reports and "donut charts," a variation on pie charts that have a hole in the middle.
"They didn't have those kinds of visuals in Classic," Wong said. "They love those. We have donut charts everywhere."