Fotolia
Salesforce Classic vs. Lightning: How the CRM versions stack up
With migration becoming unavoidable, you should understand the different features available between Salesforce Classic vs. Lightning. Here is a chart to help you do just that.
With the 1999 launch its original Classic edition, Salesforce not only changed the CRM experience, but also the...
Continue Reading This Article
Enjoy this article as well as all of our content, including E-Guides, news, tips and more.
ability for those managing its automated systems to route and scale events.
Now, as customers migrate from Classic to Salesforce Lightning Experience, the team at Salesforce has again reinvented the wheel, offering the latest superior technology and design intended to eventually replace the tried and true Salesforce Classic. Lightning Experience's modernized framework combines an improved user experience, a component-based app builder and other features Salesforce hopes will enable companies to move faster and achieve productivity efficiencies.
"Lightning is what we would have originally built if the technology had been available," said Ben Pruden, director of product marketing for Lightning at Salesforce. "It's where all of our innovation is happening, and it's going to allow users to work faster and more productively than ever before."
Those willing to acclimate themselves to Lightning Experience won't look back, Pruden said. While the information on Salesforce Classic vs. Lightning is backed by similar underlying data, Lightning is cleaner, with a more modern interface, and gives companies the ability to close quicker, collaborate better and obtain faster conversion rates.
Lightning Experience offers more integrations
With Salesforce Classic vs. Lightning, both can be used for sales, service and marketing; however, Lightning's App Builder also enables users to sync their Outlook and Gmail calendars with their Salesforce actions. This new App Builder offers an interface with relevant information to streamline the workflow.
Furthermore, both the App Builder and Lightning Component Framework empower developers and business users to build apps faster than they would in Classic via a drag-and-drop library of more than 1,000 components available on the AppExchange.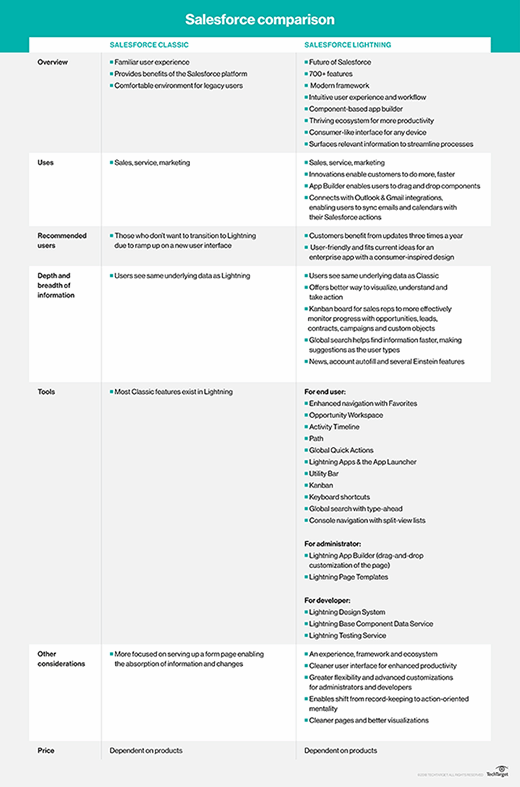 Lightning Experience's workflow visualization tool, called a Kanban board, enables sales representatives to monitor their progress with opportunities, leads, contracts, campaigns and custom objects.
Lightning vs. Classic features
An improved global search makes live suggestions to users, offering features including news, account autofill and Einstein AI tools.
"Lightning has helped Salesforce and our users make the shift from a record-keeping mentality to an action-oriented mentality," Pruden said. "Classic is more focused on serving up a form page, allowing you to absorb information and make changes, whereas Lightning Experience encourages you to focus on the action at hand, with cleaner pages and better visualizations."
Salesforce survey respondents claim that Lightning Experience users see a 41% increase in productivity, including:
21% improvement in win rates;
23% faster time to close;
40% increase in collaboration; and
44% increase in conversion rate.
While most Classic features are supported in Lightning, Salesforce offers a readiness check to find out if an organization is prepared to choose between Salesforce Classic vs. Lightning.
Dig Deeper on CRM tools and strategy