Saktanong - stock.adobe.com
Salesforce collaboration gets mobile boost with new app
Salesforce integrates chat, text and video collaboration into a desktop interface and a new mobile app, Salesforce Anywhere. It tracks and logs conversations and transcribes videos.
Salesforce plans to release a beta of a new free collaboration app, Salesforce Anywhere, in July.
The Salesforce collaboration tool, announced at the CRM giant's TrailheaDX virtual developer conference, can track and log text, chat and video conversations about an account in Salesforce CRM records as users nurture deals in their pipeline.
In many instances for Salesforce users, whole teams court big accounts; sales reps using Salesforce Anywhere aim to keep other team members abreast of what their colleagues are doing with clickable mobile notifications as they work in concert to close a deal. GIFs and emoji come with the chat package.
Salesforce also will embed the same features into its desktop interface, so users can toggle between mobile and desktop and the CRM platform without losing a conversation or task assignment. That's important, said Chris Marsh, an analyst at 451 Research, as sales reps -- and office workers in general -- are often more comfortable using phones for messaging, even when sitting at their desktop workstations.
The app is Salesforce's way of capturing unstructured data in conversations crucial to sales work, Marsh said. It surprises him that so many technology vendors are willing "leave that on the table" for other business applications providers like Microsoft to capture.
"I'm not surprised at all that Salesforce is doing this; it's something they have to do," Marsh said of the Salesforce collaboration app. He added that the problem with systems of record like the Salesforce CRM platform is they depend on the accuracy and timeliness of information entered by users. Automatically logging conversational data helps solve that problem.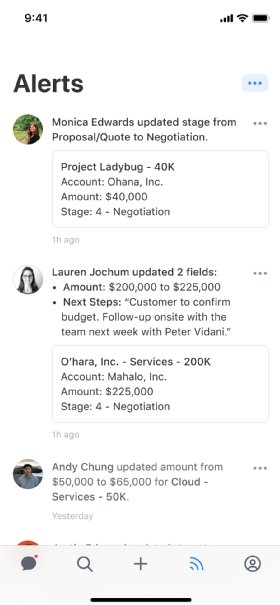 Features taken from Quip
Salesforce Anywhere and its parallel features in the desktop client came from Quip, a business applications and collaboration suite acquired by Salesforce in 2016 for $582 million. While some Salesforce users liked the integrated Quip document tools that kept their work catalogued in Salesforce, others complained about performance issues and tough-to-organize workspaces.
The Salesforce collaboration app also includes some Einstein AI features that offer personalized, role-based suggestions when a record gets updated, said Ryan Aytay, chief business officer at Salesforce.
"For example, if you're a sales manager, you may be prompted to add manager notes," Aytay said. "If you're an account executive, you may be given the suggestion to take [other] next steps."
While Salesforce had telegraphed it was working on the app last fall before the COVID-19 pandemic, its release now is timed well, 451 Research's Marsh said. Some offices are slowly opening, but most office workers are still remote.
"Working digitally from anywhere is critical for business continuity," said Sarah Franklin, executive vice president and general manager of platform, Trailhead and developers at Salesforce. "Companies are adopting to new work cultures with higher percentages of remote workers, virtual meetings and events, and we're looking at digital work experiences."