Salesforce mobile app, Trailhead Go rebuilt for iOS
Salesforce CEO Marc Benioff and Apple CEO Tim Cook take the Dreamforce stage as a rebuilt-for-iOS Salesforce Mobile, new Trailhead Go app and Swift-optimized mobile SDK debut.
SAN FRANCISCO -- Salesforce debuted new iOS apps today, including a long-overdue Salesforce mobile app makeover and the first mobile Trailhead learning app, Trailhead Go. Salesforce also updated its iOS mobile SDK for third-party app developers to take advantage of Swift, an Apple coding language.
The Apple focus continues from Dreamforce 2018. Apple CEO Tim Cook is scheduled to join Salesforce CEO Marc Benioff on stage for a fireside chat Tuesday at Dreamforce. The fresh iOS apps push is Salesforce's response to more and more customers doing work on iPhones and iPads, said Constellation Research analyst Nicole France. Making better iOS apps is no longer a nice-to-have, but a got-to-have.
Previously, the Salesforce Mobile app could be described essentially as a click-intensive, sometimes slower desktop version of Salesforce shoehorned into a phone-app interface, analysts and users said. The new version will offer iOS-specific features and changes to the user interface.
Front-line salespeople can add more CRM data
Salesforce's new focus is on making its interface friendlier to the front-line salespeople who use it all day, France said. Previous versions looked more manager-centric, with more focus on dashboarding sales-team data at a glance.
If Salesforce Mobile isn't as easy and simple to use as other iPhone apps, people are disinclined to use it effectively -- or at all.

Nicole FranceAnalyst, Constellation Research
She added that, like many SaaS vendors currently re-evaluating the look and feel of their platforms, Salesforce's new interface philosophy shows that it had focused too much on making the app attractive to buyers, not users. Reducing clicks for front-line salespeople will make them more inclined to enter the data that their managers need into the app.
"It's what we've all come to expect in our lives as consumers, and frankly if Salesforce Mobile isn't as easy and simple to use as other iPhone apps, people are disinclined to use it effectively -- or at all," France said. "Even in a business context."
Trailhead Go embraces a new generation
Making the first Salesforce Trailhead mobile app, Trailhead Go, usable on phones and tablets can only enhance its function as a recruiting tool for Salesforce admins and developers, France said. While Generation Xers and older Salesforce users might not see the value of consuming sometimes-technical Salesforce learning content ported to phone and tablet interfaces, younger audiences will.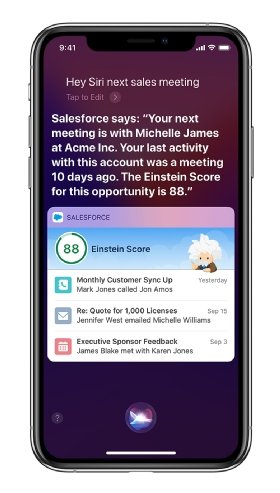 The free Trailhead app works well to develop needed experts for Salesforce customers like Workfront, a SaaS project management and employee collaboration platform. Heidi Melin, chief marketing officer at Workfront, said she sees the mobile version as a way to keep that pipeline of new experts flowing.
"They're training a future generation how to leverage Salesforce," Melin said. "That's how you know when an application platform has scale, when you start to see the need for [the Salesforce] skill set in the marketplace. That's huge."
Melin said she is also looking forward to seeing more Salesforce mobile app integrations with partners like Totango, which retrieves CRM data for a particular Workfront customer and summarizes it in Slack. Melin uses those tools to get a quick snapshot of an account's health and renewal date, and to do it without logging into Salesforce's desktop or mobile apps, she said.
Also announced with the made-over Salesforce Mobile and new Trailhead Go are updates to the iOS mobile app-development SDK introduced earlier this year. Optimized for Swift, an Apple coding language growing in popularity with iOS app builders, the SDK will help developers create apps that better take advantage of iOS features and its interface.
Dig Deeper on CRM tools and strategy