Salesforce search about to get smarter with Einstein AI
Salesforce will add Einstein AI to its cloud search functionality in hopes of better assessing context, personalization and reducing false hits for end-user queries.
Salesforce Einstein Search, coming next year to replace Salesforce Global Search, aspires to reduce clicks for end users in sales, service and marketing by throwing AI at an age-old technology problem: figuring out why someone searches for something to throw out off-topic search results.
The why, or context, of a search is key to narrowing results, and AI can help deduce it. Salesforce Einstein Search is in pilot with 19 customers training the AI and working with Salesforce on other feature refinements, said Will Breetz, Salesforce vice president of product management.
Salesforce is overhauling its search now because "there has been a lot of advancements in AI and machine learning, and natural language processing in particular," Breetz said. He added that the new tool was developed by Salesforce and isn't related to an acquisition or recent partnerships with Google. "The technology now is more mature, and we're able to do it."
Creating efficiency is also paramount for Salesforce, Breetz said. Salesforce's ever-expanding cloud roster processes more than a billion user searches per month.
Self-training AI key to Salesforce search
Salesforce Einstein Search personalizes search results by determining relevance of data points such as a user's geographical location or by picking up on Salesforce-specific language such as "open opportunities" -- Salesforce lingo for deals in process -- or both, such as "open opportunities in San Francisco."
Where Salesforce search functions today might not be able to connect all those results and may return more search hits than the searcher intended, Einstein AI can help determine what the user really meant with a query. The AI also can train itself to an individual salesperson's territory and vertical industries served and focus on those at the top of the results page.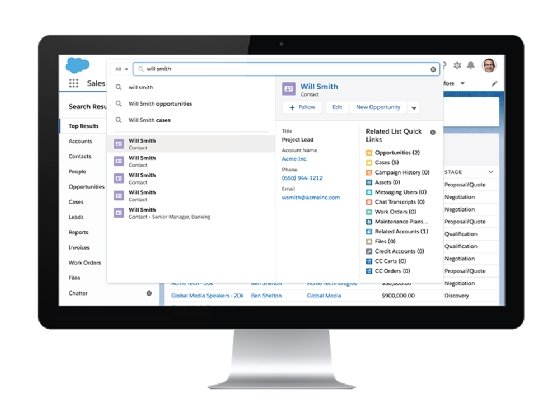 Salesforce maintains privacy throughout the AI training process, Breetz said, which uses publicly available data sets to do the AI training and anonymizes individual user information. Early research shows Salesforce Einstein Search can cut down clicks on search results and page loads by 50% to 80%, he added.
A new Einstein Search bar will add shortcuts to more quickly perform common tasks such as appending an opportunity with a contact or editing sales records. Future plans include extending Salesforce search into other applications and pull data into Salesforce, Breetz said. One example where this might be used is to pull data from payroll and HR systems and add it to Salesforce sales data to compute a salesperson's commissions.
Mobile users to benefit
Users who stand to benefit first from Salesforce Einstein Search will be front-line users who do some or all of their work on mobile devices, such as field service workers and traveling salespeople, Breetz said, along with customer-service workers who need to quickly access customer records.
The problem with enterprise search in general, said Constellation Research Founder Ray Wang, is that it's broad in the net it casts and lacks the sales or service focus a Salesforce search tool will. Large vendors, such as Microsoft and Google, and their smaller competitors, such as Solr and Coveo, offer enterprise-wide AI search tools designed to make information discoverable from one enterprise search bar. They typically include advanced natural language processing and sentiment analysis, and they can connect to the Salesforce cloud. Yet Wang said he sees value in a Salesforce-specific tool.
"As a Salesforce customer, I'd want to be able to find my stuff only in Salesforce," Wang said, adding that while some users are comfortable memorizing file and folder structures within clouds like Salesforce, many others get to information exclusively by search. "It will help mobile professionals, especially in service where you're always looking up stuff, and anyone in customer success."