Getty Images/iStockphoto
Salesforce integrates Einstein GPT and Data Cloud into Flow
The CRM giant updated Flow, its automation toolkit, with generative AI and Data Cloud capabilities to trigger automatic responses using natural language prompts and real-time data.
Salesforce on Wednesday introduced the integration of Einstein GPT, its CRM generative AI assistant, and Data Cloud, its CRM data platform, with Flow, Salesforce's automation toolbox.
By combining these capabilities, the CRM giant said it is aiming to help organizations adapt faster to their customers' online behavior and create more personalized experiences more simply and quickly.
Salesforce plans to launch the pilot of Einstein GPT for Flow in late summer. Features of Data Cloud for Flow will likely be generally available on a tiered schedule from June through early fall, according to John Kucera, Salesforce SVP of product management.
Incorporating generative AI to work faster
When Salesforce launched Einstein GPT in March, and revealed that OpenAI was its official launch partner, it wasn't the only vendor with a generative AI assistant on the market. CRM competitor Microsoft unveiled Dynamics 365 Copilot and Pegasystems added generative AI-backed tools in its Pega Infinity platform.
"What Salesforce is doing really well is leveraging its ecosystem of users and partners by simplifying processes for deploying generative AI," Opus Research analyst Dan Miller said. "Microsoft does similar stuff with a 'copilot' appearing in every element of its productivity suite."
CX vendor Adobe's Firefly is also an effective tool for integrating generative AI into mundane tasks, Miller noted.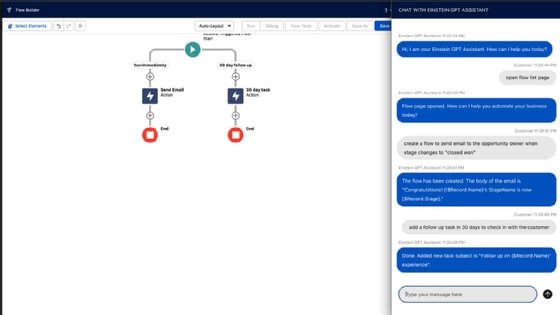 Simplifying construction of customer flows
Meanwhile, Data Cloud is a storage platform that maintains customer profiles in real time. By inserting them into Flow, users can implement automated detailed workflows and direct actions triggered by real-time events that take place in the customer profiles.
Einstein GPT increases task automation by instantly building these flows, as well as complete formulas, and locating already-built functions, with natural language prompts in which the user can type a request.
"Creating a Flow from scratch can be intimidating," Gartner analyst Kyle Davis said. "However, if a lesser skilled developer can use natural language to describe what they want to automate, then Flow and Einstein GPT can try to design it for them."
What Salesforce is doing really well is leveraging its ecosystem of users and partners by simplifying processes for deploying generative AI.

Dan MillerAnalyst, Opus Research
"Both capabilities, Data Cloud and Einstein GPT, for Flow, are important," Davis added. "Having information in Data Cloud was the first step, but being able to make decisions with that data is what matters, and that is what the Data Cloud and Flow integration offers."
One example of an automated flow that would combine all these capabilities is the abandoned cart phenomenon, according to Kucera.
Customers leaving their online shopping carts in the store before they complete a purchase is an action that can trigger an automated response, such as a personalized message, to encourage customers to revisit their carts. With Einstein GPT and Data Cloud, this process becomes more speedy and specific, according to Salesforce.
"We're basically making our existing Salesforce flow capabilities smarter," Kucera said.
As the technical process becomes simpler, marketing professionals can get better control over the customer experience, according to Valoir analyst Rebecca Wettemann.
"As innovations like generative AI give more people the ability to automate more complex workflows, and change them as needed, workers on the front lines can take greater ownership of business processes and evolve those processes quickly without burdening IT," Wettemann said.
Mary Reines joined TechTarget Editorial in October 2022 as a news writer. She covers customer experience and unified communication technology. Before TechTarget, Reines worked for five years as arts editor at the Marblehead Reporter.
Dig Deeper on Customer experience management