Salesforce Financial Services Cloud adds mortgage tools
Salesforce pushes deeper into financial services with tools to make mortgage data collection easier, and to find upsell opportunities for customers looking for home loans.
Salesforce Financial Services Cloud added new features designed to capture more customer data during mortgage applications for its CRM platform, speed up the approval process and integrate AI with customer data to find upsell opportunities.
The features include a mortgage application wizard that collects applicant data for relevant forms and the supporting documents an application requires -- as well as a portal to host those documents. The wizard checks that elements necessary for loan applications are included, and flags missing documents such as W-2 tax statements to confirm a borrower's income.
Also part of Salesforce Financial Services Cloud is a new data model specific to mortgage applicants. Richer data collected in the mortgage process can be displayed on a dashboard in new ways or mixed with existing CRM data a company might obtain from the applicant.
Catering to millennial home buyers
The mortgage toolset adds to Salesforce Financial Services Cloud feature sets for different sectors, including wealth management, banking and insurance. They aren't meant to replace traditional loan origination legacy systems, said Geoff Green, global head of mortgage and lending at Salesforce.
Instead, financial services companies on Salesforce can use the new features, combined with AI tools, to identify potential upsells to their customers and do more with the data.
Mortgage applicants also often need loans for cars, their children's college tuition, and businesses. AI can help Salesforce customers identify them -- starting with the new features added today and with more to come in 2020, Green said.
People [sometimes] buy homes without leaving their couches. They don't even see the place in person. They buy based on seeing the pictures.

Geoff GreenGlobal head of mortgage and lending, Salesforce
He added that the administrative costs of a mortgage application have spiked in the last decade. AI and automation may help reduce costs, while putting the mortgage process more in line with millennial generation's demands for self-service and web-friendly methods.
"People [sometimes] buy homes without leaving their couches," Green said. "They don't even see the place in person. They buy based on seeing the pictures."
Salesforce's growing financial footprint
Collecting more detailed data may give existing Salesforce Financial Services Cloud users a fuller view of the customer, and some new hooks into the CRM cloud, said Constellation Research analyst Nicole France. But it remains to be seen if the new mortgage features will make Salesforce more appealing to users of competing platforms.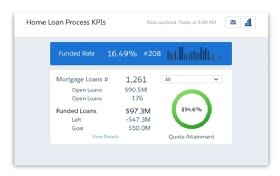 Salesforce has been pushing into financial services and healthcare with vertical-specific clouds since 2016 as part of its growth strategy. Large banks playing catch-up to companies like Quicken Loans and its Rocket Mortgage service could be likely candidates to build new mortage websites around Salesforce, France said.
Tools like the prefab mortgage wizard could be an indication that Salesforce needs to make it easier for new customers to use its CRM for certain verticals, because they won't invest in development to build it themselves, she said.
"It's a sign of more things to come," France said. "What they're doing here is building on generic processes and designing [features] with a particular customer -- and seller process -- in mind."