What is the role of a customer relationship manager?
The customer relationship manager -- a role that differs from a CRM manager -- has a challenging and ever-evolving role to play when it comes to optimizing the customer experience.
The customer journey doesn't end with the sale of a product or service. A successful post-sale experience with...
Continue Reading This Article
Enjoy this article as well as all of our content, including E-Guides, news, tips and more.
a product or service wouldn't be possible without customer relationship managers, also known as client relationship managers.
A customer relationship manager is typically responsible for customer relationships after the sale or service process is complete, and they continue to work with customers to keep them up to date on products and services to maintain that relationship.
The customer relationship manager -- along with sales, marketing and customer service teams -- plays an integral part in providing and maintaining exceptional customer experiences and customer success.
Duties and role of a customer relationship manager
The customer relationship manager duties are as follows:
Implement customer analysis to identify trends and opportunities to generate revenue.
Create positive relationships with new clients to help build the customer base.
Monitor and maintain customer satisfaction ratings.
Manage customer service and support teams to address customer complaints relating to products and service.
Manage customer communications relating to new products and services.
Collaborate with marketing and sales teams to personalize marketing and sales interactions.
Reinforce customer loyalty.
Ensure customer satisfaction.
Use social media to engage with customers.
Understand the competition.
The success or failure of a customer relationship manager is typically based on customer satisfaction and customer retention metrics. Each company has different standards depending on whether they are B2B or B2C, sell inexpensive vs. expensive products, or offer quickly executed vs. long-tail services that may take years or decades to complete -- such as a mortgage loan. The number of upsells during a customer service engagement can be another metric.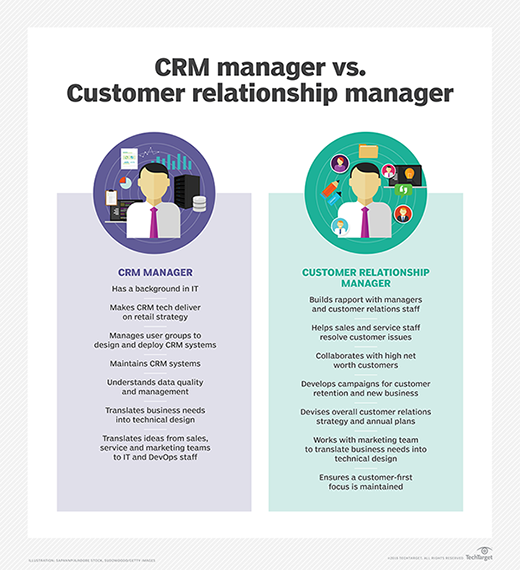 Other customer service efficiency metrics may come into play as well. For example, if a company has a large call center, then time-to-response, hold times and workforce management metrics -- such as overstaffing vs. understaffing -- can have an effect. CRM systems can help create efficiencies to improve customer retention and, at the same time, reduce the overhead required for omnichannel customer service on phone, email, live chat, video and social media channels. CRM software is a platform on which businesses can gain a better understanding of customers by detailing customer interactions.
Skills and qualifications
Often, the role of a customer relationship manager requires a four-year degree from an accredited college or university in business administration or management. Other qualifications often include the following:
Knowledge of CRM tools, marketing automation platforms, partner portals and customer service software.
Communication and interpersonal skills including speaking, writing and listening.
Teamwork and leadership skills.
Customer-oriented attitude.
Problem-solving skills.
Experience in sales or customer service.
Knowledge of company products and services.
Salary and job outlook
Many organizations choose to prioritize customer retention over acquisition, as retaining customers often costs less than finding and converting leads. A customer relationship manager is a key role that organizations need to retain customers and keep them engaged, because they ensure customers have positive experiences with the business after they complete a sale.
According to Salary.com, the typical customer relationship manager salary range is between $48,000 and $59,000 in the United States. These salaries can vary depending on education level, certifications and number of years in the profession.
Other jobs that are similar to a customer relationship manager include the following:
Client services manager.
Account manager.
Sales manager.
Customer success manager.
Partner relationship manager.
CRM manager.
What is a CRM manager?
In many companies, the rise of cloud CRM systems created a separate, more technical position called the CRM manager. This role requires an IT background, making CRM managers technical experts who help marketing and IT teams reach the customer base via CRM applications, along with sales and marketing automation tools. CRM managers also help customer relationship managers maintain their customer service technologies. They must keep up with current technologies and strategies to segment and migrate the right customer data from, for example, sales databases to a marketing automation tool.
A Salesforce CRM manager's job responsibilities might include the following:
Configuring, developing and administrating Salesforce cloud apps.
Working with APIs.
Testing CRM apps in the company's sandbox.
Implementing new CRM features.
Managing workflows and access controls.
Ensuring the technologies work properly within the organization.
Some companies may also designate a third position, the customer experience manager or designer, further subdividing roles.
Soon, data scientists will also be more fully involved in traditional CRM. They will help program and maintain AI tools to help marketing, sales and customer relationship managers employ CRM systems to create more personalized, targeted marketing campaigns to grow the customer base.
CRM manager, customer relationship manager roles by industry
Customer relationship managers and their CRM manager counterparts have different job descriptions and responsibilities depending on their vertical industries.
Heavily regulated industries, such as financial services and healthcare, may require the CRM manager to interface with the company's compliance officer.
Heavily regulated industries, such as financial services and healthcare, may require the CRM manager to interface with the company's compliance officer to ensure customer data is properly handled. Any company with customers in the European Union, for instance, must comply with the General Data Protection Regulation's "right to be forgotten" requests. In almost every industry, companies must consider compliance with certain standards, such as the Payment Card Industry Data Security Standard for handling payments or security protocols to protect intellectual property data.
The role of customer relationship managers, by contrast, focuses on customer experience throughout the customer journey, from initial contact to repeat purchasing activity. These managers ensure that customer service and marketing outreach all work together, and, in conjunction with marketing staff, they conduct retrospective customer surveys that help inform improvements in customer retention and customer satisfaction.
Dig Deeper on CRM tools and strategy