Salesforce Service Cloud Voice, Einstein Voice Assistant unveiled
Salesforce unveils a voice assistant and call center tools to enable real-time natural language processing for agents to connect customer data and supervisor help on a single screen.
SAN FRANCISCO -- With call center tools and a voice assistant on their way, Salesforce continues to bet on voice as the next big technology for sales and service teams using its customer experience platform.
Salesforce Service Cloud Voice, unveiled today at Dreamforce, uses natural language processing (NLP) and Einstein AI to link live phone conversations to the rest of a customer's data, such as text and email conversations, in a single screen, said Patrick Beyries, vice president of product management at Salesforce Service Cloud.
Currently, call center agents might have a number of applications or screens they must flip among to access different customer data sets. Assembling it on one console -- and connecting it live to an agent's supervisor -- will speed up customer service for the roughly 35 million daily contacts from customers of businesses using Salesforce Service Cloud, Beyries said, with most of them being phone calls.
"We've all been on the phone where we've talked to an agent and they say 'I've got to put you on hold,' or maybe we got to hear them furiously typing in the background while they were looking for information," Beyries said.
Salesforce Service Cloud Voice aims to reduce that with this new integration. The time is ripe, because NLP accuracy has advanced to the point it can keep up in a live conversation and enable back-end AI tools to suggest usable answers, Beyries said.
Salesforce Service Cloud Voice also includes a custom telephony offering sold through Salesforce and hosted by AWS. It is not intended to replace telephony packages from Salesforce's longtime call-center tech partners, such as Twilio and 8x8, Beyries said.
The Amazon Connect package will first appeal to call centers using on-premises tech stacks that are looking to move to the cloud, Beyries said. It also may attract midsized Salesforce customers who don't already have call centers and plan to launch new ones in the cloud.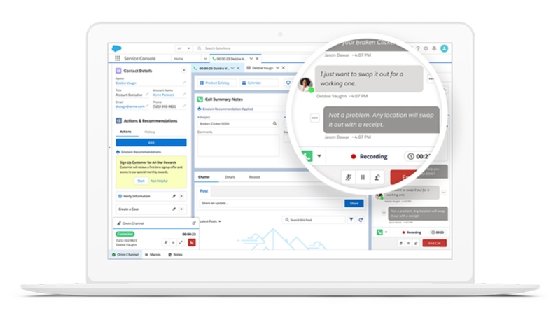 Salesforce Service Cloud Voice will go into pilot in February and be available the following June, Salesforce said. The same goes for Einstein Call Coaching, another new feature for managers to use AI to identify critical calls an agent handles and offer suggestions for improving outcomes next time around.
Voice assistants on way
Another voice tool, Einstein Voice Assistant, is further off on the roadmap, planned for beta next year and availability in 2021. The voice assistant makes data calls to CRM and customer service data to perform operations like forecasting and other repetitive, click-intensive tasks for salespeople and customer service agents.
Salesforce users can enable custom actions for it with Einstein Voice Skills they create with a no-code builder.
Last year, Salesforce added new Einstein AI bot-building and voice capabilities to Service Cloud and Sales Cloud. This year's announcements build on those technologies.
Einstein Voice Assistant will run on smartphones as well as Amazon, Apple and Google smart speakers, deployed as the customer prefers. Queries and retrieved data can be set up to bypass Amazon or other smart speakers' host servers, said Salesforce president and chief product officer Bret Taylor.
While both Salesforce and Amazon call their voice assistant customizations "skills," Einstein Voice Skills are not rebranded Amazon tools, Taylor said, but rather a new service Salesforce built itself.
He added that early use cases for Einstein Voice Skills will likely include tasks like dashboarding sales reports and daily sales briefings.
"You'll hear a lot about adoption from field sales teams," Taylor said, adding that the immediacy of users entering data after a meeting or call will yield more accuracy and detail than waiting for a desktop and keyboard. "It stands to reason, because they're always on their mobile device. Often, today, they're waiting until they get back into the office to enter data in and there's huge [data] degradation in that wait."
The Einstein Voice tools are an interesting shift in giving Salesforce users the same capabilities they have come to expect in their personal lives, said G2 analyst Michael Fauscette.
"People have gotten pretty comfortable talking to their phones, to their automobiles," Fauscette said. "People want to do the same thing at work."
Dig Deeper on Customer experience management