Fotolia
Salesforce Trailhead gets social boost for admins, developers
Salesforce might not own LinkedIn, but it's creating a similar online social network of certified professionals via Trailhead, complete with vanity URLs and more detailed profiles.
Salesforce recently released two new features for its training platform, Salesforce Trailhead: a publicly displayed skills graph and the option for admins, developers and other certified pros to create a vanity URL. While these two features may seem like small changes, they pave the road for Trailhead to become an alternative to the résumé or, maybe more significantly, a way to steal eyeballs from rival Microsoft's LinkedIn professional network.
Trailhead provides hands-on training programs for all facets of Salesforce and a number of other skills that can be useful for people working with Salesforce implementations. It also allows users to develop and share their own training strategies.
Originally, Trailhead tracked users' accomplishments, but didn't provide any way for the users to display their accomplishments to each other or to potential employers. More recently, Salesforce Trailhead started giving users badges they could display on their profiles to represent every training program they've completed.
Because these training programs often include hands-on elements and actual coding projects, this gave users the ability to show off their skills. The skills graph takes this one step further, providing a pie chart for Trailhead users to prove their skills to prospective employers.
Salesforce Trailhead profile as personal brand
Alan Lepofsky, vice president and principal analyst at Constellation Research, said, "Salesforce wants to give you their Salesforce résumé. Over time, this should give people the ability to build up their personal brand." The Salesforce résumé is built around the badges, and the public skills graph is, as Lepofsky said, just "taking it to the next level of publicity."
"People are looking to differentiate at more than the product level," Lepofsky added. Instead, they're competing over extra and unexpected skills. Employers are looking for more granular information on the skills of their prospective employees than that they have Salesforce experience. Being able to point to quantifiable measurements of specific skills would be an asset on the job market, Lepofsky said.
Brent Leary, co-founder at partner at CRM Essentials, said the Salesforce Trailhead badges and skills graph would "make it easy for people looking for the right kind of résumé and experience ... to know that these experiences are legitimate."
Furthermore, according to Leary, because the skills graph and badges are standardized, this provides a useful way for employers to compare prospective hires from different geographical locations and with different backgrounds.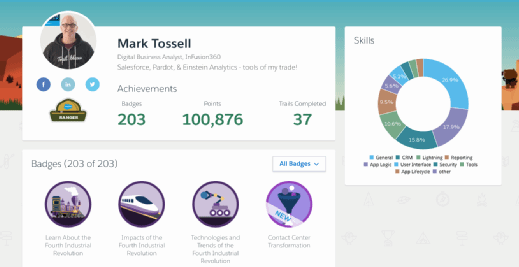 Increasing diversity of Salesforce recruiting side benefit?
Sarah Franklin, executive vice president of development relations and general manager of Salesforce Trailhead, said she sees these new features as more than just a way for Salesforce to build its own version of LinkedIn.
Franklin said the skills graph "changes the résumé from 'What you have done?' to 'What are your skills?'" A traditional résumé lists past job experience and educational history, but it doesn't include any way to prove that the job applicants have gone through training and have new skills that they didn't use at previous jobs. The purpose of the Trailhead skills graph, according to Franklin, is "if you learn [new skills] and you can show it on your skills graph, then you're in."
We have to make it affordable to have an easy on-ramp to a career.

Sarah Franklinexecutive vice president of development relations and general manager at Salesforce
She said she hopes that, with the inclusion of the skills graph, Salesforce Trailhead will be able to increase diversity in the company's ecosystem. Franklin is a mother of daughters and a woman working in technology herself, so increasing, among other things, gender diversity in the technology space is important to her. "The problems we have with diversity, they're systemic. It's not job recruiting. To get recruited, you need a four-year degree. To get a four-year degree, you need lots of money, probably. It's a systemic problem that we face, and we have to change the game," she said.
The free training isn't useful for only current Salesforce users. Franklin said college students with debt and no work experience, parents returning to the workforce after raising children and people looking for a brand-new career could be new users for Trailhead. People who come to the Salesforce ecosystem by nontraditional roads can also prove their qualifications to a potential employer via the skills graph.
"We have to make it affordable to have an easy on-ramp to a career," Franklin said.
The vanity URL makes it easier for users to link prospective employers, LinkedIn pages and Twitter profiles to the Salesforce Trailhead profile. According to Lepofsky, Salesforce MVPs are already starting to jockey for position to be the first one to get their chosen Trailhead URL. "People aren't sharing business cards anymore. They're sharing URLs," Franklin said. The vanity URL hopes to capitalize on that.