Rawpixel.com - stock.adobe.com
Salesforce new training goal: 20K new admins, developers
Salesforce partners with nonprofits and customers to mint more admins, developers and consultants needed to sustain the company's five-year growth plan.
When the economy hits a rough patch, the job market hits a Great Resignation speed bump, or something like the pandemic causes displaced workers to contemplate career changes, Salesforce does the usual: amps up its goals to woo more Trailblazers.
Trailblazers, of course, is the catch-all term for people who sign up for Salesforce training on the company's free Trailhead online learning site. Here, they can earn badges and "superbadges," the latter of which can include solving real-life user problems. People typically start with admin-level Salesforce training badges and move on to higher-level, role-based developer, marketer, architect and consultant certifications.
At Dreamforce, Salesforce will reveal its four-pronged plan to attract more Trailblazers into the Salesforce universe in the next five years.
First, to make it easier for Salesforce users to facilitate one-on-one interviews with prospective employees, Salesforce will add a "Hire Me" button to its Trailblazer.me site -- its Salesforce-specific business social network and resume site. Trailblazer.me offers Salesforce users direct verification of Salesforce training badges and certifications that candidates have completed.
The "Hire Me" button reveals to Salesforce users which of the more than 4 million Trailblazers are actively seeking new opportunities, said Ann Weeby, senior vice president of Trailhead. It's a simple addition to the Salesforce digital resume, but it will be a big help to job seekers, said Tony Nguyen, a Minneapolis-based Salesforce consultant who first acquainted himself with Trailhead during the pandemic after losing his job as a restaurant manager.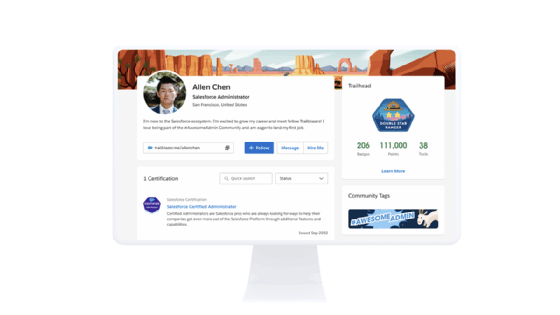 "This new 'Hire Me' button is going to be a game changer for the hiring process," he said. "It shows everything that you need to know about an individual from a hiring perspective -- all the [Salesforce badges and certifications earned]. ... We don't really have to go on LinkedIn or take a traditional route of hiring if everything's on one page."
Nguyen spent eight hours a day for five weeks on Trailhead and also joined PepUp Tech, a Salesforce training nonprofit that educates people in underserved communities. Two years later, he works at global consultant firm Slalom and volunteers as a PepUp Tech instructor and mentor.
PepUp Tech is part of the Trailblazer Workforce Partner Program, one of 500 non-profits and higher-education entities Salesforce supports to locate and train new talent. Salesforce announced new investments in these groups in hopes the nonprofits will ready 20,000 new Trailblazers for the workforce in the next five years -- the second part of its workforce development plan.
While it's an ambitious goal, it is possible, said Rebecca Wettemann, founder of independent research firm Valoir.
"Salesforce's investments in Trailhead and in the Trailblazer community have already shown the ability to scale by connecting new learners to mentors and professional networks that help them grow their skills," she said.
Pathfinder, Talent Alliance increased
The third part of Salesforce's workforce development plan is an expansion of the Salesforce Talent Alliance. The program currently has more than 1,000 employers plugged into a Salesforce talent pool that emphasizes diversity and shines the spotlight on underrepresented groups in tech, including Black, Latino, Indigenous, multiracial and LGBTQ people as well as those with disabilities, veterans and military spouses.
The final part of the Salesforce training initiative is the expansion of its Pathfinder Training Program, where Salesforce partners, such as Deloitte and Accenture, as well as large customers, including Liberty Mutual Insurance and KPMG, offer employees both live and asynchronous Salesforce training. The program started with 10 partner organizations; Salesforce has recruited 15 more and pledges to continue the drive for more.
Salesforce has grown to a $25 billion-plus annual revenue company and has goals for $35 billion in 2024. Co-CEO and founder Marc Benioff has stated his "dream" of $50 billion in the coming years. And those who bet against Salesforce often find themselves losing, as the company typically hits the goals Benioff sets.
The Trailhead community also promotes more Salesforce revenue. Valoir research shows that four out of 10 Trailblazers adopted new clouds as they discovered more Salesforce platform capabilities.
Yet there isn't enough Salesforce talent to go around for numerous reasons, such as the lack of apprenticeships to skill up people new to tech, new to business, or both.
IDC estimates that the ecosystem of partners and Trailblazers to support Salesforce implementations is at least five times as big as Salesforce itself. If there's not enough talent for Salesforce users to hire what they need now, Salesforce will need to mint a lot more Trailblazers to sustain growth and hit those goals.
"There's just such a demand for digital talent," Weeby said. "We know how this is affecting Salesforce -- you've seen the numbers -- but it's global."
Don Fluckinger covers enterprise content management, CRM, marketing automation, e-commerce, customer service and enabling technologies for TechTarget Editorial.