osorioartist - Fotolia
Salesforce Trailhead to roll out live training videos
By year's end, Salesforce will unveil a new set of live and on-demand video training classes to give users a new way to earn Trailhead badges and certifications.
Salesforce is promoting customer success by rolling out two new Trailhead features that will be available by the end of this year.
Salesforce will introduce live video trainings on Trailhead Live and new features to Trailblazer.me, the online resume feature designed to help job-seekers show off their skills and accomplishments using Trailhead.
Trailblazer.me already features badges and certifications achieved using Trailhead. The new version will also highlight a person's activity throughout the Salesforce ecosystem, such as contributions to user groups, what apps users download from the Salesforce AppExchange and reviews that users have posted.
Trailblazer.me should help employers that want to be able to quantify whether job applicants have the skills they say they have, said Maribel Lopez, founder and principal analyst at Lopez Research.
"People used to be able to just say, 'I know Salesforce,' on their resume," Lopez said. "I think one of the hardest things for employers is to understand whether anyone they hire is actually qualified in the things they say they are qualified in."
Trailhead Live brings video instruction
Trailhead Live offers a new way for Salesforce users to learn with additional elements of community. Like other Trailhead courses, Trailhead Live courses are free.
The initial set of courses will include live coding and Salesforce certification preparation for administrators and others. Within two months of launch later this year, Salesforce said it expects Trailhead Live to offer more than 100 live and on-demand training courses. This will also include courses in so-called "soft skills," such as how to interview for a job and public speaking.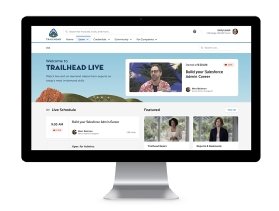 Salesforce plans to have a big Trailhead presence at Dreamforce in San Francisco from Nov. 19 to 22, where the new Trailhead features will be on display.
Salesforce is doing this an acknowledgment that people learn differently, Lopez said.
"There are multiple ways people like to engage," Lopez said. "It used to be you had a whiteboard and people took notes, but now we're in a much more visual era and you want to be sure you're reaching everyone."
Inspired by Peloton
Salesforce said the design of Trailhead Live was inspired in part by Peloton, the company that offers live on-demand fitness courses via an internet-connected bicycle.
Seeing how people can engage with others without having to go to a classroom was an inspiration.

Kris LandeVice president of marketing, Salesforce
"We definitely looked at consumer applications like Peloton," said Kris Lande, vice president of marketing at Salesforce. "Seeing how people can engage with others without having to go to a classroom was an inspiration."
There is a community aspect to Trailhead Live, as users will able to see who else is taking the class with them, Lande said. It's also more personalized, as the instructor verbally welcomes each participant by name.
Like Peloton, which features certified trainers, Trailhead Live will feature experts in different topic areas from the Salesforce community. If you miss a class or need more time to complete different skills tests, each class will also be available online. If there are 15 people taking an hour-long course on how to create Lightning Web Components, the instructor will give a set period of time for users to complete tasks in their own virtual workspace. The user can return and learn in an on-demand review of the course if he or she needs to finish any parts of it for certification.
Earlier this year, there were 1.2 million people using the Trailhead platform, according to Salesforce. That number has grown to 1.7 million and is expected to grow to 1.8 million by Dreamforce, with a total of 17 million badges earned since its launch. Trailhead users earn badges each time they show mastery of specific skills.
New Salesforce Trailhead trainings introduced this past year include cybersecurity and Apple iOS.