osorioartist - Fotolia
Salesforce-SNHU partnership helps students earn college credit
A new partnership between Salesforce and Southern New Hampshire University enables students to earn college credit by completing guided learning modules through Trailhead.
Salesforce is opening the door for future generations to continue down the road of higher education and on to Salesforce careers that are in demand.
Through a partnership with Southern New Hampshire University (SNHU), Salesforce Trailhead users can now earn college credit, gaining skills that can lead to in-demand jobs.
To earn credit through the new Salesforce-SNHU partnership, students must complete 100 or more Trailhead modules for the Salesforce administrator or developer role and earn one of 15 superbadges, which count toward a 3-credit experiential learning course. But there is an expiration date: Students must request credit within three years of completing the required workload.
This credit can be applied as a major elective for IT-related programs or a free elective toward other degree programs. And because this is considered a transfer credit, there is no cost to students.
"This is a really powerful tool," said Paul LeBlanc, president of SNHU. "This has wide applicability across our student body."
How the Trailhead system works
Trailhead is a series of free guided online tutorials within Salesforce Success Cloud, enabling users to learn more about how to use the company's products, and it is a resource for those looking to further their Salesforce careers. It is one of several customer success tools that the CRM giant offers.
"This is absolutely about our customer success and helping people in our society," said Sarah Franklin, executive vice president and general manager of Trailhead at Salesforce. "If you earn a degree, we want to augment it with skills that are in demand."
Each Trailhead learning module varies in length, but on average takes about three hours to complete, Franklin said. To earn a superbadge, Trailhead users must demonstrate what they learned through the 100 or more modules they completed and apply it to real-world business applications. It will take approximately 300 hours to complete the necessary workload to earn transfer credit through the Salesforce-SNHU partnership.
In addition to offering college credit with the Salesforce-SNHU partnership, Salesforce helps place students and others already in the workforce to their next job through Trailblazer Connect. Users can find Salesforce-related career events, mentorship programs and a talent exchange.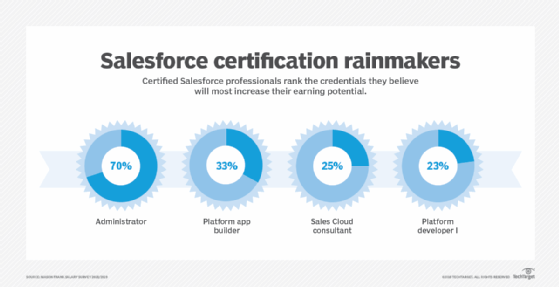 Salesforce careers get a boost
Salesforce was expected to create 3.3 million new jobs within the Salesforce customer base from 2016 to 2022, according to a study done by International Data Corp. The Salesforce-SNHU partnership and college credit program will move the company toward that goal.
Administrator and platform developer came in at No. 1 and No. 4 respectively in a separate study -- the 2018-19 Mason Frank Salesforce Salary Survey -- of the top 10 Salesforce certifications. It also showed a 64% increase in the number of Salesforce projects within businesses over the previous 12 months.
"There's a huge demand for this skillset," LeBlanc said.
SNHU is one the largest universities in the United States, with more than 100,000 students online and in the classroom.
Next Steps
Salesforce salary survey details pay, in-demand careers among professionals
Which Salesforce certification is right for you?
Survey shows that Salesforce administrators and developers are in demand
Dig Deeper on CRM tools and strategy