Salesforce salary survey details pay among professionals
A new survey of Salesforce professionals, published by Mason Frank International, analyzes Salesforce salary data, employment trends and diversity.
The Salesforce universe keeps expanding, with a number of professions continuing to pay astronomical salaries and a wealth of businesses increasing their use of the company's products for key projects.
These and other findings are included in Mason Frank International's 2018-19 Salesforce Salary Survey, the recruitment agency's annual review of Salesforce salaries and other market trends. This most recent survey fielded the sentiments of more than 2,000 professionals between June and August 2018. It also used thousands of touchpoints from internal placement data and jobs registered with Mason Frank over a 12-month span.
The survey echoed a theme found in the company's previous survey, released in January 2018: Salesforce continues to thrive, and many of the professionals who help companies implement and use the tech giant's products are in high demand.
"I see no stopping that momentum," said Brent Leary, co-founder of the consultancy CRM Essentials. "Salesforce is great at messaging and marketing what they do. They're really good at framing the story on why their technologies are so important and talking specifically about how they address particular needs."
Indeed, 80% of the companies spoken with by Mason Frank in the Salesforce salary survey said they implemented the platform due to the functionality of the product. And, in an illustration of Salesforce's staying power, 72% of the Mason Frank partners answering the survey said they expected their number of Salesforce-related projects to increase in 2019, with a majority of those respondents saying Lightning would be the most used product.
Behind the technology, though, are legions of professionals who use Salesforce in their everyday jobs or who help organizations make the most of the technology: those in IT, consultancies, software and internet companies, financial services and manufacturing. The survey detailed the Salesforce jobs salary for more than 20 Salesforce positions, including consultants, administrators, business analysts, developers and email marketing specialists. Salaries are shown for the U.S., Canada, U.K., Germany, France, Spain and Australia.
Overall, Salesforce job salaries stayed mostly the same from the previous survey, according to Mason Frank Chief Marketing Officer Kashif Naqshbandi. There were, he said, some notable exceptions, including higher compensation for senior-level technical roles. For example, a technical architect in the U.S. with senior experience saw a nearly $10,000 pay increase in the year between surveys, climbing to a salary of $176,251.
The highest Salesforce jobs salary among surveyed positions in the U.S. was $218,411 for a sales director. Jobs that depend on experience also pay well. A senior-level development manager made as much as $160,216, according to the survey.
The Salesforce salary survey also shines a light on the demand for specific freelance professionals in several metropolitan areas. For example, a freelance technical architect in Boston earned a top salary of $202,000, while a senior-level, full-time employee in the same position at a company in the same city had a peak salary of $160,777. The lure of being their own boss isn't enough for a majority of surveyed contractors; 79% said they would consider becoming a permanent employee for a company if the right offer came along.
Salesforce-certified employees earn more
One essential truth holds true year after year, Naqshbandi said. Professionals who have at least one Salesforce certification in one or more of the eight tracks that demonstrate a mastery of the skills and niches of Salesforce concepts are guaranteed to earn a higher Salesforce jobs salary than those who aren't accredited, he said. The survey, though, does not separate salaries by those who are accredited and those who are not.
Seventy-seven percent of surveyed professionals working in the Salesforce ecosystem have at least one certification. The most-earned accreditation was the administrator certification (70%), followed by platform app builder (33%) and Sales Cloud consultant (25%). Seventy-five percent of employers helped cover the cost of certification courses.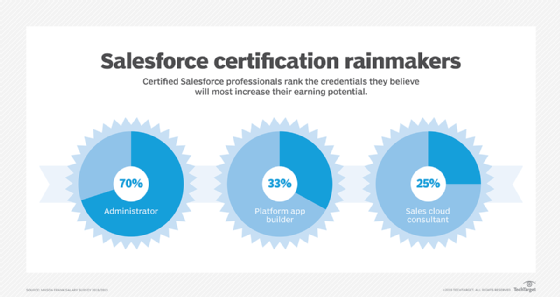 Chris Gardner, director of solution services at Simplus, a Salesforce advisory and management service in Sandy, Utah, has earned 22 Salesforce certifications. Having accreditation not only gains the trust of his clients, but the extra work has earned Gardner a high salary. Gardner can attest to Salesforce's success just by witnessing the expansion of his employer.
"Simplus is continuing to grow," Gardner said. "We're more than doubling clients year after year, and it's true of other consultants."
Survey data aside from salaries
Fifty-seven percent [of survey respondents] said gender equality is a significant issue in the tech space.
But not everything is exceptional in the Salesforce ecosystem. The 2018-19 Mason Frank salary survey also attempted to discern worker attitudes outside Salesforce salaries.
For example, 73% of respondents believe their company has a diverse workforce, but 28% said their company's governing board did not have an equal balance of male and female members. That speaks to a larger issue: 57% said gender equality is a significant issue in the tech space. Also, 13% of respondents believe there is a Salesforce pay gap, with men being rewarded a greater salary than women, despite being of equal skill and experience.
Naqshbandi, the Mason Frank CMO, said respondents answering questions about gender equality didn't detail reasons behind their viewpoints, but their answers align with the greater push in the industry itself to make tech more diverse.
Other survey results illustrated how the gender gap is perceived differently by the sexes. Male respondents were more likely than females to believe their employer champions equal rights:
75% of women believe this to be the case, compared to 86% of men. A quarter of women said more needs to be done in this area, compared to only 14% of men.
And -- indicative of a hot job market -- one in three professionals expect to leave their job in the next 12 months, which is bad news for companies already struggling to find skilled Salesforce-minded workers.