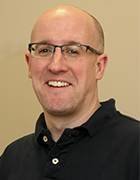 Albert McKeon
TechTarget -
Albert McKeon is the former news and site editor for TechTarget's SearchCRM.com; he previously worked as a newspaper reporter for more than 14 years.
At The Telegraph in Nashua, N.H., he covered a wide variety of topics as a general assignment reporter and won several awards, including Journalist of the Year, daily newspapers, from New England Press Association (now NENPA), in 2003.
Albert also worked for The Boston Herald, The Union Leader and Milford Cabinet.
Albert McKeon's Most Recent Content