Salesforce Pardot certification opens doors, boosts salaries
Pardot consultant Stacey Cogswell talks about the opportunities and challenges when obtaining Salesforce certifications.
About five years ago, Stacey Cogswell learned about a marketing automation system that could make everything e...
Continue Reading This Article
Enjoy this article as well as all of our content, including E-Guides, news, tips and more.
asier.
Her manager at the time kept talking about this system, and since she was frustrated with keeping track of project metrics in spreadsheets, she asked about it. The system was Pardot, an automated marketing tool Salesforce acquired in 2012.
Cogswell's manager gave her Salesforce administrator access and asked her to learn to use it and then teach her colleagues to do the same. That was 2013.
Flash forward to 2018, and Pardot is now the center of her professional career as a consultant at The Hunley Group, a Davidson, N.C., marketing consulting firm where Cogswell implements Salesforce and Pardot for businesses and offers support and training for users and administrators.
Cogswell, who works with construction companies, financial services companies and educational organizations, earned the two Salesforce Pardot certifications that verify her expertise: the Consultant and Specialist accreditations. These certifications tell prospective clients Cogswell is versed in the nuances of Pardot's marketing automation capabilities and can create marketing processes with the technology.
The road to Salesforce Pardot certification
After learning Pardot through her previous employer, Cogswell was so drawn to the tool that she switched positions, moving from customer relations to become the Pardot administrator. While there, Cogswell took the exam to earn the Pardot Consultant certification -- and failed. The test was "tough," she said. The exam focuses on setting up Pardot, and Cogswell only had experience as an administrator.
She switched tracks and took the exam for the Pardot Specialist accreditation. This time she passed -- as she did later after retaking the Consultant certification.
"It was such a sense of accomplishment," Cogswell said. "When the screen refreshes and says, 'You passed,' it's a great feeling. It requires experience and knowledge to have these."
Indeed, as with Salesforce's seven other certification tracks, the Salesforce Pardot certification aims to confer a special status: the certificate holder has the skills to solve problems and demonstrate the most effective ways to use the technology.
Mason Frank International's 2018 salary survey of more than 3,700 employees shows that freelance marketing automation consultants earn $87 to $125 per hour, while permanent, full-time employees in the field earn anywhere from $72,827 to $110,256. In addition, 29% of respondents to the Salesforce recruiting firm's survey said their salaries increased after achieving a Salesforce certification.
Cogswell wouldn't reveal her earnings, but she said having Salesforce Pardot certifications has opened the door to more job opportunities and given her the confidence to ask for a higher pay rate.
"I can say, 'I can do this, and here's proof,'" she said.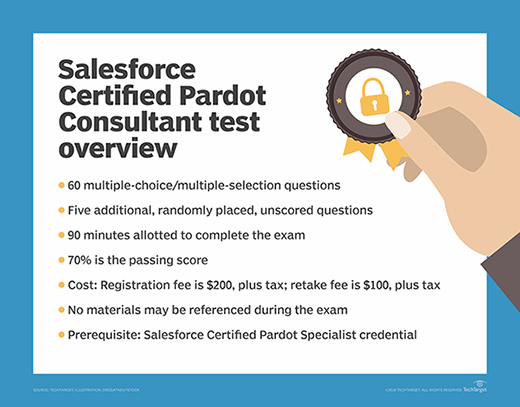 "When we're first meeting clients, we have a PowerPoint slide on my company and the team doing the Pardot implementation. You'll see my face with my certifications, and that image does say 'she has your back.'"
Salesforce releases platform updates three times a year, so a maintenance exam is required with each update. The exams can be taken at the same time once a year or upon release. Cogswell said she doesn't mind having to renew her certifications three times a year.
"You're forced to continue to learn," she said. "When you're a system administrator, it's so easy for your obit to become stale. But with Salesforce and Pardot coming out with new enhancements and features, you need to keep up to date."
Cogswell added that she believes organizations have no choice but to consider automation to enhance their marketing initiatives.
"If you're trying to achieve the same results with the same methods you've been doing, it's going to be tough," she said. "The way consumers shop and interact -- the whole buyer's journey -- is changing fast. As a marketer, you have to stay on top of that. Marketing automation makes it easier."