Definition
Cisco Certified Internetwork Expert (CCIE certification)
Cisco Certified Internetwork Expert (CCIE certification) is a series of technical certifications for senior networking professionals who design, build, implement, maintain and troubleshoot complex enterprise networking infrastructures.
The CCIE certification program is divided into six separate series, or tracks, and includes the following: collaboration, data center, routing and switching, security, service provider, and wireless.
First issued in 1993, the CCIE certification program is continuously updated by Cisco. Fewer than 3% of Cisco engineers achieve CCIE certification, accounting for fewer than 1% of all networking professionals worldwide.
While there are no formal prerequisites, a typical candidate preparing to meet the CCIE requirements for qualifying will spend thousands of dollars and 18 months of study time. An initial attempt at the lab exam is required within 18 months of passing the CCIE certification written exam -- if a candidate fails the lab exam, he or she must retest and pass it within three months.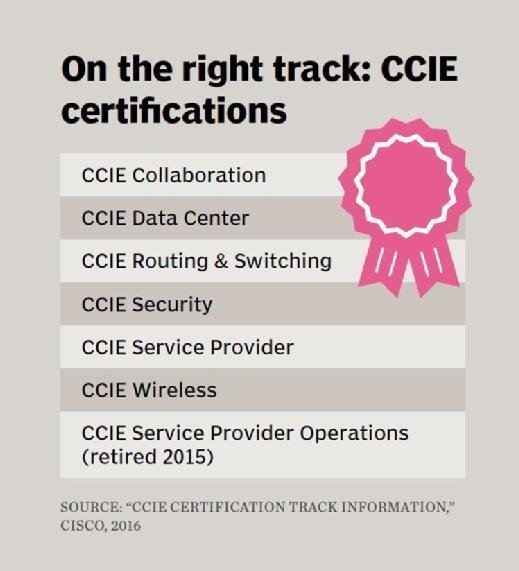 Expert-level certifications
CCIE Collaboration
CCIE Collaboration is designed for architects and engineers specializing in voice, video and unified communications. Candidates must pass a two-hour written exam on Cisco Enterprise Collaboration and an eight-hour lab exam. Topics include configuration, troubleshooting and integration.
CCIE Data Center
CCIE Data Center is intended for professionals working with design, planning and implementation for data center infrastructure. Candidates must pass a two-hour written exam on data center infrastructure before completing a two-part, eight-hour timed lab exam, which assesses skills in diagnosing and troubleshooting complex data center topologies.
CCIE Routing and Switching
Networking concepts are covered in a written exam, after which candidates must pass an eight-hour lab configuring routing and switching equipment. It is designed for expert-level engineering professionals.
CCIE Security
The CCIE Security certification prepares engineers to architect, engineer and troubleshoot Cisco security technologies. To pass the lab exam, engineers must fully configure a secure network within eight hours.
CCIE Service Provider
Intended for network engineers at service providers, candidates must pass an eight-hour lab configuring service provider equipment.
CCIE Wireless
Aimed at gauging knowledge of wireless local area networks (WLANs) and theoretical underpinnings of wireless networks, candidates who attain this certification must pass an eight-hour lab configuring wireless networks.
CCIE training options
Depending on the individual, CCIE certification candidates may choose to study on their own, take courses through independent groups or register for the Cisco 360 Learning Program, the only Cisco-authorized training program for the expert-level credentials.
Benefits of a CCIE
The CCIE is considered to be among the most prestigious qualifications in the networking industry, and obtaining a certification is seen as a professional advantage for engineers who want to improve their career prospects. The CCIE certification has practical applications and CCIE holders are often able to position themselves as industry thought leaders. The CCIE certification is a personal challenge for some and offers engineers a chance to demonstrate an industry-recognized proficiency of their networking skills.
CCIE costs
The CCIE Lab and Practical Exam are $1,600 for each attempt. Travel and lodging expenses are not included. Cisco maintains facilities at nine locations worldwide where candidates can take the lab exams, including two sites in the United States -- in San Jose, Calif., and near Raleigh, N.C. It also offers mobile labs for certain certifications.
CCIE certification modifications
In 2016, Cisco added an evolving technologies section to the CCIE exams, covering such strategic operations as programmability, internet of things and cloud computing. The exams were also unified with the labs, requiring candidates to show both intellectual and practical knowledge.
In April 2017, Cisco made another change to CCIE certification, by requiring candidates to demonstrate knowledge of Cisco Digital Network Architecture (DNA) tools. DNA is a collection of software -- covering such topics as analytics and cybersecurity -- used to automate and manage networks.
This was last updated in
May 2017
Continue Reading About Cisco Certified Internetwork Expert (CCIE certification)
Dig Deeper on Networking careers and certifications