Definition
massive open online course (MOOC)
What is a MOOC?
A massive open online course (MOOC) is a free web-based distance learning program that is designed for large numbers of geographically dispersed students.
A MOOC may be patterned on a college or university course or be less structured. Although they do not always offer academic credits, these courses may offer a certification, enhance employment opportunities or further studies. Typically, MOOCs are used for higher education and career advancement. But due to the coronavirus pandemic, many public school districts and undergraduate degree programs have implemented MOOCs as the new standard.
How do MOOCs work?
MOOCs are online courses that a student accesses through the internet. Typically, these courses consist of traditional class materials made accessible online, which may include the following:
filmed or recorded video lectures;
readings;
problem sets;
online quizzes and examinations;
interactive learning modules; and
interaction with other students via forums.
Typically, each MOOC will include a course provider and a course platform. A course provider is often a university, which supplies the course materials and instructors. The platform -- such as EdX, Canvas, Coursera or Udacity -- provides the technological infrastructure for course modules, user access and other learning resources.
Finding MOOCs
Providers of MOOCs are mostly universities but may also be corporate entities. Top educational institutions and universities, such as Harvard, the Massachusetts Institute of Technology (MIT) and Stanford, are leading providers of online courses. Corporations such as Microsoft and Accenture also provide publicly available online courses. When searching for a MOOC to take, it is important to make sure that the course aligns with the student's education and career goals.
MOOC costs, enrollment and pacing
How much do MOOCs cost? Costs can range significantly both in price and structure. Many MOOCs are completely free, whereas online degree programs that contain a bundle of courses can cost tens of thousands of dollars.
Enrollment and pacing. This generally varies by the type of course or program. For example, courses that are not for university credit are typically available to the general public. Enrollment for online degree programs, however, often requires a traditional admissions process. Courses offered for university credit and as part of online degrees generally tend to follow a traditional semester schedule, while certification MOOCs may be self-paced or follow an abridged schedule, sometimes only taking eight weeks to complete.
Courses that require live attendance and adherence to a course schedule are called synchronous courses, whereas flexible, self-paced courses are called asynchronous courses.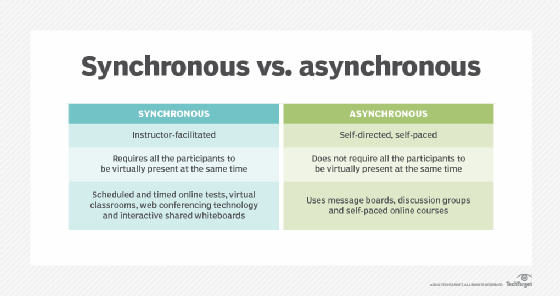 Credentials and MOOC-based degrees
MOOCs can also be used for continuing education certifications and degree programs. MOOC certification levels typically fall into the following six general categories:
Free. These courses are completely free, but usually only to audit. However, students still have the option to pay for an official certificate of completion at the end of the course.
Certificates. Certificates for completing individual courses range from about $20 at the lower end, to around $300, with the average being between $50 to $100.
Micro credential. Micro credential programs typically consist of three to six courses. According to EdX, a popular platform for MOOCs, the median price for micro credential programs is $946. Typically, they are narrow in focus and provide a specific skill or competency.
University credit. Courses in this tier are university accredited and comparable to online courses at institutions that provide degrees. Individual courses at this level can range from a few hundred dollars to a few thousand dollars.
Online degree. Online degree programs are equivalent to master's or continuing education degree programs at universities and offer comparable volume and depth of coursework. Online degree programs generally follow a traditional application and admissions process and range from a few thousand dollars to tens of thousands of dollars.
Corporate training. Corporate training MOOCs are deployed on an enterprise level. This pricing option is typically structured as a per-user cost for access.
Benefits of MOOCs
The widespread adoption and use of online courses provides the following benefits:
No physical location dependence. This can improve collaboration efforts and save time by eliminating a student's daily commute. Online education also enables social distancing.
Improved access to higher education. Not only is this a function of convenience, but access to high-quality education in developing countries can ultimately increase quality of life and contribute to sustainable development efforts by providing a high-quality, accessible learning infrastructure.
Affordability of higher education. Scalability makes these types of courses more cost-effective than in-person courses of comparable scope.
Flexible learning schedule. Many courses are self-paced, which can accommodate student work schedules. Even if course completion is not self-paced, as with online degree programs, prerecorded lectures can offer more flexibility on a daily and weekly basis.
Drawbacks of MOOCs
Though MOOCs have numerous benefits, there are the following associated drawbacks:
Flexibility can make the course more difficult to manage, as some students require the structure of in-person learning.
A University of Texas study of online course completion rates found that MOOC completion rates are just 6.8%, significantly lower than in-person courses. Students may not feel as committed to attend a free online course as they would an in-person course that requires tuition.
Instructors are less accessible.
Digital literacy is required for effective use.
Students are less likely to form relationships with instructors and other students.
Students with visual or auditory disabilities may not be accommodated.
Courses require strong internet connections, which can be an issue in developing countries and underprivileged communities.
When searching for the right course, large amounts of similar courses for saturated areas, such as computer science, may lead to a paradox of choice.
Popular MOOCs
Thousands of MOOCs are available online, but many are offered on popular platforms, and by institutions that have invested in making their courses accessible online. The following are several popular professional education MOOCs by subject:
Example MOOC course structure
MOOC courses typically follow a general structure. Though the coursework and progression is the same as with regular in-person classes, courses are typically organized into modules. A module contains a lesson or a unit for a class. Each module typically includes a combination of lectures, readings, interactive graphics and diagrams, problem sets and a quiz or test at the end. A typical module might include a course syllabus, assigned readings, video lectures, a problem set and a quiz that is automatically graded once it is submitted.
Module length and depth varies by course. Some courses may require a larger time commitment per week and move through a large amount of content at a fast pace. Others may only require a few hours a week and be more self-paced.
History of MOOCs
The word was coined in 2008 by Dave Cormier, from the University of Prince Edward Island, for an online course offered by the University of Manitoba, "Connectivism and Connective Knowledge." There were 25 tuition-paying students from the university and 2,300 non-paying students from the general public who took the course online. There were RSS feeds for material and participation was facilitated through a variety of venues, including the Moodle learning management system, blog posts, the Second Life online virtual world and real-time online meetings.
In 2011, MIT OpenCourseWare became the first large collections of MOOC resources made available by a university. In 2012, MIT and Harvard spearheaded the EdX initiative for the promotion of MOOCs.
The acronym is pronounced with a long oo sound, to rhyme with kook rather than book. The Oxford Dictionaries Online added "mooc" in August 2013.
As technology jobs have grown in demand, online courses have grown in popularity as a means for students to gain technical skills. Due to the coronavirus pandemic, MOOCs are being implemented as the new standard of education at all levels -- from elementary education through undergraduate degree programs as part of remote learning plans.
Learn how remote learning has ramped up since the coronavirus and how several educational institutions and corporations have stepped up their e-learning game.
This was last updated in
May 2021
Continue Reading About massive open online course (MOOC)