Getty Images/iStockphoto
What are the advantages and disadvantages of MOOCs?
The need to continuously retrain employees has contributed to the growing popularity of massive open online courses. Explore the pros and cons of this learning approach.
What is a massive open online course (MOOC)?
A MOOC is an internet course that is open to the masses, has no limit on the number of enrolled students, no enrollment criteria and is either available for a low cost or for free.
Dave Cormier from the University of Prince Edward Island first used the term MOOC in 2008 in reference to an online course titled "Connectivism and Connective Knowledge." The course, developed by Stephen Downes and George Siemens and offered by the University of Manitoba, featured a mix of technology connection points, including blog posts, a Second Life online virtual world and real-time online meetings. Twenty-five tuition-paying university students attended sessions on campus, and 2,300 nonpaying attendees from around the world took the class online.
The concept caught on, with Stanford University offering three free online courses in 2011. Sebastien Thrun, a research professor at Stanford, co-founded the for-profit education company Udacity, which began offering MOOCs in 2012.
That same year, Stanford University computer science professors Andrew Ng and Daphne Koller launched Coursera, another MOOC provider.
Others, including the Massachusetts Institute of Technology and Harvard University, soon launched online courses open to the public. A variety of platforms now deliver MOOCs, which remain free or low cost, with options to earn certificates of completion, certifications and degrees.
Advantages of MOOCs
Researchers, workplace trainers, education advocates, HR professionals and others have identified multiple advantages of the MOOC model. Those benefits include the following:
Flexibility. MOOCs let learners access courses from anywhere and usually at any time.
Personalized and customizable learning paths. Learners can also design an educational experience based on what they want or need to learn, rather than taking a prescribed series of courses as required by traditional degree-awarding educational institutions. "People can guide their own learning journey on their own time," said Johnny Martinez, director of people advisory and organizational change at management consulting firm Protiviti.
Extended community. Many MOOCs include opportunities for students to interact, allowing learners to make new connections and engage in a community of people with similar interests. "These can be online communities where people can learn from and share with each other," Martinez added.
Cutting-edge curriculum. Because MOOCs aren't tied to traditional academic schedules, with courses offered by semesters or prescheduled periods, instructors can more easily create, launch and update courses as required.
Greater access to high-quality instruction. Highly selective academic institutions, large corporations and notable experts from a range of fields create and offer MOOCs. "We can bring the best-of-the-best instructors to the world. That's one of the real tremendous benefits of MOOCs," said David Leaser, co-founder of IBM's Digital Badge Academy, developer of the IBM New Collar Certificate Program and a former IBM executive.
Democratization of learning. Given such advantages, MOOCs democratize education by removing barriers such as high costs, rigid schedules and geographic attendance requirements, giving anyone with an internet connection the ability to participate in courses covering a vast range of topics.
Workforce upskilling at scale. MOOCs also offer organizations the ability to upskill their workers at scale and at velocity, enabling organizations to more easily adjust to changing market needs. Furthermore, MOOCs let organizations upskill workers with limited disruptions to their lives. "MOOCs allow an organization to meet people in the flow of their lives, in the flow of their work," Leaser said.
Disadvantages of MOOCs
However, there are drawbacks to MOOCs, such as the following:
A potential for a disconnected and/or boring experience. The MOOC online learning experience might not engage all learners. On a related note, content delivered by MOOCs, particularly those that deliver instruction asynchronously and don't have any real-time participatory sessions, can become boring.
A mismatch with personal learning styles. MOOCs might not successfully educate learners who require lessons beyond lectures, presentations, videos and other online learning staples. Such learners might need, for example, more one-on-one instructor time or more experiential learning opportunities than typically offered via MOOCs. "We all learn differently," Martinez noted.
The high degree of required self-motivation and self-discipline. Students taking traditional courses must show up to required classes and complete assigned work, but they're also more likely to have instructors holding them accountable and/or a substantial financial investment that keeps them on track. Learners enrolled in MOOCs don't have those same elements to motivate them, making it harder for many to commit the time and effort necessary to finish a course. "People need to stay motivated to do online learning; you almost need to have someone helping to pace them and stay current with the course work," Leaser said, adding that courses, such as those from IBM, offer digital badges as students hit learning milestones to keep them on track.
A lack of direction. The plethora of options can be a drawback for learners who need guidance on what courses to take to gain the desired skills or knowledge. Some MOOC platforms help on that front, but others do not.
Undetermined and questionable quality. Both the increasing number of MOOCs and MOOC providers can make it difficult for learners to determine whether they're signing up for quality instruction. Online reviews help guide learners, as do platforms that are selective about their offerings. However, many online learning platforms don't have the same oversight of coursework and instructors that exists in traditional academic institutions.
Mixed reception in the job market. Recruiters and hiring managers want candidates who demonstrate a commitment to ongoing learning. Yet they're often reluctant to credit candidates for courses they've completed unless they can demonstrate a mastery of the material via a degree, certification, license or assessment. Similarly, employers might not credit job candidates and existing employees for MOOCs created by unfamiliar entities, no matter how good the course content is.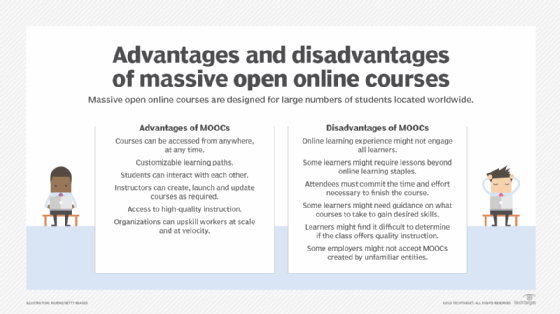 MOOCs and the future of learning
Despite its drawbacks, learning leaders see MOOCs and similar online learning platforms becoming more prevalent and important in the future. The reason: Workers in all disciplines need to continuously retrain as technologies evolve and businesses transform in response.
"If you ask people in the C-suite what their biggest challenge is, they say it's filling roles," said Kamran Malik, global people advisory services learning and digital engagement leader at professional services firm EY.
There's a need to not only upskill workers but to provide training "at scale and at pace," Malik said.
He said MOOCs could be the platform to do that, particularly if they become more dynamic and capable of creating courses that deliver the skills and knowledge that employers require.
"How do you upskill and reskill the workforce for the future using these online learning platforms? You link to the real world and actual jobs," Malik added.
Dig Deeper on Employee experience