Getty Images
18 top learning management systems for 2023
LMSes have a reputation for being stodgy, but they're still a must-have. Today's best learning management systems have the content creation and social tools for modern workforces.
HR leaders looking to purchase a learning management system must research the differences between the leading systems to determine which one is the right fit for their organization.
Companies often incorporate an LMS into their HR systems to offer training to employees, which can be a cost-effective way for workers to build new skills and complete compliance courses. Most of the LMSes on the market today offer online or instructor-led training and mobile access, as well as provide tools to build courses and support popular e-learning file formats. However, some LMSes are part of a larger HR system in which the LMS is one module among many modules, while other LMSes are standalone.
While many LMSes offer comparable features, HR leaders must consider the full product offering when comparing one system to another. For example, standalone systems typically include more features. Here are some of the best corporate learning management systems on the market today, as well as some of the key features that help differentiate each system.
1. Docebo
Docebo offers an AI-powered LMS, as well as gamification, autoassignment of training based on required employee skills, and a catalog of skills and roles.
The company also provides access to over 400 integrations through its marketplace, which simplifies single sign-on configuration and integration with HR information systems, conferencing systems and CRM software.
2. TalentLMS
TalentLMS' implementation process is relatively quick, and the process for creating new courses is relatively easy. The software includes a library of pre-built courses as well, which speeds up the transition from signed contract to employees using the system.
TalentLMS also supports common course file types, such as Sharable Content Object Reference Model (SCORM), as well as more than 30 languages, so companies with a global workforce can configure the system to support each user's time zone and language. The LMS also supports conference calls within the system, with options for integrations with third-party video conference systems.
3. LearnUpon
The LearnUpon LMS enables leaders to set up portals for each target audience, such as employees or partners, so leaders can customize the experience if desired. LearnUpon also includes an authoring tool that makes course development easier and supports common course file types.
LearnUpon works with several partners to simplify integration with third parties, including the learning experience platform (LXP) vendor Degreed.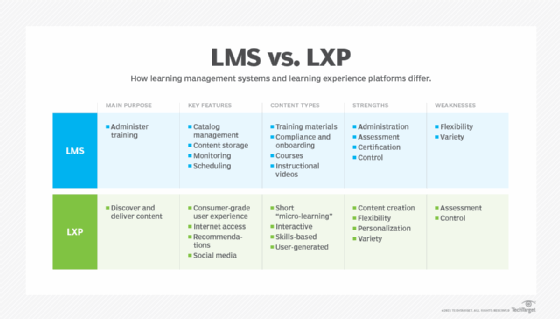 4. Moodle
Moodle is a free, open source system. That means companies can customize the system to meet their individual needs, and many developers work to improve the system. Companies download and install Moodle, which is unusual since most other LMSes are cloud-based. Companies that require help with installing, configuring and maintaining the system can hire Moodle specialists directly through the vendor or through Moodle's certified partner network.
Moodle currently supports over 120 languages.
5. GyrusAim LMS
Like many LMSes on the market, GyrusAim LMS supports both instructor-led and e-learning courses. It also supports many online conferencing applications, so instructors can offer live webinars to their users. Instructors can register users through GyrusAim LMS, which is also the case for many other LMSes.
GyrusAim LMS can track user skills and competencies for gap analysis and recommend courses for users through its AI.
6. Cornerstone LMS
Cornerstone LMS is an LMS module that is part of a larger HCM system, which enables users to automate the entire HR ecosystem.
An advantage of this type of system is that users can draw on data from the entire Cornerstone HCM system when building reports and dashboards and using features like employee skill tracking. For example, a manager can refer to an employee's course progress when working on a performance review.
7. Canvas
This platform is designed to support learning at all levels, from children in K-12 schools to higher education and, finally, to corporate learners. It provides features for employee training in blended learning environments or more focused in-person or remote settings.
Using the Canvas Studio tool, trainers and employees can work collaboratively during a live session, enabling students to upload videos to share with their peers and add comments. Trainers can also upload content for further reading by course participants.
8. Blackboard
Blackboard offers an LMS and additional modules that can enhance the learner's and training team's experience. Blackboard has been in business for more than 20 years, and its platform is widely used in higher education as the de facto standard for course management, which has provided the vendor the opportunity to learn and grow its product offering.
The LMS can be accessed on any device with a responsive interface, providing users with a mobile learning experience that matches the one users have when using a desktop computer. The company is also focused on providing an accessible learning environment for all learners, including features that conform to global accessibility standards. They include a tool called Blackboard Ally, which checks content for accessibility. Blackboard also offers consulting services to help companies develop accessible training content.
9. Brightspace
Brightspace bills itself as a learning innovation platform, moving beyond what is available in a traditional LMS with additional functionality and improved UX. The system can be used for people in any organizational setting or stage of life, including K-12, higher education, corporations and associations.
The Brightspace system includes features to gamify learning, functions that support accessibility and a responsive website that supports any device, according to the vendor. Learners can download lessons to complete them offline and create a profile that shows what they are working on and interested in. Additionally, Brightspace has an AI feature that provides feedback to learners on how they speak and use key terms.
10. iSpring Learn
ISpring Learn is available both as SaaS and on premises. Courses can be developed in a variety of ways and contain different types of content. For example, the system supports traditional SCORM files -- the LMS standard for e-learning content -- in addition to role-play simulations, interactive courses and training videos. The system is designed to enable course creation by learning professionals, as well as subject matter experts, by providing user-friendly tools that simplify the course development process. Using software familiar to users, such as Microsoft PowerPoint, can help to develop courses quickly.
In addition to the LMS functionality, you can also use iSpring to host a corporate newsfeed, including companywide announcements, organizational charts and employee profiles, according to iSpring's website.
11. Absorb LMS
Absorb LMS offers users many standard features of an LMS, plus the ability to add other modules to build a comprehensive learning environment. Absorb LMS comes pre-configured to enable third-party courses from multiple vendors. This enables companies to pick and choose courses that best meet their needs and start engaging employees quickly.
Companies can integrate other offerings from Absorb, such as Infuse, which provides features for integrating course content directly in the systems employees already use, such as CRM or ERP. Such a capability is great for microlearning, where courses are short and can be taken in the moment. Absorb Engage adds a social aspect to the learning environment, including leaderboards, the ability to add news articles and the option to add public social media.
12. Cypher
Founded in 2009, Cypher Learning offers Cypher, an LMS for training children in K-12, students in higher education and employees. The company uses AI to drive many of the product's features. For example, AI can speed up course development and assign courses to employees. In addition, there are features designed to enhance community involvement and help employees find internal coaches and mentors, as well as peers who are interested in the same topics.
You can also use Cypher to train external people. Each program can have its own portal and security.
13. LearnWorlds
The LearnWorlds LMS supports both internal training for employees and external training for partners and customers. You can also use it to sell courses. The LearnWorlds website touts the platform's simplicity for trainers and learners alike.
An organization's learning team can use the platform's form and survey designer to get feedback from the people who take the courses to identify areas for improvement. LearnWorlds also provides functions for building and customizing your own mobile app, with supposedly no coding required, which enables system administrators to design the app in a way that matches the organization's brand.
14. Acorn
You can use the Acorn LMS for employees, customers and partners, and third parties can use it to monetize the delivery of courses. The portal for each group can be customized to meet its specific needs. In addition, Acorn comes with built-in performance management features, which enables organizations to directly connect their performance management process with the training available in the LMS.
With Acorn's social features, employees can collaborate to share their knowledge and experience in a way that may be more easily captured and reused by others. The system is also designed to record employee development plans.
15. Eloomi
Eloomi is marketed as a combined LMS and LXP on the vendor's website. The platform also offers performance management features, including the ability to record one-on-one meetings, create goals and connect employee skill development requirements with courses available in the LMS.
As for course offerings, you can build courses in Eloomi, import them from other systems or choose pre-built ones from Eloomi's content store. You can also put courses in learning paths that can support blended learning approaches.
16. eFront
The eFront LMS is unique in that customers get access to the application's code to customize the platform, which runs in the cloud or on premises. In addition to enabling code changes, the LMS comes with numerous configuration features available out of the box.
You can offer training content on its own or as part of a learning path that can include quizzes and tests. Courses can be configured to be assigned according to predetermined criteria, such as skills attained or prerequisites completed. In addition, you can use eFront to sell courses to external parties.
17. ProProfs
The ProProfs LMS comes with 100-plus professionally built courses that you can brand and edit to meet your company's needs. According to the vendor's website, ProProfs' online courses include handouts, flashcards and end-of-chapter assessment quizzes, in addition to other features. While editing courses, you can add other kinds of learning content, such as videos, graphics and presentations.
To simplify the sharing of files on the training team, the system comes with shared folders with access control. You can also use the system as a knowledge base and to store training materials.
18. SkyPrep LMS
SkyPrep LMS comes in 14 languages to support companies with an international footprint. The LMS offers gamification tools to encourage learning, including points, badges and a leaderboard. It also automates routine tasks, such as course assignments, based on configured rules, reminders and scheduled reports, as well as updates employee profiles using course completion ratings.
The vendor also offers a product called SkyPrep Studio for creating rich, engaging and interactive learning content with minimal effort, according to the website. The authoring tool has a drag-and-drop UI and lets you save courses to SkyPrep LMS or export them as SCORM files.
Editor's note: The list is based on web research and the author's use of one platform, LearnUpon, and only includes products referred to by their vendors as LMSes. The list isn't ranked and excludes products in the related LXP category.
Dig Deeper on Core HR administration technology