How to build an effective upskilling program for employees
Learn how upskilling can benefit an organization by helping to fill open positions and the steps needed to create a program that involves management and employee feedback.
Over the past few years, how employees work and the skills needed to succeed have shifted. Remote work has become more prevalent, requiring employees to use digital collaboration tools, and the use of AI has increased. Add in the effects of the Great Resignation, and organizations are struggling with a larger skills gap. Hiring new employees -- not always an easy task -- or upskilling existing employees is necessary.
According to Wiley's latest "Closing the skills gap" report, 69% of the HR professionals surveyed said their organization had a skills gap, up from 55% in 2021. "The skills gap is one of the biggest challenges organizations will face in the future," said Janet Clarey, principal director of HR research and advisory services at McLean & Company. "It will be critical to have an upskilling strategy to adapt to rapid changes and to gain a competitive edge."
Companies with a skills gap are also more likely to leave roles unfilled. But plugging that skills gap can not only fill those open jobs internally, according to experts, but increase employee retention. That's why it's critical for organizations to build an effective upskilling program for employees.
Benefits of an effective upskilling program
"Upskilling has so many more benefits than disadvantages," said Jeanne Cordisco, chief people officer at O'Reilly Media. In addition to finding talent from within, organizations that effectively upskill employees see the following:
An increase in employee productivity. Employees have the skills they need to do their jobs.
Improved employee engagement and retention. Employees who feel like their companies are investing in them are more likely to stay -- reducing turnover and associated costs.
The ability to adapt to change as an organization. According to Cordisco, the only way companies can continue to be agile and adapt to changes like hybrid work models is with an agile workforce.
Improved perception. Companies that build an employee upskilling program with intention set themselves apart from their competition, attracting better talent.
How to build an effective upskilling program
A successful upskilling program needs to have purpose behind it. To be effective, the following six steps can help organizations create a program that provides all the benefits -- and more -- of employee upskilling.
1. Identify and map skill gaps
According to Clarey, the first step in building any employee upskilling program is to consult with key stakeholders to define the purpose, goals and scope. "Understand organizational context and list elements that will impact skills, both those that are currently needed as well as skills that will be needed in the future," Clarey said.
She advised using a pilot group to create a skills inventory to keep track of internal skills, then leveraging focus groups, interviews and technology such as a skills taxonomy to define needed skills. From there, organizations can conduct a gap analysis and prioritize those skills that need to be learned. "Mapping out current workforce skills to identify skills gaps helps organizations hone in on what to focus on when upskilling and reskilling to meet business priorities," she said.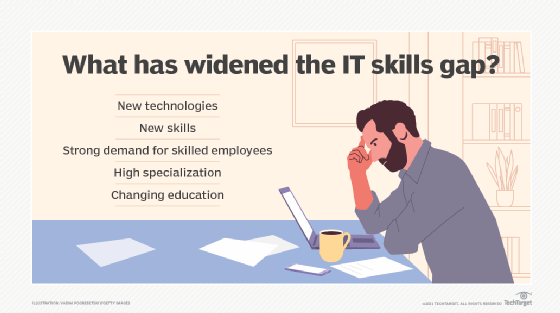 2. Listen to what employees need and want
Companies must take a listening mindset to find out what employees need and want to learn as part of an upskilling program, according to Hannah Yardley, chief HR officer at Achievers. They'll be much more likely to embrace change post-learning if it's a topic they want to learn.
Additionally, training that employees are interested in tends to stick longer than compliance-driven training suited to a particular situation that might not apply to the employee, she noted.
3. Include soft skills in upskilling programs
While technical skills might be valuable in an employee's existing role, soft skills are transferrable and have longevity, Yardley said. "When they're developing soft skills, as they move from job to job, soft skills help them grow personally and professionally," she explained. That can positively affect the business, as employees will take those soft skills as they move up the career ladder.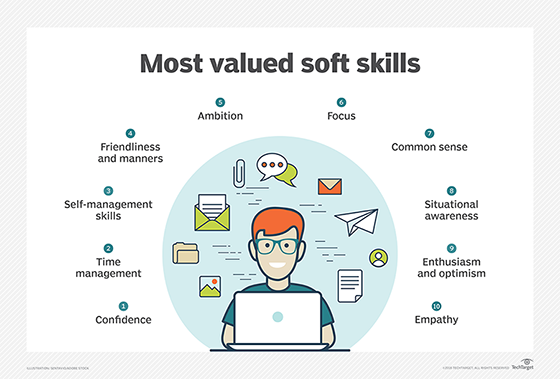 4. Involve management at every stage
This might seem inevitable, but managers play a crucial role in identifying skill gaps and assisting with personalizing programs to teams and even individuals, according to O'Reilly Media's Cordisco. Upskilling is not a one-size-fits-all endeavor, and managers are critical to ensuring development journeys are customized to the person being upskilled.
"Managers are in the best position to understand the motivations of employees," Cordisco said. "If they can be deliberate and show investment in the employees, they will get a lot more loyalty from their direct reports."
5. Ensure learning is accessible and flexible
Since a blanket approach rarely meets individual needs, Cordisco encourages companies to provide training modules that let employees learn at their own pace. "They can focus on what's crucial for their professional development," she said.
For some organizations, that might mean taking advantage of existing online and third-party training, according to Jon Hill, CEO and chairman at The Energists. "There are already plenty of organizations, businesses and learning systems offering a variety of upskilling options, and it's likely one of these offers the type of training your team needs," he said.
Hill often looks for training and development programs offered by professional organizations, which usually lead to certifications. "A certification is something you can point to for clients that verifies your team is qualified in that area. It's also more potentially valuable for your employees when it comes to advancing their careers," he said.
6. Measure and evaluate upskilling programs
The only way to know if you're getting a return on investment -- not necessarily monetarily but also in terms of time, energy and resources -- is to measure and evaluate upskilling programs, according to Cordisco. Gathering feedback from employees on whether they're seeing development in themselves and evaluating whether new skills directly correlate to company growth are two ways to do this, she said.
Future of upskilling
Technology-driven learning will take the lead in the upskilling programs of the future, with personalized learning not far behind, according to Cordisco. "There's going to be so much emphasis on online learning platforms," she said, adding that virtual reality simulations will become more common.
Collaboration between academic institutions and industries will also grow, she said. "We have a lot of prestigious academic institutions that run leadership development, but there might be more of an opportunity for companies and higher education institutions to come together and build programs."
As companies continue to build their employee upskilling programs, they should consider employee feedback and interests, as well as partner with outside institutions to help bring valuable training to employees. Building an upskilling program takes planning, but it provides many benefits to the company and its employees.
Dig Deeper on Employee experience