Definition
continuous learning
Continuous learning is the ongoing expansion of knowledge and skill sets. Often used in the context of professional development, continuous learning in the workplace is about developing new skills and knowledge, while also reinforcing what has been previously learned.
Daily habits and practices are what form the foundation of continuous learning. Continuous learning can work through any means of knowledge intake consumed on an ongoing basis. It can take place over a fixed period of time or continue as lifelong learning. The definition of continuous learning is broad -- it can be formal or informal and structured or unstructured in nature. Activities can include taking a formal course, observing more-experienced employees, asking for assistance with an unfamiliar topic, exploring new and alternative work methods, studying, casual conversation and practicing the use of a skill.
Continuous learning practices in the workplace have shown the potential to increase employee engagement, job satisfaction and knowledge retention. To stay competitive, organizations must continually adapt to ever-changing social and economic environments. As an organization's success depends on its people, it is important for employee skill sets to evolve to meet the demands of the business climate.
Elements of continuous learning
The premise of continuous learning in a work environment is to retain knowledge and skills of employees over time.
In traditional training, the level of employee knowledge rises and falls when it peaks after an acute training event and gradually depreciates over time from lack of reinforcement.
In continuous learning, employee knowledge is the result of multiple learning events. Continuous learning allows an organization to reach higher levels of employee knowledge and sustains the peak with reinforcement activities on consistent intervals.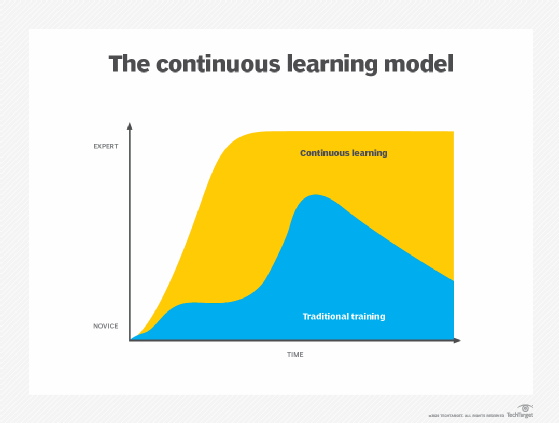 Benefits of continuous learning
Continuous learning in the workplace has the potential to expand employee skill sets, increase skill and knowledge retention, generate new ideas and perspectives, boost morale and raise overall employee performance.
On the level of the individual employee, this can:
Help achieve career development goals
Obtain or update professional licenses or certifications
Explore new perspectives to approaching work
Maintain a marketable professional skill set
To the organization, continuous learning can:
Contribute to organizational goals
Contribute to a forward-thinking innovation culture in the workplace
Make employees feel valued, as implementation demonstrates an investment in individual development
Help keep costs down, as it is less expensive to invest in the further development of current employees than to start training a new employee
Modeling
Bersin by Deloitte's model of continuous learning has two primary considerations and is organized to measure two scales of tiers in respect to each:
Learners' needs are the intended scope of learning:

Immediate. What is needed to be successful today.
Intermediate. What is needed to expand skill sets and grow in current positions.
Transitional. What is needed to satisfy long-term organizational goals, advance up the career ladder or make a career switch.

Paradigms are the different contexts of employee learning. They consist of "the four E's:"

Education. Traditional learning and development considerations. Typically trackable, and have a clearly defined beginning and end.
Experience. What is generally learned through workplace events such as special projects, job rotations, stretch assignments.
Exposure. What is learned through social relationships and interactions.
Environment. Infrastructures that support employee learning in the workplace.
Continuous learning strategies
Strategies in applying continuous learning include:
Structured learning. Formal learning methods that are preorganized for specific goals and purposes.

School courses
Online learning courses
Workshops/seminars
Conferences
Employee training
Managerial training
Any training program

Social learning. The ways people learn through interacting and observing others. It can be formal or informal; in person or over virtual mediums.

Discussion/conversation
Co-working
Collaborative problem-solving
Coaching/mentoring
On-the-job training

Self-directed learning. Independently administered measures for expanding skills and knowledge. It can occur sporadically or fit a structured schedule.

Research and reading
Experimentation and exploration
Practice testing
How to implement
To encourage employees to participate in continuous learning, it is important for organizations to create a supportive learning environment. Employees might be hesitant to pick up new continuous learning activities, as they may be focused on using their time to meet priority deadlines.
Start with a plan. Show employees that the organization is investing effort and resources into continuous learning and map out a course of action. This should include where learning plans are administered, such as on the level of the individual employee, team, department or organization. There should be a dialogue between management and employees to clarify objectives and priorities.
Leadership. As culture starts from the top and trickles down, it is important for management to communicate their full support for continuous learning activities.
Provide and maintain. Administer the proper resources to support continuous learning amongst employees and maintain a continuous learning culture.
This was last updated in
April 2020
Continue Reading About continuous learning